Reshma Nisanth, Sanila and Dhanya held a press conference at Kochi. While they remained adamant that they would enter the shrine, the demand enraged devotees of Lord Ayyappa.
Kochi: Three women including Reshma Nishanth, who courted controversy earlier regarding the issue of women's entry into Sabarimala, have come forward showing interest in entering the shrine. Reshma Nishanth, Kannur native, said that she wanted to visit Sabarimala as a devotee and now she cannot even step outside her house. "We have sought protection from the government and the police. If they give us a confirmation regarding this, we will go to Sannidhanam," said Reshma Nishanth in the press meet held at Kochi with two other women devotees. 
Devotees led by Sabarimala Karma Samithi staged a protest in front of the press club during this meeting.
ALSO READ: Kerala: 32-year-old woman all set to visit Sabarimala, angry natives surround house to stop her
"How can these menstruating women fast, as part of ritual when you enter Sabarimala? All these three women are under the age of 50. These people are educated, but they don't have any common sense," said Varun Aruviruthi an Ayyappa devotee. 
Earlier, Kannur native Reshma Nishanth, had put up a Facebook post stating that since she considers bleeding to be like any other bodily discharge like pee and poop, she believes that she can fast with all purity to enter Sabarimala.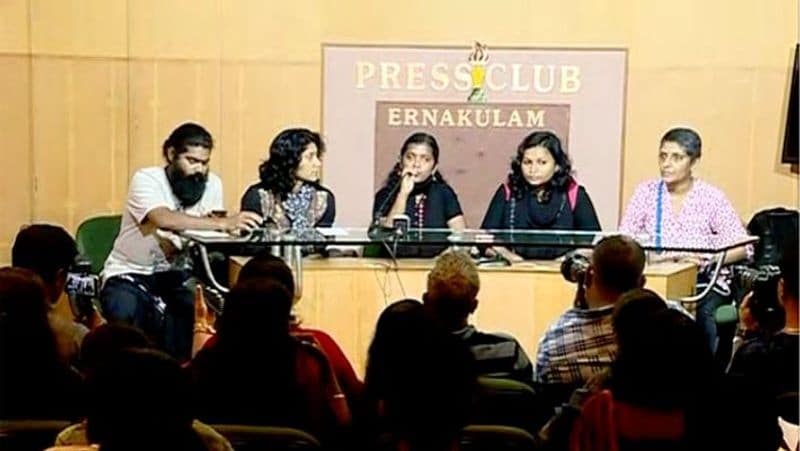 Shortly after Reshma Nishanth revealed her plan to enter the Sabarimala temple, a mob including Hindu outfits gathered near her house, raised slogans against her and threatened to not allow her to enter the temple. Many natives have surrounded her house to stop Reshma.
"Reshma is educated, and yet she has taken a wrong decision to go to the temple. She won't reach Sabarimala. Lord Ayyappa won't allow her to reach there," said Radhakrishnan, a Kannur native.
At Reshma's home, her family is supporting her completely. In October, her husband, Nishanth, accompanied her to the local temple to guard her. He remained outside until she finished her prayers. Reshma also said that their five-year-old daughter is not stifled to any religion or beliefs. Reshma and her husband want their daughter to take her own decision on the religion she wants to follow.
Read Exclusive COVID-19 Coronavirus News updates, at MyNation.
Last Updated Nov 19, 2018, 6:07 PM IST