Gender and sexual identity became a burning issue this year with many landmark legal judgement as well as inclusivity in the film industry. Let's take a look.
New Delhi: As 2018 draws to an end, we can officially term the rollercoaster 365 days as the year of pride. From the landmark judgement partially striking down Section 377 that criminalised LGBTQ communities to getting accurate representation in cinemas, 2018 was all about inclusivity. 

While the battle for equal rights has just begun and there is a long way to go, let us take a trip down memory lane to see how this year will go down in history for being extra-special for LGBTQ communities. 
Repeal Section 377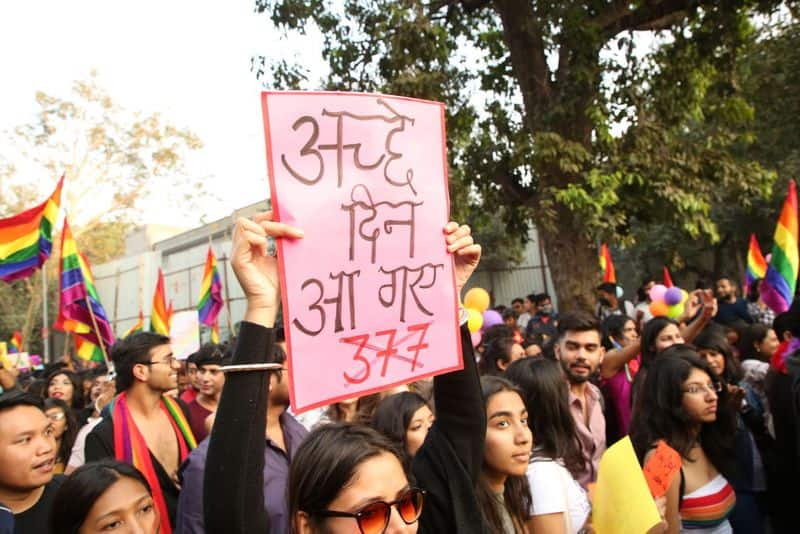 Ending a long struggle with draconian Constitutional law that criminalised homosexual sex between consenting adults, Supreme Court partially repealed Section 377 on  September 6, 2018. It all started when Delhi High Court rule in the favour of squashing the section in 2009 but then, a 2013 Supr­eme Court verdict struck down the order. 
Also watch: हम होंGay कामयाब: Supreme court partially strikes down Section 377
A five-judge constitution bench heard the case and said, "History owes an apology to the mem­bers of this community and their families, for the delay in providing redressal, for the ignominy and ostrac­ism they have suffered through the centuries."
#MeToo knows no gender
As the online movement against sexual harassment at workplace gained momentum with #MeTooIndia in October, same-sex allegations gave the movement an inclusive force to be reckoned with. Harassment allegations against Sotheby director Gaurav Bhatia, Rajinikanth's 2.0 co-star Maya S Krishnan and many others finally saw the light of the day courtesy the all-inclusive nature of the movement bringing closure to many in the LGBTQ community. In fact, #MeQueer was also used by many to share their story.  
Big, fat Indian same-sex marriages 
While consensual sexual acts are not a criminal offence, the Constitution still does not recognise same-sex marriages. However, hope springs eternal for many LGBTQ couples in the country as some of them 'tied the knot' despite the stigma in a bid to make a change. India's first gay marriage took place in Yavatmal, Maharashtra earlier this year and then, a lesbian couple in Uttar Pradesh, as well as a transgender pair in Tamil Nadu, followed suit. Mumbai based matchmaker Swapnil Kadam of matrimonial site Soul-Mates and Urvi Shah of Arranged Gay Marriage Bureau are also helping many same-sex couples find their heavily-ever-after. 
A silver lining for trans rights
While the fight for equal rights by the transgender community goes on, there were a few notable bright spots after decades of being marginalised. In a first, the Delhi Police have registered a case of molestation on the complaint by a transgender student of Delhi University against a fellow male student after the high court ruled that section 354A of the Indian Penal Code can now be used by transgender persons to register complaints of sexual harassment. 
Even on the job front, horizons are broadening. India got it's first transgender radio jockey with RJ Priyanka at the community radio station in Bengaluru and M Monisha become the first transgender to get full-time employment in the Karnataka secretariat. Minister of health and social justice in Kerala has also provisioned a financial aid of Rs 30,000 to legally married transgender couples, and sanctioned an amount of Rs 3 lakh for the current fiscal. 
LGBTQ movies, not just a phase
After long being treated as a frivolous, comedy element in mainstream media and regional cinema, LGBTQ characters are carving their own niche on screen in 2018. Indian Malayalam-language drama film, Njan Marykutty, with an endearing transsexual character in the lead, opened to rave reviews. So did, Bulbul Can Sing, directed by Assamese filmmaker Rima Das and even ended up snagging many international awards. Even in mainstream cinema, Saif Ali Khan and Nawazuddin Siddiqui starrer Netflix series, Sacred Games, had a transgender woman, Kukoo, in a pivotal role. Actor Kubra Sait, who played Kukoo, became an overnight star with her role.        
Last Updated Dec 30, 2018, 2:54 PM IST