As we celebrate the great night of Lord Shiva today, make sure to try out these recipes popularly eaten on this day.
New Delhi:  Today marks the celebration of Mahashivratri, overcoming ignorance and observing the virtues of Lord Shiva and everything he stands for-  self-restraint, honesty, and introspection through meditation. 
Though fasting is an important part of Mahashivratri, we have some delicious recipes for you to break your fast tonight. From the offbeat Lauki Ka Halwa to the traditional Kuttu and Singhare ke atte ki Poori, chefs of Radisson Noida Sec 55 and Regenta LP Vilas, Dehradun join forces to create these recipes. 
Low-fat Makhana Kheer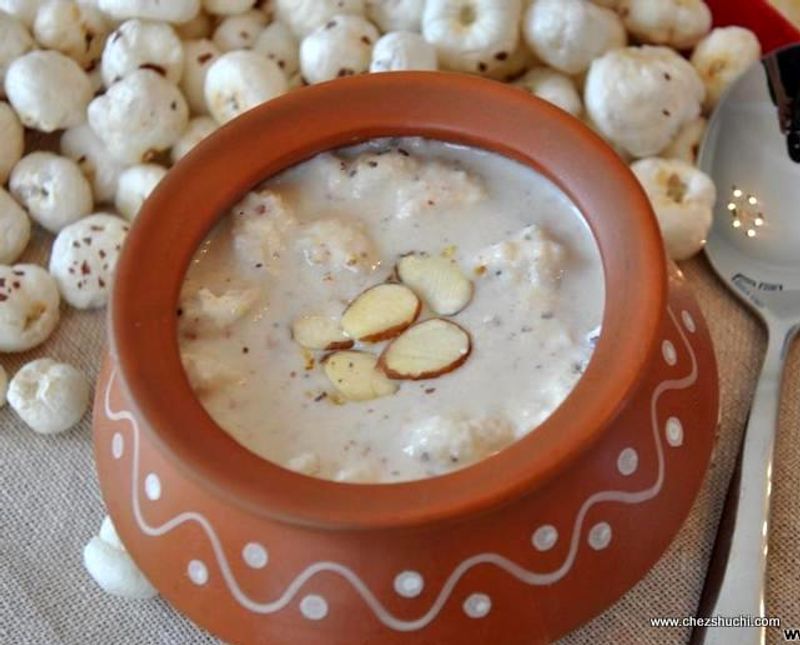 •    1 Litre Milk
•    1/4 cup Makhana (puffed lotus seeds)
•    2 tbsp Sugar
•    2 tsp Pistachios, chopped
•    2 tsp Almonds, chopped
•    1 tsp Green cardamom powder (optional)
1. In a deep vessel, pour in the milk, break the makhanas into smaller pieces, add them to the milk and let it simmer for about 1 1/2 to 2 hours without covering, till the milk boils down and the seeds are soft.
2. Add the sugar and stir for a few minutes.
3. Add the pistachios, almonds and cardamom powder, stir well again.
4. Serve hot or cold, as you like.
Aloo Makahana
•    1 Green chili
•    1 tbsp Mint
•    300 g Potatoes
Baking & Spices
•    1 Rock salt
Oils & Vinegars
•    1/2 tbsp Oil
Nuts & Seeds
•    1 tsp Cumin
Other
•    1 teaspoon roasted anardana (dry pomegranate seeds- crushed to a powder in a mortar-pestle or 1 teaspoon dry pomegranate powder)
•    1.5 cups makhana (foxnuts or phool makhana)
1. Boil baby potatoes along with its skin until well cooked. Remove from heat, peel the skin and keep aside.
2. Heat 1 tablespoon oil in a heavy bottomed pan and roast makhana until it is crisp. Once done, remove from pan keep aside.
3. In the same pan, add cumin seeds and let it splutter. Then put chopped green chilies and sauté for about 20 seconds.
4. Add the anardana, rock salt and immediately give it a mix. Add boiled potatoes into the pan and toss well.
5. Once all the potatoes are coated well with the spice mix, add roasted makhana and toss again. Lower the flame and keep tossing and cook for 3 to 4 minutes. 
6. Serve hot. 
Saboodana Kheer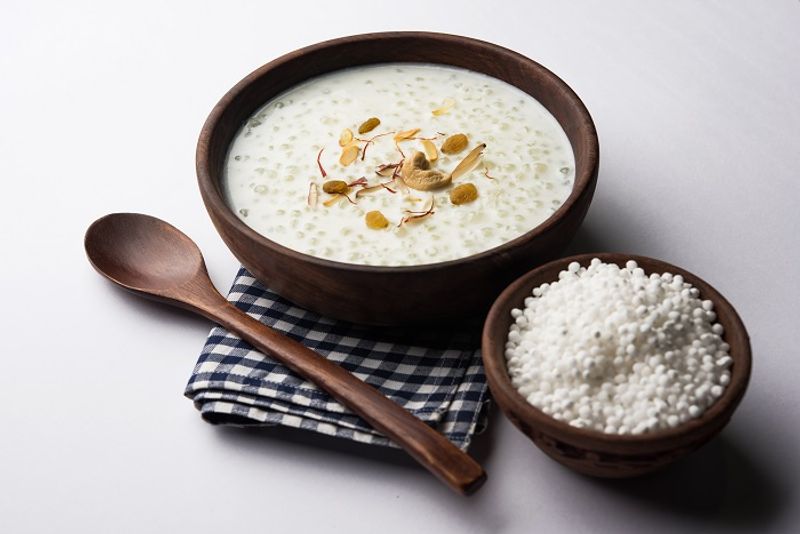 •    4 cups: Milk
•    1 tbsp: Sago granules
•    3/4 cup: Sugar 
•    1/4 tsp: Cardamom powder
•    1 cup: Water
1.    Wash and drain sago, keep aside for 10 minutes.
2.    When moisture is absorbed, loosen grains.
3.    Heat water. Add sago, bring to a boil while stirring.
4.    Reduce heat, simmer for 5-6 minutes, and add a tbsp. more water if required.
5.    Add milk; bring back to a boil.
6.    Simmer for 5 minutes. Add sugar, cardamom.
7.    Stir occasionally, simmer till sago granule is cooked, but not mushy.
8.    Check by pressing it between thumb and finger. It should flatten on pressing.
9.    Serve hot, with nuts if desired.
Lauki ka halwa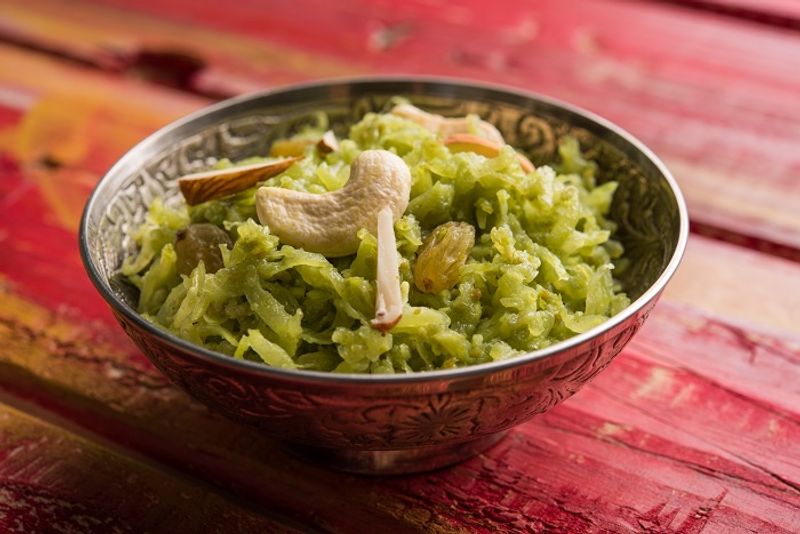 •    1/2 lit- Milk(fatty)
•    1/2 peeled- Lauki
•    3/4cup- Sugar
•    100 gms- Khoya
•    1 tsp- Elaichi powder
•    1 tbsp- dry fruits(almonds, raisins,cashews)
1.    Peel lauki & grate it with a grater.
2.    Boil lauki in a pan in a very small quantity of water(1/2 cup), when it gets boiled drain whole water so that only soft boiled lauki is left.
3.    Put milk in a large pan and boil for about 20 minutes on medium flame, stir, then put the boiled lauki in the pan, mix well and let becomes semi-solid (almost 20 min.), meanwhile grate khoya and mix in the pan.
4.    Add sugar, mix till it dissolves.
5.    Add dry fruits and elaichi powder.
6.    It is ready to serve, it can be taken chilled as well as hot.
Kuttu and Singhare ke atte ki Poori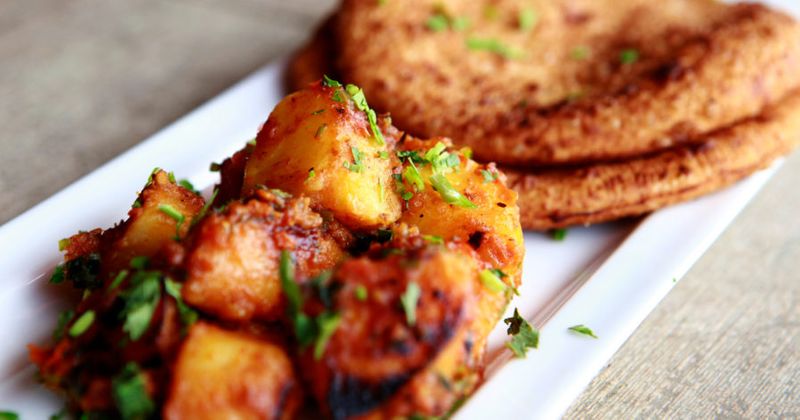 •    1 cup Kuttu Flour
•    1 cup Singhara flour/Singoda flour
•    1 large Boiled and peeled potato
•    1 medium Boiled and peeled arbi (omit if you do not eat in vrat)
•    15 -20 pieces of Fresh Spinach leaves (omit if you do not eat in vrat)
•    1/2 teaspoon Coriander powder (omit if you do not eat in vrat)
•    1/4 teaspoon Red chili powder
•    1/4 teaspoon Haldi (Turmeric powder) (omit if you do not eat in vrat)
•    Salt to taste (Vrat salt - Sendha namak)
•    Oil for Frying/Toasting the rotis

1. Boil and peel potato and arbi. Assemble all the ingredients
3.  Clean, wash and chop spinach leaves. Mash the arbi and potato in a large bowl. Mash them finely and make sure no lumps remain. Then, mix in all the spices
4.  Add chopped spinach leaves, the flours, and mix. Then, add in water to form a dough. Make sure to apply oil in your hands as the dough will be sticky.
5.  Heat and grease a tawa/griddle.
6.  Make round balls out of the dough. Wet your hands and using the tip of your fingers keep spreading the dough ball in the form of a roti.
7.  Lift and transfer it onto a hot griddle.
8.  When cooked from one side, lift it using a spoon and flip it over. Keep cooking till golden brown and remove from flame.