Actress Sara Ali Khan was forced to delete a tweet in which she replaced the word 'Black' with 'All' as she was trolled
Bengaluru: The killing of George Floyd in the United States is an act that shook the collective conscience of the entire world. 
The visuals of the police officer pinning him down and completely immobilising him while he puffs and pants for breath, ultimately dying because of unconducive environment to breathe will haunt generations together. 
Also Read: FIR against Vinod Dua for spreading false rumours
While the entire world protests such loathsome treatment to Floyd, what's more worrisome is how the protests have been hijacked in many ways. 
As the country saw protests with hundreds of people spilling onto the streets, a trend emerged on social media called #BlackLivesMatter. 
Soon, many netizens began expressing their support for the trend, but at the same time, there were others who wanted to expand the scope of the fight from just Blacks to entire humanity. 
That is when actress Sara Ali Khan conceived a brilliant and impactful concept of accommodating all lives, not just limited to one religion or one race. 
On her Instagram page, she replaced the word "Black" with "All" thus making it "All Lives Matter" instead of "Black Lives Matter".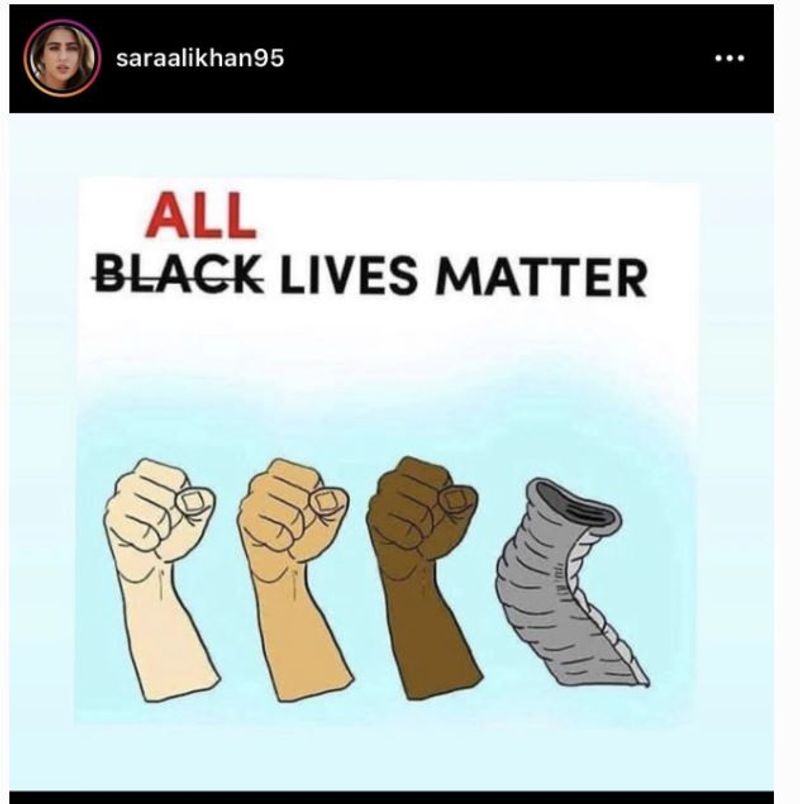 The picture also depicted hands of various colours signifying the embracement of all citizens irrespective of their colour, creed or sex. Another immportant thing to note is that it also contained an elephant trunk paying homage to the dead pregnant elephant in Kerala. 
This move by Sara Ali Khan should have earned plaudits but sadly and more shocking than Floyd's death itself is that this was used as a tool to troll and criticise her. 
As she received a lot of flak from many, she was forced into deleting her tweet! 
But most hearteningly, many threw their weight behind her, admiring her for the courage to be inclusive. 
She's absolutely right! Every life matters, irrespective of sex, race, region or religion, whether it's a human or an animal. Every single life matters!
Well said, SARA ALI KHAN! pic.twitter.com/Hth3LZR91l

— Priti Gandhi - प्रीति गांधी (@MrsGandhi) June 4, 2020
Another actress who has questioned the hypocrisy of Bollywood actors and actresses in supporting the George Floyd protests but remaining mum on similar incidents in India is Kangana Ranaut. 
Also Read: Why elephants are crucial for us
The actress who is known not just for portraying bold roles but also making bolder statements openly criticised and censured those actresses who wished not to speak up against the deadly butchering of two sadhus and their driver in Palghar. 
She had said, "The sadhu lynching happened a couple of weeks ago; still no one said a word. It happened in Maharashtra where most of these celebrities reside…Bollywood anyway is a derived name from Hollywood."
Well, actresses such as Kangana or Sara Ali Khan stand testimony to real secular values that India is an epitome of. 
Selective outrage by usual suspects to propagandise an issue like ill-treatment to a particular section of the society and not broadening their view to extend a helping hand to the other needy is an attitude worse than the crime itself.