Here is your complete guide to the ICC World Cup 2019. All the answers to frequently asked questions (FAQs) on World Cup 2019 are here. The 10-team tournament starts on May 30 and will end on July 14 at Lord's
Cricket fans are eagerly waiting for the start of the ICC World Cup 2019. The 50-over tournament is in its 12th edition this year and sees 150 players (15 in each team) chosen for the quadrennial showpiece event.
Here is your complete guide to the ICC World Cup 2019
When will the tournament start and end. How many matches will be played?
ICC Cricket World Cup 2019 (50-over format) runs from May 30 (Thursday) to July 14 (Sunday). As many as 48 matches will be played over 46 days across 11 venues. Semi-finals will be played on July 9 (Tuesday) and July 11 (Thursday). Final is on July 14 (Sunday).
Also read: Marriage has helped my captaincy, says Virat Kohli
Where will the tournament be held and how many teams are participating?
England and Wales will host this year's World Cup. It will be a battle between the top-10 ODI countries (England, India, Pakistan, Bangladesh, Australia, New Zealand, Afghanistan, South Africa, Sri Lanka, West Indies) for the most coveted title in cricket.
Also read: 15 hottest World Cup 2019 matches that you can't miss
Who are the favourites to win the World Cup 2019?
England and India are among the favourites. However all 10 captains have predicted that it would be "the most competitive tournament in history". India captain Virat Kohli said England are "most strong side".
Who won the previous World Cup?
The last edition of the ICC World Cup was hosted by Australia and New Zealand in 2015. Australia, led by Michael Clarke, defeated New Zealand by seven wickets in the final in Melbourne to lift the trophy for a record fifth time.
Why only 10 teams in this World Cup?
The last two editions, in 2011 and 2015, featured 14 teams including four Associate members of the ICC. However, the ICC decided to reduce it to 10 teams (Full members of ICC) at a meeting in Dubai in October 2010. At the time it was announced that even the 2015 World Cup would be a 10-team affair. However, after the 2011 World Cup final, it was reverted to the 14-team tournament for the 2015 edition. Despite opposition from many, ICC went ahead with a 10-team World Cup for this year.
Also read: All the 10 squads for World Cup 2019
Which are the World Cup venues and where is the final?
Eleven venues – 1. Edgbaston (Birmingham); 2. Bristol County Cricket Ground  (Bristol); 3. Sophia Gardens (Cardiff, Wales); 4. Riverside Ground (Chester-le-Street); 5. Headingley (Leeds); 6. Lord's (London); 7. The Oval (London); 8. Old Trafford (Manchester); 9. Trent Bridge (Nottingham); 10. Rose Bowl (Southampton); 11. County Ground (Taunton). Lord's will host the final on July 14 (Sunday).
What are the official social media accounts of the tournament which one can follow?
Official website: www.cricketworldcup.com
Twitter: @ICC @cricketworldcup
Instagram: cricketworldcup
Facebook: cricketworldcup (ICC Cricket World Cup)
Official CWC 19 app: ICC Cricket World Cup 2019; CWC19 Lite
YouTube: CricketICC
Official hashtag: #CWC19
Where to buy the tickets?
You can visit https://tickets.cricketworldcup.com for ticket information.
What is the format of the tournament?
Each of the 10 teams will play against the other in a round robin format and the top-four will qualify for the semi-finals (1 vs 4; 2 vs 3).
What happens if teams end up with equal points in league phase. Who progresses to the semi-finals?
In case of teams finishing on equal points after the round robin phase, here is the tie-breaker rule. 1. The team with the most wins. If still equal then, 2. The team with the best Net Run Rate. If still equal then 3. Head-to-head result (points, then if still equal, Net Run Rate). If still equal then 4. Teams will progress as per seedings in the league phase.
What are the seedings for the tournament?
1. South Africa; 2. India; 3. Australia; 4. England; 5. New Zealand; 6. Pakistan; 7. Bangladesh; 8. Sri Lanka; 9. Afghanistan; 10. West Indies. These seeds were assigned by the ICC way back when qualification for World Cup 2019 began.
What are the Minimum Over Rates to be achieved?
The minimum over rate to be achieved in all Matches shall be 14.28 overs per hour
What about bans on captains for over-rate offences?
All captains will start the World Cup 2019 with a clean slate. A captain will need to commit 2 'Minor' Over Rate offences during World Cup 2019 to be suspended from a World Cup match, or one 'Serious' Over Rate offence during World Cup to be suspended from matches in the tournament.
What happens if a match ends in a tie/no result in the league phase?
If a match ends in a tie or no result due to inclement weather, the teams will share one point each.
What is the points system?
Win – 2 points; Tie/No Result – 1 each; Loss – 0.
What happens if semi-finals, final end in tie/no result?
If a semi-final ends in a tie, then the teams will compete in a Super Over to decide the winner. If weather conditions prevent the matches to take place, then the results will be decided with only the Super Over in the last-four stage. However, if there is no play/Super Over possible then the best-ranked team in the league phase will go to the final. If the final ends in a tie then Super Over will be played to decide the winner. If no result then the two teams will be declared joint winners.
What about reserve days for matches?
There are reserve days for semi-finals and final and not for league matches.
What happens if the semi-finals/final are stopped by rain. Will there be a fresh start on the reserved day?
If semi-finals/final are interrupted by rain and not completed on the original day then they will restart at the same point where they had stopped. There won't be a fresh start.
When do the matches start?
Day games start at 10.30 am local (3 pm IST) and day/night matches begin at 1.30 pm local (6 pm IST). Day matches (First Session 10h30 - 14h00; Interval 14h00 - 14h30; Second Session 14h30 - 18h00). Day/Night matches (First Session 13h30 - 17h00; Interval 17h00 - 17h30; Second Session 17h30 - 21h00).
When do India's league games start?
All of India's nine matches are day games. They start at 10.30 am local (3 pm IST). India's first match is against South Africa on June 5 in Southampton.
Is there Decision Review Systeam (DRS) for World Cup?
Yes. One each per team per innings as per the ODI rules.
What about Powerplays?
Overs 1-10: 1st Powerplay (Only 2 fielders outside the 30-yard circle)
Overs 11-40: 2nd Powerplay (Not more than 4 fielders outside the 30-yard circle)
Overs 41-50: 3rd Powerplay (Not more than 5 fielders outside the 30-yard circle)
When is India-Pakistan game and where?
India-Pakistan match is on June 16 (Sunday) and will be played at the Old Trafford stadium in Manchester. It will start at 10.30 am local (3 pm IST).
Also read: Full schedule of India matches at World Cup with start times, live TV, streaming info
Where can I watch World Cup matches on TV/online in India?
Star Sports network will telecast all matches live. For live streaming visit Hotstar.com
Also read: Full list of TV channels for each country to watch World Cup 2019
What is the total prize money?
The ICC has increased the prize money this time. The champions will be richer by $ 4 million (Rs 28 crore) while the runners-up receive $ 2 million (Rs 14 crore). The total purse is $ 10 million (Rs 70 crore).
Also read: Highest-ever prize money awaits World Cup 2019 champions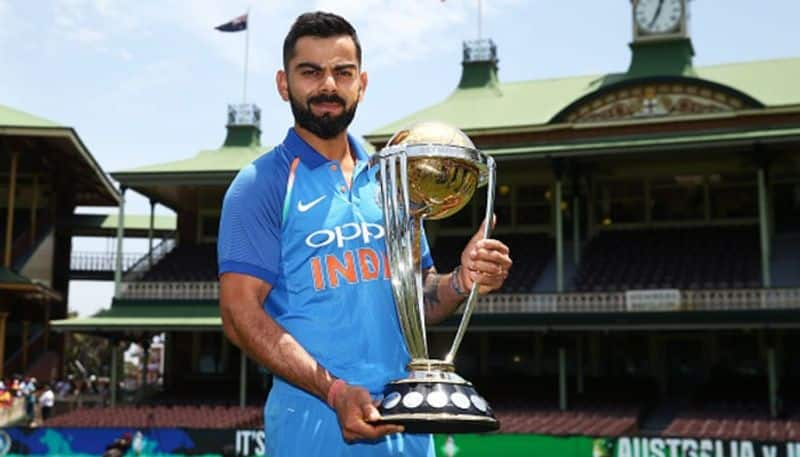 Who are the captains and coaches of the 10 teams?
India: Virat Kohli (Coach: Ravi Shastri)
England: Eoin Morgan (Trevor Bayliss)
Australia: Aaron Finch (Justin Langer)
South Africa: Faf du Plessis (Ottis Gibson)
Pakistan: Sarfaraz Ahmed (Mickey Arthur)
Also read: Here is what all captains said about the World Cup 2019
Sri Lanka: Dimuth Karunaratne (Chandika Hathurusingha)
New Zealand: Kane Williamson (Gary Stead)
Bangladesh: Mashrafe Mortaza (Steve Rhodes)
Afghanistan: Gulbadin Naib (Phil Simmons)
West Indies: Jason Holder (Floyd Reifer)
Who are the TV commentators for the World Cup 2019?
1. Michael Clarke (Australia); 2. Nasser Hussain (England); 3. Ian Bishop (West Indies); 4. Sourav Ganguly (India); 5. Melanie Jones (Australia); 6. Kumar Sangakkara (Sri Lanka); 7. Michael Atherton (England); 8. Alison Mitchell (England); 9. Brendon McCullum (New Zealand); 10. Graeme Smith (South Africa); 11. Wasim Akram (Pakistan); 12. Shaun Pollock (South Africa); 13. Michael Slater (Australia); 14. Mark Nicholas (England); 15. Michael Holding (West Indies); 16. Isa Guha (England); 17. Pommie Mbangwa (Zimbabwe); 18. Sanjay Manjrekar (India); 19. Harsha Bhogle (India); 20. Simon Doull (New Zealand); 21. Ian Smith (New Zealand); 22. Ramiz Raja (Pakistan); 23. Athar Ali Khan (Bangladesh); 24. Ian Ward (England)
Who are the previous 11 editions' winners?
1975: West Indies (Beat Australia) – Captain – Clive Lloyd
1979: West Indies (Beat England) – Lloyd
1983: India (Beat West Indies) – Kapil Dev
1987: Australia (Beat England) – Allan Border
1992: Pakistan (Beat England) – Imran Khan
1996: Sri Lanka (Beat Australia) – Arjuna Ranatunga
1999: Australia (Beat Pakistan) – Steve Waugh
2003: Australia (Beat India) – Ricky Ponting
2007: Australia (Beat Sri Lanka) – Ponting
2011: India (Beat Sri Lanka) – MS Dhoni
2015: Australia (Beat New Zealand) – Michael Clarke
Where will the next World Cup be held?
India will host the ICC World Cup 2023.
Read Exclusive COVID-19 Coronavirus News updates, at MyNation.
Last Updated May 27, 2019, 10:26 AM IST