PM Narendra Modi and US President Donald Trump shared a light moment during the G7 summit held in Biarritz in France. Here are the details about the conversation that made the top leaders of India and US laugh and pat each other's hands

Biarritz (France): A video of Prime Minister Narendra  Modi and US President Donald Trump laughing and shaking hands during the G7 summit held in France has gone viral.
PM Modi met US President Trump on the sidelines of the G7 summit in France's Biarritz on Monday (August 26). Both were seated when Trump was asked to speak about the threat of pulling out of WTO.
Trump said that the US was not happy with the WTO, but as the country is winning the cases like Airbus Case, and that the country is being treated more fairly now.
The mediator also asked PM Modi for his response on the same. To this, Modi started speaking in Hindi and said, "I think, you should let us both talk. We will keep talking and when we need your intervention we will let you know."
To this, Trump reacted saying, "He (PM Modi) actually speaks good English" and both exchanged laughs and friendly shaking of hands. Modi was seen playfully slapping Trump's hand.
#WATCH France: US President Donald Trump jokes with Prime Minister Narendra Modi during the bilateral meeting on the sidelines of #G7Summit. Trump says, "He (PM Modi) actually speaks very good English, he just doesn't want to talk" pic.twitter.com/ee66jWb1GQ

— ANI (@ANI) August 26, 2019
Earlier, speaking about Kashmir issue, Modi said that all issues between India and Pakistan are bilateral in nature, and that there was no need for mediation by a third country. We (India and the US) can both work together, he said.
After the meeting, Trump put out a Tweet: "Just wrapped up a great meeting with my friend Prime Minister @NarendraModi of India at the #G7Summit in Biarritz, France!"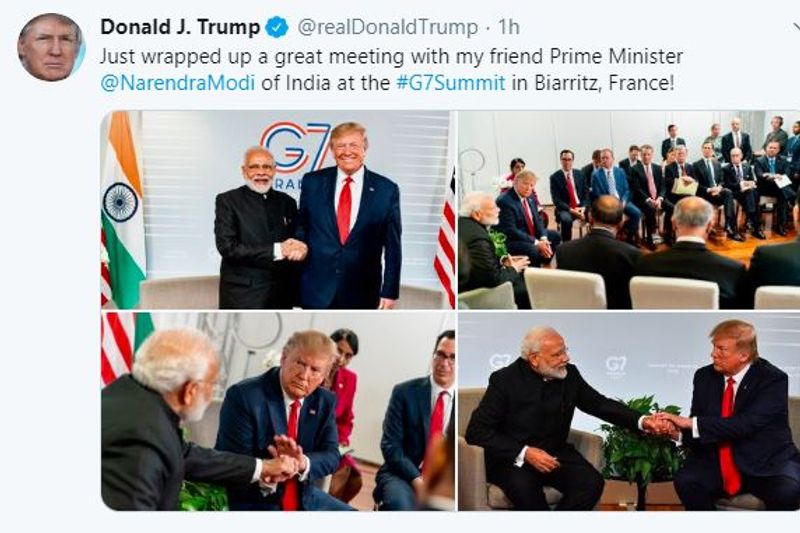 Also read: Prime Minister Narendra Modi at G7 Summit: Kashmir is a bilateral issue
Read Exclusive COVID-19 Coronavirus News updates, at MyNation.
Last Updated Aug 26, 2019, 7:40 PM IST