Under Sonia as President, Rahul was vice president of the party. After his ascendancy to the top job, the post of vice president has been dismantled. BJP, on the other hand, has 12 vice presidents. Congress needs to appoint young, dynamic leaders to mind each region of the country
With Rahul Gandhi out in London after the elections, the Congress party held a press conference yesterday reiterating that he will continue as the President. This has ended weeks of speculation about their position with earlier reports suggesting Rahul has offered to resign and was not inclined to continue as head of the grand old party. 
Congress is facing its biggest survival crisis. Rahul has owned responsibility for the big defeat. However, the party's top leadership don't feel it is a disastrous result and have managed to persuade him to hang on for fear of a split in the party. The grand old party which feels orphaned without a Gandhi scion at the top is gearing up to face a Congress mukt Bharat campaign 2.0 under Modi 2.0.
Also read: Here is how Rahul Gandhi's resignation farce played out
The party is facing its biggest crisis ever. If you don't believe it, have a look at this data:
1. The party's vote share has stagnated at below 20% since 2014.
2. The party lost 92% of the head to head contests with BJP.
3. The party failed to win a single seat in 13 states and won just one seat in seven states.
4. The party which till recently ruled united Andhra for 10 consecutive years scored less than NOTA in state elections held together with the central polls.
5. Party president Rahul lost to outsider Smriti in Amethi, trump card and party's last hope Priyanka flopped in Uttar Pradesh.
6. In CWC, the party's highest decision-making body, 60% of the members are above 60 years of age when 65% of the country's population is between 18-35 years.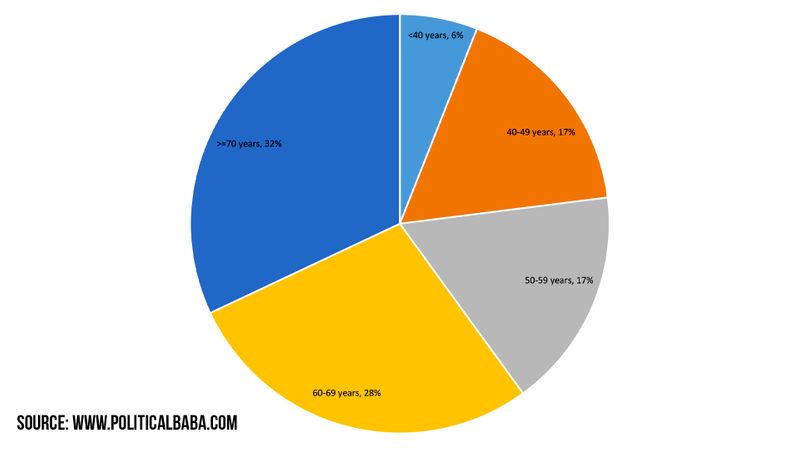 BJP is moving towards a dominant party status. Enjoyed once by Congress for four decades from the 1950s to late 1980s, we are gradually moving towards a BJP versus regional parties' contest on a pan India level unless the Congress takes drastic steps. 
Congress cannot sit easy hoping to win by default as and when people get bored and angry with the BJP like in Madhya Pradesh and Chhattisgarh. It has to work hard to earn that victory. AC room leaders need to come out and raise people related issues on the streets. 
Under Sonia as President, Rahul was Vice President of the party. After his ascendancy to the top job, the post of Vice President has been dismantled. Its competition, BJP, has 12 Vice Presidents. The party needs to appoint young, dynamic leaders as Vice Presidents and made in-charge of each region, one each for North, South, West, East and North East. 
Also read: Family drama continues in Congress as Sonia Gandhi lauds son Rahul for leadership
These leaders should be stationed in these regions and given the task of building from scratch the party organization. 
The Lok Sabha elections in many ways is an aggregation of state elections. The party needs to make a body of Pradesh Congress Committee Chiefs. This should include chief ministers and deputy chief ministers. Such a body will lead to an exchange of ideas and best practices which could be replicated in other states. 
Essentially more power needs to be given to the PCC Chiefs. In some states, there is an apparent lack of coordination between general secretary in-charge of state and PCC Chief, which was reflected in the state election results.
Splits have severely hit the party because of ego tussle between the central leadership and regional satraps. The three which have hurt the party most are Sharad Pawar's NCP, Mamata Banerjee's TMC and Jagan Reddy's YSR Congress. Though Sharad Pawar is part of UPA, the other two are not allies of Congress currently. The three together have 49 seats in the Lok Sabha just five short of Congress tally. The party should start to back-channel talks for a grand merger which would improve the party's positioning in the current scenario, also making it eligible for LoP post.
Recently, Sharad Pawar held a meeting with Rahul in Delhi, and it was rumoured that merger plans were discussed. The NCP-INC combine has been routed in the Lok Sabha in Maharashtra, and there is a case for the merger. In Bengal, Mamata is facing BJP's heat and needs Congress to help to ward off saffron party. The party won 2 seats in Bengal and managed to get a 5.6% vote share. Jagan swept Andhra by winning 22 out of 25 seats and recorded a 49.1% vote share. He has talked about forgiving Congress party earlier.
The party urgently needs to revive its social coalition of Brahmins, Dalits, Adivasis and Muslim vote bank.  In the 2019 election, BJP's support base improved among the upper caste by 5%, OBCs and Dalits by 10% each and Adivasis by 7%. 
There is a lot of competition for the OBC vote (which changed after 'mandal' politics) between BJP, Janata Dal splinter groups and regional parties. BSP's declining performance provides an opportunity to Congress to revive Dalit vote by poaching supporters of Mayawati. It also needs to send a clear message to minorities that it is the only national party which can challenge BJP. For this, it needs to get back their confidence and give them proper representation in the organization. It has only 3 Muslim members in CWC whereas by proportional representation it should be 8. 
Congress has governed the country for 55 years. It needs to put in place a shadow cabinet which would counter BJP on its policies and programs. They should acknowledge good work, give positive inputs and work together to build a new India. This will make its participation in governance a continuous process rather than a one-time election event. At this juncture, offering an alternative narrative which is not anti-Modi but pro-poor, pro-India would be helpful. 
To sum up, the party is currently preoccupied identifying failures of BJP. It has to provide comprehensive solutions rather than quick fixes. The situation is critical, and it needs urgent surgery.  
Read Exclusive COVID-19 Coronavirus News updates, at MyNation.
Last Updated Jun 14, 2019, 12:15 PM IST