Chief minister Shivraj Singh Chouhan is fondly called as 'mama' in the state by all sections of people, regardless of age. He is probably the only politician after Jawarharlal Nehru 'chacha' to be called by a family member name
As dates for nominations end, parties and candidates gear up to face the ultimate challenge in Madhya Pradesh. Both sides are grappling with issue of rebels and have announced the list of star pracharaks. Elections in India are like festival and after celebrating Diwali and Bhaidooj, the voters' interest has regenerated in the event.
 
As D-Day approaches, people are evaluating the candidates to make a final decision. The BJP has been ruling the state for 15 years and it has to come up with a new narrative to woo the voters. It is always easy to run a campaign while in the opposition. One can do many things, has no liability, can do a hoot and scoot campaign. But while you are in power you get restricted.
BJP's strategy for MP is based on five pillars:
1. Presidential style campaign banking on Shivraj factor
 
While you are in power it is better to run a presidential style campaign while opposition should try to run a localised campaign. The BJP is running a campaign centered around Shivraj Singh Chouhan. Shivraj factor is very strong in MP. He is popular because of his humble, down to earth nature and welfare schemes like Ladli Laxmi, KanyaVivah/Nikah, MedhaviChatra, Sambal Yojana, to name a few.
He is the most favoured candidate suited to be the chief minister across opinion polls. Even 20% Congress supporters voted for him in 2013. The strategy is to make it a presidential style election and keep the issues at the state level rather than making it localised. Because there will always be a road, a hospital, a school, a bridge which would not have been built. There will always be an MLA who would not have performed. 
 
2. Make it a 'Mama vs Raja' contest
 
Shivraj is fondly called as 'mama' in the state by all sections of people, regardless of age. He is probably the only politician after Jawarharlal Nehru 'chacha' to be called by a family member name. Mama has created a space for himself in the hearts of the people, especially women, youth and workers in the unorganised sector. This is a big achievement, considering the society generally doesn't have a good opinion about today's politicians.
He has successfully managed to create a family chord with the state's populace. On the other hand, his challengers from the Congress party are all 'rajas' and 'corporate honchos'. Digvijaya Singh and Jyotiraditya Scindia belong to the royal families. Kamal Nath's big corporate empire is often talked about in political circles. He is the fifth richest Member of Parliament in the 16th Lok Sabha with assets of Rs. 206 crore. BJP is pitching this battle as 'Mama versus Rajas'.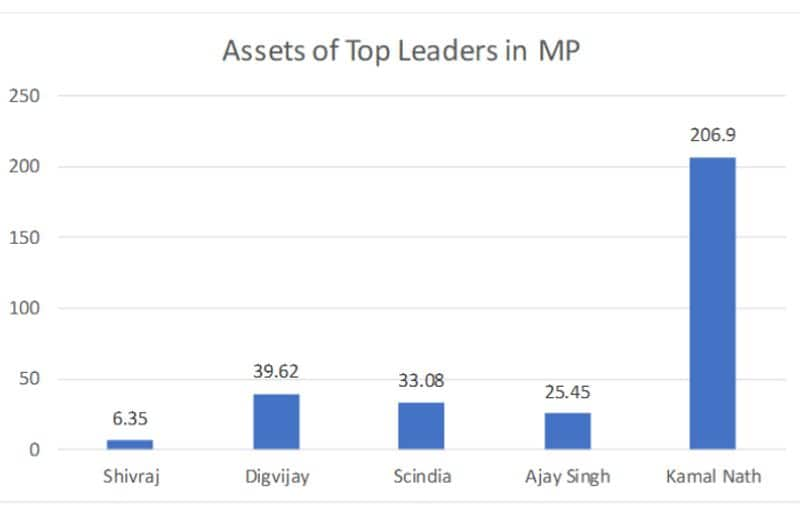 3. Remind people of the dark age of Diggi Raja
 
The BJP's strategy is to constantly remind people of the dark age of Diggi Raja so that people get reminded of the days of no electricity, no roads, and rotten infrastructure. Its campaigns of Sarkar Sarkarmein Fark hai, Shivraj na hota to Kya hota and newly launched Maaf karo Maharaj hamara neta Shivraj. These campaigns have been run to remind people of kaalakaal of Diggi, compare the erstwhile BIMARU state with today's developed state and play on the fear psychosis. The BJP claims they will win if they can make the contest between Shivraj and Digvijaya.
It is also run a 'daavenahinpraman' campaign to compare the development indicators and infrastructure creation of 2003 (when Digvijaya relinquished office) versus 2017. The Congress is fully aware of this and hence keeping Diggi out of campaign. However, Shivraj keeps on poking Digvijaya every now and then and brings him back to the limelight so that he commits a mistake and people are reminded of what will happen if Congress/he comes back to power.
Also read: BJP's ticket distribution in Madhya Pradesh bears clear Shivraj Singh Chouhan stamp
 
4. Consolidation of traditional vote bank and retaining SC-ST vote
 
Traditionally, BJP has received the support of upper caste and OBCs in Madhya Pradesh. The SC and ST voters who traditionally supported the Congress in the state, shifted to the BJP in 2013 elections. The swaranandolan and its resultant SAPAKS party is trying to poach the angry upper caste voters from BJP, upset with amendments in SC-ST Atrocities Act nullifying the Supreme Court order.
The BJP hopes split, desertions in SAPAKS, will weaken the movement and it will fizzle out before the voting day. It has given tickets to 60-plus upper caste candidates to sooth their nerves, higher than their proportion in the population.
The BJP hopes to retain the OBC votes as chief minister Shivraj, the BJP state president Rakesh Singh and Prime Minister Narendra Modi all belong to the community. These two castes alone account for 55% of population. While consolidating the two anchor voting segments is key to its victory, retaining the SC-ST support is also important. It hopes the BSP will wean away a portion of SC votes thus damaging the Congress in a three-way fight.
 
5. Market Shivraj as Vikaspurush
 
The final piece in BJP's strategy is to project Shivraj as development icon. The BJP's aim is to take credit for bringing the state out of BIMARU and making it one of the fastest growing states in India. The state today records the fastest agriculture growth not only in the country but in the whole world as claimed by the BJP.
The BJP is showcasing the infrastructure growth in the state under Shivraj's leadership, creation of 1.5 lakh km of roads, significant capacity addition in power sector making it a power surplus state and massive increase in area under irrigation.
 
First time voters pose a challenge
 
Despite a robust strategy, first time voters, who haven't seen the so-called dark age of Digvijaya, pose a challenge to the party. For them whatever good or bad has happened has occurred during Shivraj's rule. These voters account for 10% of the voting population.
For these voters, to make them aware about the condition of MP during the Congress rule and reinforce the development track record of the BJP, the comparison is being carried out under the banner 'daavenahinpraman'.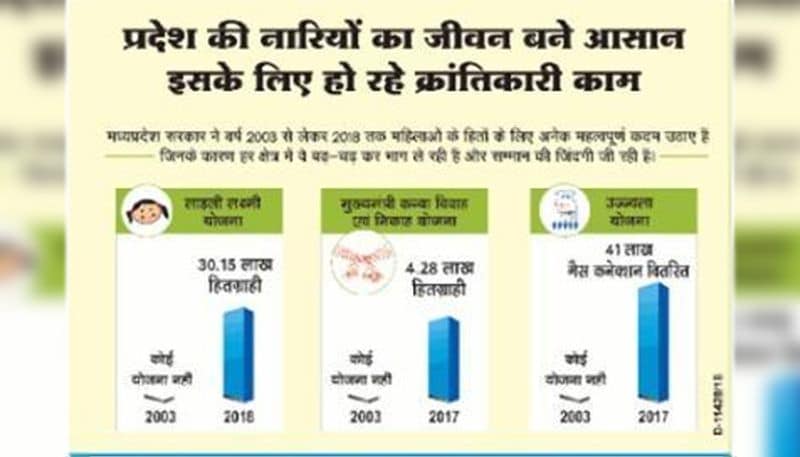 We have to wait till December 11 to see if BJP's strategy works or not.
The writer is a former corporate and investment banker who is now following his passion for politics and elections. He is a political consultant and commentator who tweets @politicalbaaba
Last Updated Nov 12, 2018, 1:16 PM IST