Even in 2014, when a 'Modi wave' swept large parts of the country, Shivraj Singh Chouhan was a force to reckon with in Madhya Pradesh. Now, survey after survey shows him far ahead of contenders from the Congress such as Jyotiraditya Scindia and Kamal Nath as the state's favourite chief ministerial candidate.
The BJP released the list of its first batch of 177 candidates for Madhya Pradesh on November 2, ending days of speculation. According to sources, the remaining 53 seats are contentious, for which a panel of three candidates have been recommended to the BJP parliamentary board, and on which no consensus could be formed.
To curb a potential rebellion, the candidates for these seats could be declared closer to the last date for filing of nomination. The nomination process started on the 2nd and is open till November 9. Chief minister Shivraj Singh Chouhan is expected to file his nomination papers on the auspicious occasion of Dhanteras on November 5. While the BJP has set an ambitious target of "Abki baar 200 paar (more than 200 seats this time)" and is hoping to make Madhya Pradesh its fortress-like Gujarat, Congress is hoping an anti-incumbency of 15 years will help it make a comeback in the state.
Majority MLAs retained against expectations
Key facts and figures pertaining to ticket distribution:
•    Out of 177 candidates declared, 111 have been retained while on 66 seats the party has made replacements. 
•    Out of these seats, BJP won 129 in 2013. 
•    Out of 129 MLAs, 26 including 3 ministers have been denied tickets.
•    Some MLAs denied tickets have been accommodated by giving tickets to family, relatives. 
•    Of the balance 53 seats to be declared, 36 were won by BJP in 2013.
Retentions vs Replacements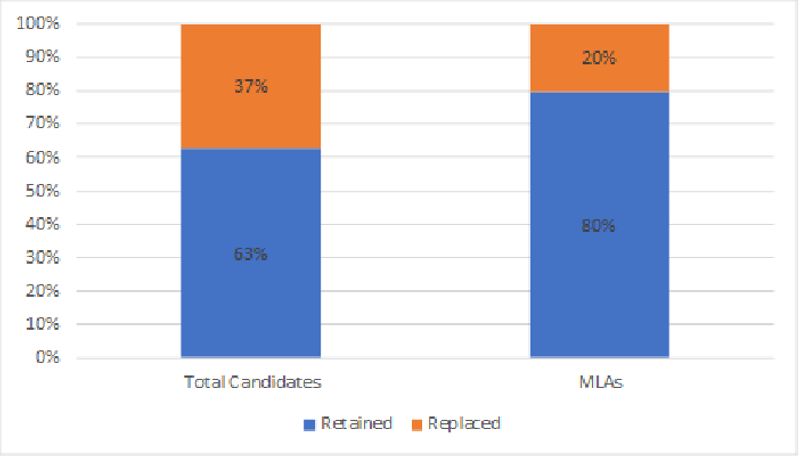 Source: www.politicalbaba.com, BJP Official List
Chouhan has the last laugh
Over the past few months, there have been numerous reports in the local media quoting intelligence reports, surveys conducted by the RSS's swayamsevaks, those by the central team of the BJP — all indicating that, though people are happy with Chouhan's work, there is significant resentment against local MLAs, people are very angry with many of them. Different reports in the local media put the number of MLAs, which could be replaced, to be anywhere between 70-100 (40%-60%). Amit Shah's statement in May that this time the election will be contested basis of sangathan strength (strength of the organization) added fuel to the fire. The fact that only 20% of the MLAs have been replaced in the first list shows that Shivraj has had the last laugh despite rumours in the media over the fact the Narendra Modi-Amit Shah and the sangathan will have a big say. Even if all the existing 36 MLAs are replaced in the second list, the number of MLAs replaced will still fall short of 70, which is the lower end of all speculations.
Amit Shah's time-tested strategy not employed in MP
Modi and Shah have been following a strategy in Gujarat to negate anti-incumbency. That is to replace incumbent MLAs, councillors or MPs with new faces. This way, the candidate does not carry the baggage of non-performance of the incumbent. It's also a way to show the voters that the central leadership does not tolerate incompetence and that it is sensitive to the feedback of people. This strategy was very effectively used in Delhi in municipal elections when all 200 sitting corporators were denied tickets. The BJP managed to retain the corporation even after 10 years of continuous rule.
Chouhan factor very strong in MP, stronger than Modi factor
Shivraj is undoubtedly the most popular leader of the BJP in the state. In the 2014 Lok Sabha elections, even when the entire country was gripped by a 'Modi wave', the Chouhan factor played a key role in the emphatic victory of the BJP in Madhya Pradesh where it bagged 27 out of 29 seats. While on the all-India basis, 27% BJP voters said they wouldn't have voted for BJP if Modi was not the PM candidate — as per the CSDS survey — this number in MP was only 15%. While across India, 48% people would vote for BJP even if Modi were not to be made the prime ministerial candidate, this number was 62% in Madhya Pradesh.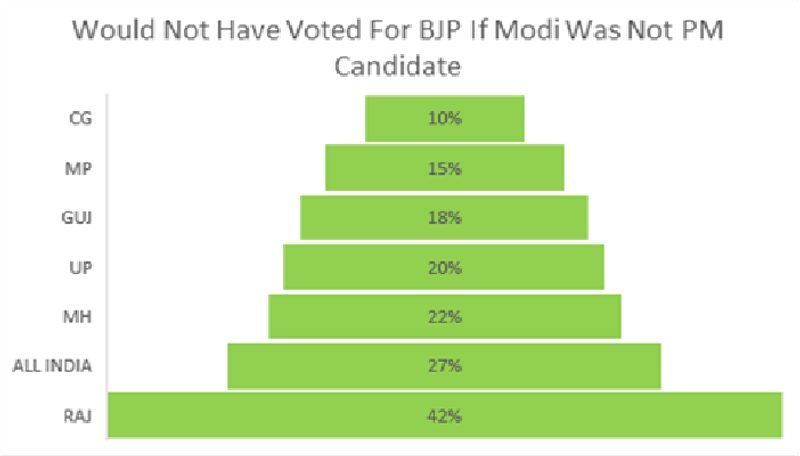 Source: CSDS Post Poll Reports, Lok Sabha 2014
Chouhan leads the race as the most preferred chief ministerial candidate across surveys. Even ABP-C Voter survey carried out in October 2018, despite predicting a Congress win, showed Chouhan (42%) to be much ahead of Jyotiraditya Scindia (30%) and Kamal Nath (7%). Only in their latest survey have they corrected this inconsistency which this columnist had pointed out in a Times Now debate. An average of seven opinion polls (poll of polls) show Chouhan the preferred chief ministerial choice of 42% respondents with Scindia trailing at 31%.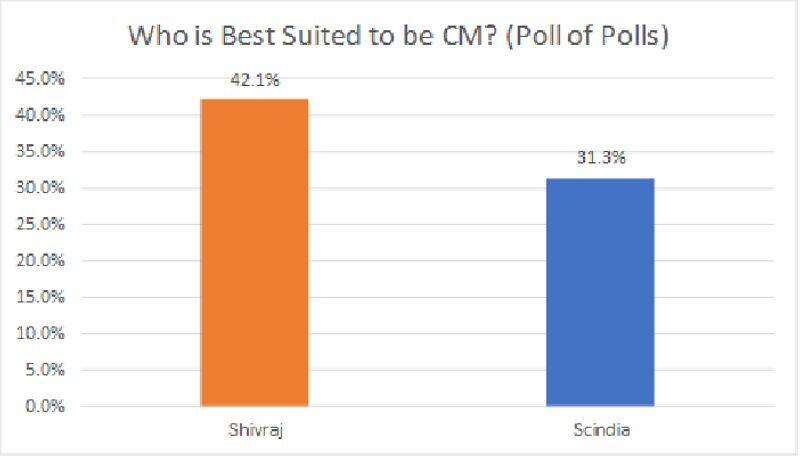 Note: Average of seven polls, IBC24, Dainik Bhaskar, India TV, Times Now, India Today Political Stock Exchange and 2 ABP surveys
Party realised only Chouhan can win the elections
BJP has realised that Chouhan is still popular among the masses due to his humble, down-to-earth nature and the image of a vikaspurush (man for development). The good response to Jan Aashirwad Yatra, where he has already covered 180 plus constituencies, gave Shah and Modi the confidence to leave the elections in the safe hands of Chouhan like in 2008 and 2013. People have been thronging the streets and waiting to get a glimpse of Chouhan in the wee hours of the morning. Groups that have been opposing Chouhan, especially Kailash Vijaywargiya, have not been given importance.
Madhya Pradesh is an important state in Modi-Shah's scheme of things for Lok Sabha 2019 elections as it sends 29 MPs to Parliament. The BJP won 27 seats in 2014. The party has been winning more than half seats in Madhya Pradesh since 1996. Modi-Shah did not want to upset the calculations of an important state especially with the threat of mahagathbandhan in Uttar Pradesh, Bihar and trend in Rajasthan. With Chouhan now getting an upper hand in seat distribution now it remains to be seen whether he manages to lead the BJP to a fourth consecutive win.
The writer is a former corporate and investment banker who is now following his passion for politics and elections. He is a political consultant and commentator who tweets @politicalbaaba.
Last Updated Nov 9, 2018, 5:36 PM IST