Despite all his weaknesses, Digvijaya Singh is still the only big leader of Congress who has a pan-state presence and good hold on organisation. But his 10-year tenure has been successfully publicised as a 'dark age' by BJP
Congress is hoping for a gharwapsi in Madhya Pradesh, riding on anti-incumbency of 15 years in the state. However, factionalism in the party, which is widely prevalent and well known, is hurting its prospects.
The Congress camp is divided into many groups and sub groups which don't see eye to eye. This is one of the prime reasons why Congress hasn't announced a chief ministerial candidate, though ostensibly Rahul Gandhi claims he wants to use the experience of Kamal Nath and youthful energy of Jyotiraditya Scindia both when asked a question during an informal interaction with journalists in Indore recently.
As per news reports, Digvijaya Singh and Scindia had an altercation during the Central Election Committee meeting to finalise tickets. It got very ugly with Scindia alleging denial of tickets to his supporters and Nath-Digvijaya-Ajai Singh of ganging up.
Rahul had to form a three-member committee to resolve the issue delaying announcement the party's first list. This led to #CongressVsCongress trending on Twitter on November 3. 
Kamal Nath's appointment as president of Pradesh Congress Committee set up the war 
It all started with the surprise appointment of septuagenarian Nath as president of Pradesh Congress Committee in April. It was widely believed that the party could give the reins to young and dynamic leader Scindia.
Nath, 71, was perceived as close to retirement from active politics. Additionally, he is seen as an outsider despite being a nine-term MP from Chhindwara. 
According to his critics, his influence is limited to Chhindwara or at the maximum Mahakoshal. Scindia on the other hand belongs to the royal family of Gwalior which enjoys considerable clout in the state.
Also read: BJP's ticket distribution in Madhya Pradesh bears clear Shivraj Singh Chouhan stamp
Additionally, he has the youth factor going in his favour. It is rumoured that Digvijaya, who nursed the ambition to become state president after a six-month long parikrama of Narmada, backed Nath for the job, after his chances were scuttled. 
Rahul made efforts to pacify all the groups by making Scindia, the chief of Campaign Committee and Digvijaya, the chief of Co-ordination Committee. However, all is not well within the party.
A Twitter war broke out between Nath and Scindia supporters with #Kamalnath4CM trending on Twitter.
Scindia's group responded with a poster war with 'Scindia for CM' put up across the state. The main issue is that Scindia is way ahead of Nath in popularity ratings for who is best suited to be the chief minister.
In fact, in the latest C-Voter survey he is even ahead of Shivraj Singh Chouhan. So it's natural for him to feel upset on being denied the chief minister candidate of Congress party. In fact his popularity is almost three times of Nath.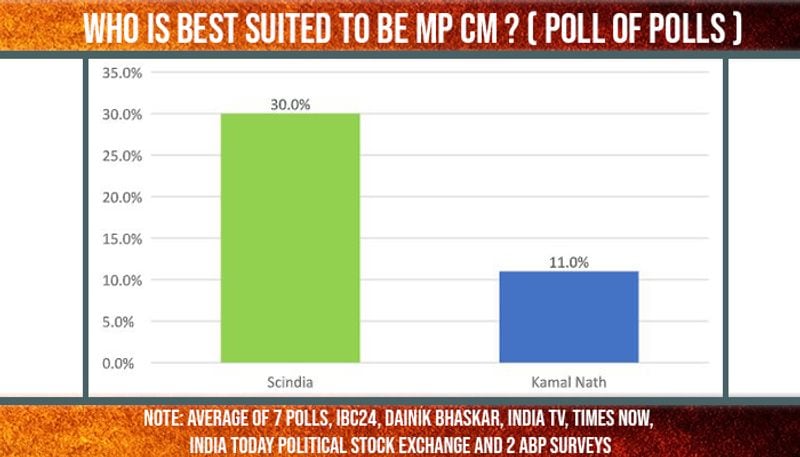 Digvijaya has strong roots but his 10-year rule highly unpopular
On the other hand, old warhorse Digvijaya is also upset at being left out of the campaign. Digvijaya is missing from Rahul's road shows and posters. On being missing from Rahul's recent Indore trip, he put up a tweet stating he has been assigned a specific task from the Congress president and hence he was unable to join. 
मुझे अध्यक्ष जी ने कुछ आवश्यक कार्य सौंपा हुआ है जिसके कारण राहुल जी के इंदौर उज्जैन कार्यक्रम में अनुपस्थित रहूँगा क्षमा करें। सभी मित्रों से राहुल जी का गर्म जोशी से स्वागत करने की अपील करता हूँ।

— digvijaya singh (@digvijaya_28) October 29, 2018
Few days before, he made a controversial statement that whenever he speaks, the party loses, and that's why he is staying silent during the campaign.
Despite all his weaknesses, Digvijaya is still the only big leader of Congress who has a pan-state presence and good hold on organisation. But his 10-year tenure has been successfully publicised as a 'dark age' by BJP where people used to roam on the streets of Bhopal as there was no electricity, there were roads in potholes not potholes on roads and law and order was in disarray. Congress understands this and that's why they have put Digvijaya out of the main campaign. However, he wants tickets for his followers as compensation which resulted in the altercation in Delhi.
Infighting one of the reasons for Congress's continuous poor performance 
Political maneuvering by the party's senior leaders like Digvijaya, Scindia, Nath, Kantilal Bhuria, Ajai and Arun Yadav was identified as one of the key reasons for party's defeat in 2013 Assembly elections (Pai 2013).
Even 20% Congress supporters wanted to see Shivraj as chief minister in 2013 upset with factionalism in the party. As per CSDS post poll survey of 2014 Lok Sabha elections, 38% respondents agreed with the notion that the repeated electoral defeats of the Congress in the state were mainly a result of factionalism within the party.
As per a Dainik Bhaskar survey of August 2018, having a big sample size of 2.3 lakhs, 30% respondents said infighting is the biggest problem for Congress in these elections and 25% respondents said not having a CM candidate. 24% farmers, 33% professionals and 30% businessmen indicate groupism is affecting party's prospects in 2018 assembly elections.
Not having a CM candidate affecting party's chances
In 2013 elections, CSDS asked respondents if Scindia had been the CM candidate, would the voting preference of voters have changed. 6.9% responded in the positive. The vote share gap between Congress and BJP in 2013 was 8.6%. This could have made the elections very close. 31% farmers, 24% professionals and 26% businessmen indicate not having a CM candidate is affecting party's prospects in 2018 Assembly elections. No unity among the Congress camp is strengthening Shivraj's 'There is No Alternative Factor' (TINA).
To sum up, the aim of Congress should be to first make the Madhya Pradesh elections a BJP versus Congress battle. Currently it appears a Congress versus Congress battle which puts BJP on top.
The writer is a former corporate and investment banker who is now following his passion for politics and elections. He is a political consultant and commentator who tweets @politicalbaaba