The Sachin Pilot-Ashok Gehlot feud has rendered the Rajasthan unit of the Congress a house divided. One faction is leaking sensitive and embarrassing information against the other to the mainstream and social media. The high command is in a quandary, revising the list of nominations for the Assembly election again and again.
Rajasthan has been one state where most political observers had gifted to the Congress in their respective opinion pieces. Even as late as a month ago. Not only was it anti-incumbency that cost the BJP dear in Alwar and Ajmer Lok Sabha by-election and Mandalgarh Assembly by-election; the image of chief minister Vasundhara Raje as an arrogant leader became a burden for the party. The image was in contrast to an 'accessible' Ashok Gehlot who has in the past served as the chief minister of Rajasthan. So much so, the BJP top brass after a month-long spar with Raje, devised a different strategy ⸺ to deflect public attention off Raje during the campaign to minimise the damage. All this while, the Congress was a resurgent force and the line for its ticket was longer than that for BJP nominations. But in the last one month, things have changed significantly. And it has changed for worse, for the Congress. A state where C Voter had predicted Congress was heading for a "historic win" may not be a cakewalk for the oldest party anymore. And it has only and only itself to blame.
 
In politics, nothing happens abruptly. It shows signs of change. Here too, it is marked by four instances that were indication enough that it was Congress that was fighting the Congress.
Rahul Gandhi residence gheraoed
In the Congress's scheme of things, the Nehru-Gandhi family is the holy cow. You can and may blame the state president (in this case, Sachin Pilot) or the state in-charge (Avinash Pande, who was appointed quite late in September 2018). But no one blames the family. It's an unwritten rule even the booth workers of the party know. But on November 15, in the dead of the night, the unthinkable happened.
Around 200 Congress workers gheraoed the highly secured 12 Tughklaq Lane, the official residence of Rahul Gandhi. While Special Protection Group (SPG) scrambled to call the Delhi Police to deal with the unpredictable situation, the workers who were unhappy about not finding a place in the first candidates list for Rajasthan containing of 152 names, chanted anti-party slogans. In fact, many complained that "parachute candidates" had been roped in to fight the election. A few threatened to fight independently and the rest urged Gandhi to revise the list.
Delhi: Congress workers who had gathered outside residence of party President Rahul Gandhi after list of candidates for #RajasthanElections2018 was released tonight,detained;say"Instead of parachute candidates, request him to give tickets to those who gave blood&toil to Congress" pic.twitter.com/gv0NJIzVEG

— ANI (@ANI) November 15, 2018
Sachin Pilot's car gheraoed
Next was Pilot. By then, two lists for Rajasthan were out and many had not found a place in that. What made things bitter was the caste battle between Sachin Pilot and Ashok Gehlot, both claimants for the chief minister's post. As Pilot was leaving his residence, around 30 agitated workers stopped his car. The demeanour wasn't conciliatory on this occasion. It was time for the expression of their disgust.
"
Many thumped Pilot's car, as other shouted at him and asked him to get out. In the video that has since got viral, Pilot is seen to be making frantic calls. After cops intervened, his car had to be taken back as the Congress workers from Rajasthan were in no mood to let him go. A senior party leader associated with the planning of Rajasthan campaign told MyNation, "It's not that serious a matter as it is made out to be. But what's disturbing us is how the video of Sachin Pilot was made in one minute and circulated in no time." Asked whether he was suspecting an insider's hand, he said, "What else?"
List revised repeatedly
Not once but twice the Congress list for Rajasthan had to be changed. This Sunday, it released its third list of 13 constituencies. Among the 13, three were replacements. BD Kalia was fielded from Bikaner (West), replacing Yashpal Gehlot who will now fight from Bikaner (east) replacing Kanhaiyalal Jhawar. CL Premi was replaced by Rakesh Boyat in Keshoraipatan. But that wasn't enough embarrassment for the Congress. There was another change.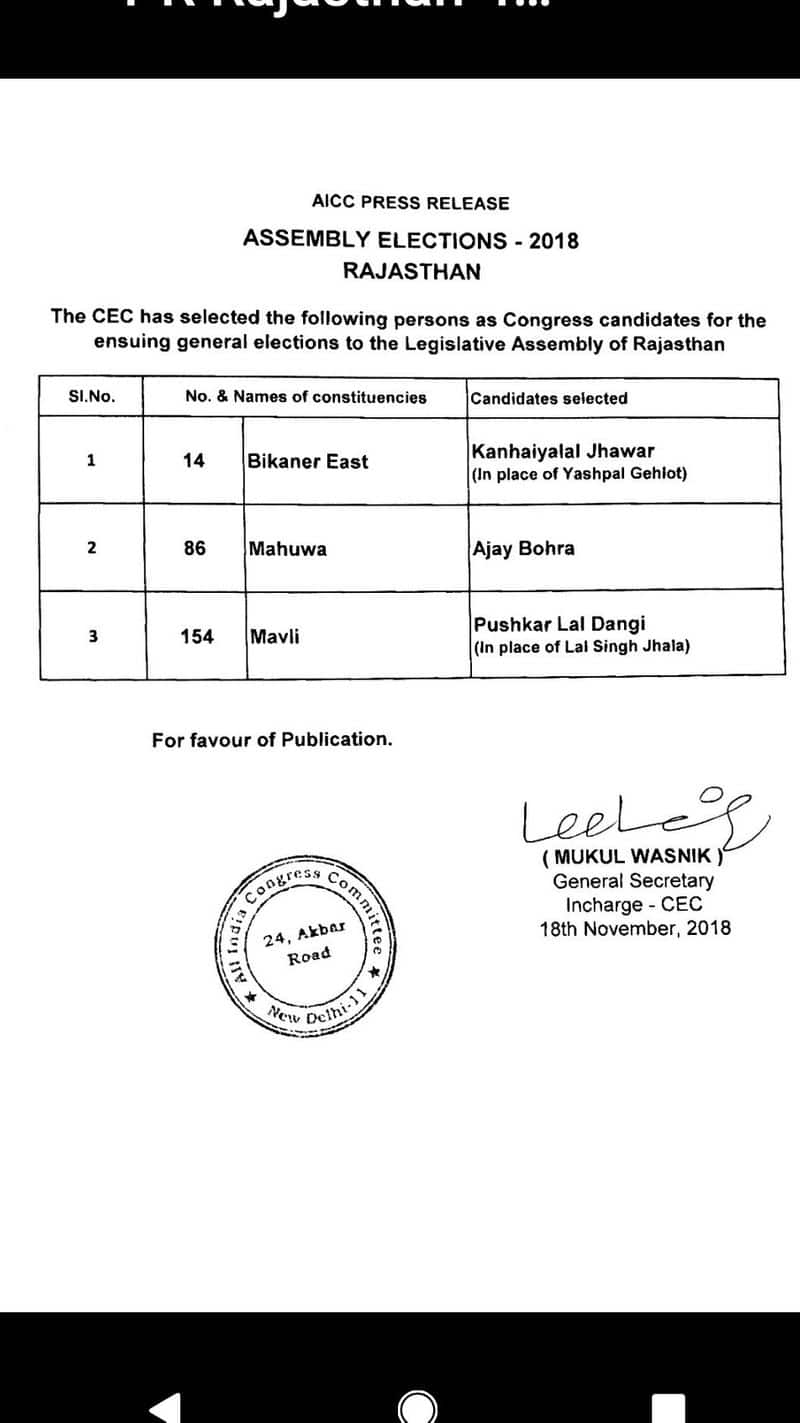 In another video that has gone viral, Congress's leader of opposition Rameshwar Dudi threatened that if Jhawar wasn't allowed to fight on a Congress ticket from Bikaner (East), he won't fight the general election in 2019. This forced the Congress to go into a midnight huddle and undo what was previously undone. So, technically, Jhawar who was fighting from Bikaner (East), was replaced after his name was announced ⸺ only to be reinstated.
"This reflects very poorly on us. This could have well been avoided. Our in-charge (sic) and PCC president should have apprised the CP (a common term used for 'Congress president' in the party circle) because Wasnik ji (Mukul Wasnik) issues list only after a formal okay from the CP (Rahul Gandhi). Such changes raise a question on the party's hold over its state leaders," said a Congress leader based out of Delhi, requesting anonymity."
Pilot-Gehlot cold war
In the root of all these problems lies the animosity between the two top leaders of Congress in Rajasthan. While Piot has been relentlessly reaching out to Rajputs and Gujjars, two major castes in Rajasthan, Gehlot is banking on his not-so-influential Mali caste. In a post-poll scenario, Rajputs, Gujjars as well as Jats would like to see a chief minister from their own caste. If elected to power, the Congress may go with Gehlot as a compromise candidate from a less domineering caste, expected to take everyone along. It is with this belief that Gehlot has been going all out against Pilot in spite of their smiling photo-ops in rallies and road shows.
Pilot, on the other hand, has not been sitting idle. The entire Bikaner (East) seat fiasco, most Congress cadres from the seat feel, has been the handiwork of Pilot. When the Congress leader hinted at an "insider's hand" in making the video of Pilots car being blocked, it was obvious he was referring to Gehlot, a crafty politician who played a crucial role even in the Gujarat election.
So bad was the situation that Pilot reportedly used his proximity with Gandhi to not let Gehlot nominate anyone. Sources say that only after Sonia Gandhi was informed by an old hand in the party of a possible split, she intervened and ensured that Gehlot's name is there in the first list along with Pilot's.
In stark contrast, things have changed for the better for the BJP over the last one month. The RSS is now playing a pro-active role in the campaign, quietly reaching out to the people with the time-tested door-to-door canvassing style. Raje-Shah spat is a thing of the past. The BJP leadership and Raje know it's a war for survival. Hence, fighting together is the best strategy. Whereas the Congress is still managing dissent while each faction engineers leaks against the other. If Congress loses Rajasthan, it has only itself to blame.
Read Exclusive COVID-19 Coronavirus News updates, at MyNation.
Last Updated Nov 19, 2018, 7:11 PM IST