Mamata Banerjee, Bengal's chief minister, is often accused of 'Muslim appeasement' to 'politics of vote bank'. For the past one year, she has been on a rigorous image makeover spree. But one tweet by her may undo all her efforts with the BJP claiming vindication
New Delhi: The BJP has all along accused Bengal chief minister Mamata Banerjee of minority appeasement. Party chief Amit Shah has identified Mamata's pro-minority face as one of the two issues with which it will fight the upcoming Lok Sabha election in Bengal. But little did she know that flaunting her work for the minorities on International Minorities Day will make the BJP claim vindication of its point that can prove counter-productive for Mamata in a Bengal that has seen a sudden spurt of saffronisation.
What did Mamata claim?
Mamata claimed to have distributed 'scholarships to over 1.7 crore minority students, the highest in the country'. And the state BJP was quick to claim vindication with its chief Dilip Ghosh saying, "Haven't we been saying this all along? No one believed us. Now it's coming from the horse's mouth."
Today is #MinorityRightsDay. We are all equal and united. Unity in diversity is our strength. You will be happy to know that in #Bangla, we have distributed scholarships to over 1.7 crore minority students, the highest in the country. My best wishes to all

— Mamata Banerjee (@MamataOfficial) December 18, 2018

Mamata's tryst with 'appeasement'
This is not the first time that Mamata has indulged in something that could be called 'minority appeasement'. It started in 2009 when Rizwanur Rehman's alleged suicide created a stir in Kolkata. It was alleged that he was harassed by cops for marrying into an influential Hindu family by eloping with their daughter. When Kolkata was split wide open on this matter, Mamata chose to side with Rehman's family. Later his brother was given a ticket to fight for the TMC in the 2011 Assembly election.
In 2012, Mamata announced an allowance of Rs 2,500 for each Imam and a stipend of Rs 1,500 each to the muezzins. The move was seen as not only unconstitutional but to appease the Muslim vote bank in Bengal that constitutes somewhere between 30-32% (unofficially; officially it's still 27% according to the 2011 census) of the total population of the Eastern state. Though the Calcutta high court struck down this move citing lack of constitutionality, Mamata ensured it reached them through the Waqf board.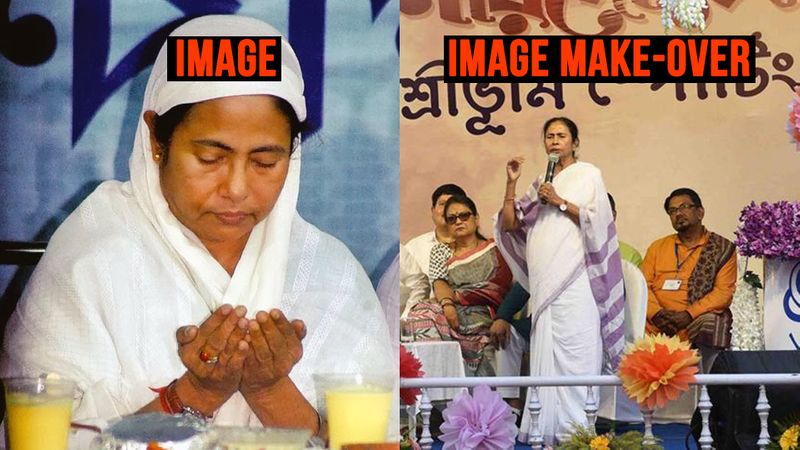 More recently, the row over Durga Puja immersion on Dashami dented Mamata's image. Dashami is the tenth day of Navratri when the Durga idols are immersed into water, as per tradition. But her ban on the tradition, citing law and order problem as it clashed with Muharram, had even the courts frowning. Also ,her objections to Ram Navami celebration by Vishwa Hindu Parishad (VHP), a right-leaning organisation that shares its ideology with the BJP in 2017, portrayed a very negative image of her government.
BJP's intense campaign
But what didn't dent Mamata's image in Rizwanur's time, or for that matter, during her announcement for monthly stipends for Imams, started leaving a bad image of Banerjee, as the BJP started to get more foothold in Bengal. The narrative of 'Mamata is pro-minority' started gaining weight with the BJP's intense campaigns and compounded by Mamata's own action that seems to support that narrative. 
So, by 2017, Mamata started to feel the heat of this changing narrative. On a conscious image makeover spree, Mamata started to be seen in more and more Hindu rituals and Hindu motifs, as there has been a sudden saffron rush with the Bengal youth taking to streets with idols of Ram. In September 2017, Mamata was seen standing inside a Durga pandal, and confidently told reporters, "If this is appeasement, I shall continue to do so as long as I am alive. I will do it even if a gun is held to my head. I don't discriminate. That's the culture of Bengal, that's my culture".
Mamata' U-Turn
But by 2018, things changed dramatically. The BJP swept panchayat polls in Purulia in spite of a fierce and violent attack by TMC cadres, that was documented by TV cameras and multiple Facebook lives by BJP sympathisers. The TMC's political violence was so intense that no one could file a nomination in more than 30% seats. In fact, Calcutta high court, in an unprecedented move had to allow candidates to file a nomination to the state Election Commission through WhatsApp. The Purulia win and a near-win in Jhargram district put the Mamata government on red alert. For the first time in the state, the TMC not only had any objections to Ram Navami celebrations but 'orders came from the top', unofficially though, for the TMC to organise its own Ram Navami celebrations. A Kolkata that is habitual to king size cut-outs of Mamata, saw her chanting chandi path, a ritual to welcome Goddess Durga. All this was done to counter the BJP's '70 vs 30' strategy where the BJP hoped to pitch a large Hindu consolidation against Mamata's Muslim consolidation. 
But with this single tweet, however unintended, has Mamata proved her nay-sayers, like Amit Shah, who accuse her of 'vote bank ki rajneeti' (politics of vote bank), right? And more so, will it undo all her efforts for the image makeover she has been doing lately?

During the UPA rule, readers may recall, then Prime Minister Manmohan Singh had drawn a lot of flak for asserting that minorities have the first right to the nation's resources.