A woman, who went to Kolkata's South City mall, asked the mall authorities to provide her with a private place to breast feed her child. However, she met with an insensitive remark from them
Kolkata's famous shopping mall - South City mall is facing public ire after a woman took to social media to describe her predicament when she requested the mall authorities to provide a place to breastfeed her child.
"There is no place to breastfeed on the top of it your staff asked me to feed in the toilet...disgusting place. Such a big useless mall," she wrote on her Facebook post.
To everyone's surprise, other than apologising for the insensitive behaviour, the mall posted a shocking reply.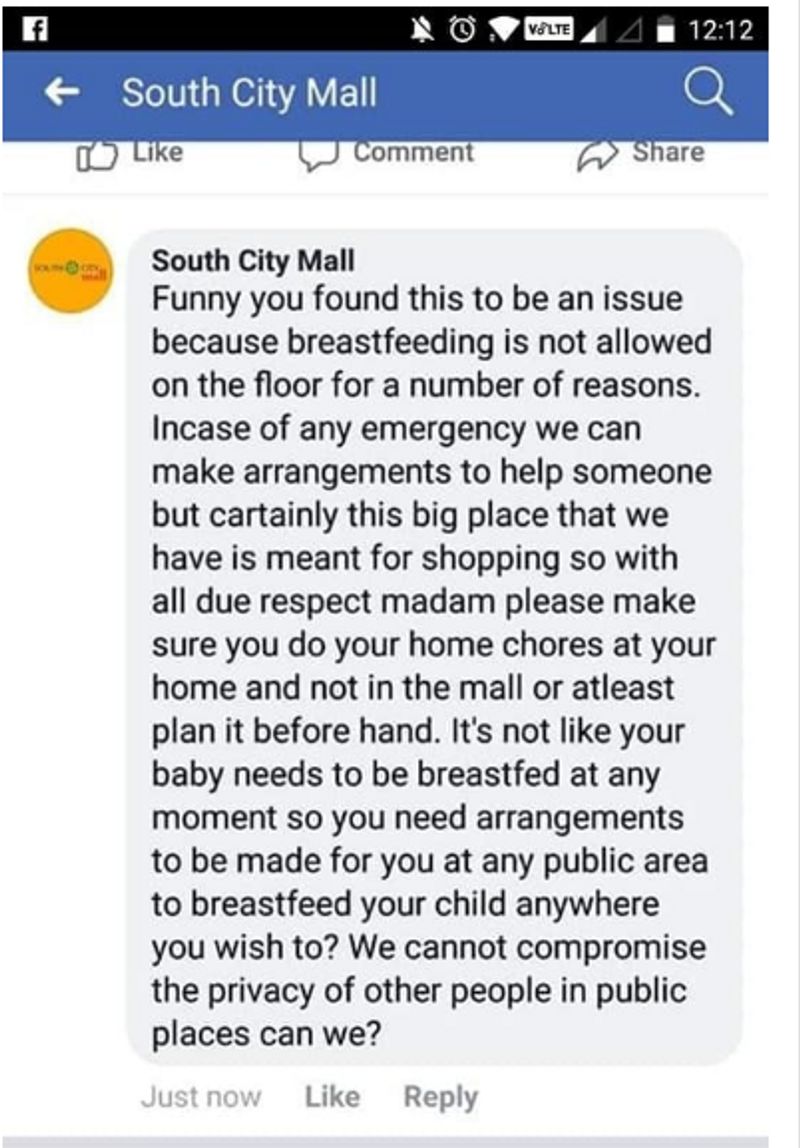 This drew flak and the mall authorities were forced to delete the reply. They also issued an apology.
However, the woman told Deccan Chronicle "First, I asked a member of the cleaning staff on the first floor and was told that there was no baby-care room on that floor. I went to the second floor and again asked a staff member near the washroom if there was a place there where I could feed my child. There was none. I went inside the washroom and almost puked.
"I was left with no option but to feed my child in the open. So, I started looking for a bench. But there were so few of them and none of these was unoccupied for us to have a little privacy. Just then, the thought of using a trial room struck me and I approached an empty store to seek permission to use one of their trial rooms, which the store staff allowed."
However, this is not the first incident of insensitive conduct by popular public establishments like shopping malls or restaurants in the City of Joy. 
1. Last year, in July, film maker Ashish Avikunthak was denied entry into Quest mall, another popular mall in Kolkata, for wearing dhoti. He took to Facebook to share his experience.
2. In 2016, Dilashi Hemnani claimed that the popular restaurant Mocambo in the city's famous thoroughfare Park Street refused to serve her driver, who was accompanying her because he was allegedly wearing "ill-clothed"
However, Mocambo Manager Ashish Malik defended the restaurant's stand by saying, "She was a well to do lady, of course. When she came, she asked for a table for two. The person who was there said of course we will give you table. We don't have any discrimination... we allow everybody. After some time, the person who was giving the table asked her...please call your friend and she pointed out to a guy, who was very dirtily dressed...absolutely dirty…She said he is my driver...from 8' o clock he is driving me. My person said we can't give you a table but we can give a packing for him. She got very furious and started shouting. She said on humanitarian grounds you are stopping a person...this is not right… We allow each and every person. Many families come with their maids, some come with their drivers. They are all well-dressed. They are sitting inside and having food...we never stop anyone...till today we have not done. She has a wrong conception that she has been insulted and a person has been insulted on humanitarian grounds...that is wrong… Other guests were sitting... they will see...they will obviously feel bad. So, that's the reason why we stopped him. I don't think we have done anything wrong. We have no dress code. Many people come in half-pants also...many in Bermudas, but they are well to do. When you will see them, you will understand the profile of the person...neat and clean, decent looking. If you are dirty, how can you allow a person?"
3. Suzette Jordan, who was the victim of the infamous Park Street rape case, was denied entry into the restaurant-cum-pub called Ginger in Hazra in 2014.
"Another humiliating moment in my life!!!! Was not allowed into a restaurant/pub! Known as. Ginger, Was told by the manager that being the 'PARK STREET RAPE VICTIM' he could not let me in, this was told to me repeatedly by the rude manager who brazenly challenged me and added that I could even report his name," she wrote, in a Facebook post.