Three consecutive quarterly losses, fund crunch and stiff competition have left the once market-leader in a state of frenzy. The pilots are asked to take a pay cut and the management is scrambling to sell more shares
New Delhi: Jet Airways is India's leading airline that likes to brand itself with the tagline 'Joy of Flying'. But over the past year, the economic health of the Naresh Goyal-owned airline has suffered a big jolt that hasn't recovered.
Three consecutive quarterly losses, fund crunch and stiff competition have left the once market-leader in a state of frenzy. The pilots are asked to take a pay cut and the management is scrambling to sell more shares. 
But what made the general public sit up and take notice of the matter was when six flights were grounded due to 'operational reasons'. But is it that simple?
Jet employees take a hit?
 
News agency Reuters has reported that Jet Airways management allegedly informed its pilots that with the fund at hand, they can operate for 60 days. If that wasn't a big blow to the employees, the pilots are reportedly asked to take a pay cut of 15% for two years. Reuters says, "Jet Airways CEO Vinay Dube called the reports 'factually incorrect' and 'malicious', although the company did not specify precisely what aspects of the reports it disputes." 
Sources told MyNation that talks are ongoing to decrease the operational cost and keep the airline flying.
Passengers start to feel pinch
 
On Monday, four Boeing 737 flights were reportedly grounded in Mumbai, Bengaluru and Chennai and Delhi. By latest count, the total number of grounded flights have gone up to six.
It takes a lot to keep a flight operational. Apart from the stiff ATF prices and an even stiffer competition, any airline needs to spend a lot on maintenance to keep it afloat. 
Even though it's unclear why the flights were grounded, it certainly left passengers fuming. 
Is @jetairways closing down?? Flights cancelled at the last minute and no intimation to passengers? This is a bloody nightmare!

— Dilshad Master (@DilshadMaster) January 29, 2019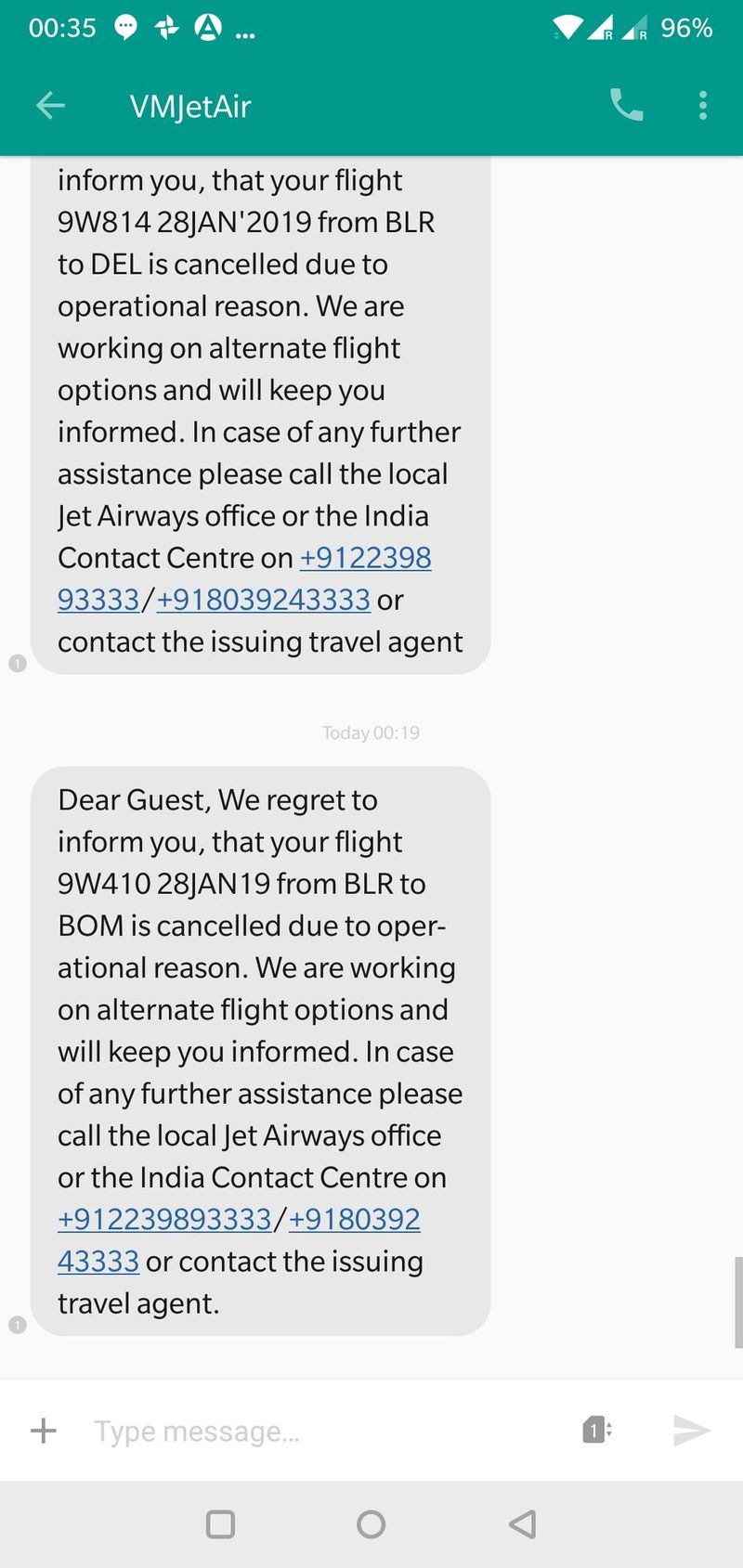 Many complained of being unable to reach the customer care service. 
@jetairways unable to reach call centre since yesterday. Can some one please call me.need to change tkts

— Nipun Kaushal (@nipun75) January 29, 2019
Faced with social media onslaught, the airline came up with a statement, attributing high traffic for the delay.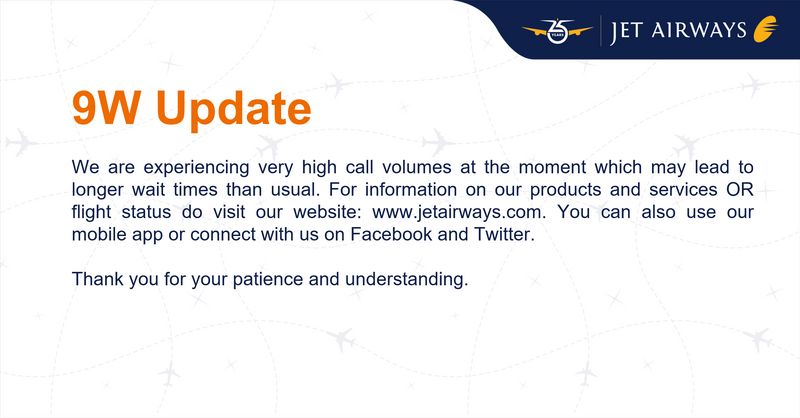 In deep debt crisis
 
It is public knowledge that the aviation business is risky. But when you have a full-service airline (non-budget airline) that has to compete with another full-service airline like of Air India - which is taxpayer funded and hence can afford to price their tickets more competitively - the result, more often than not, is debt. 
Amid a looming cash crush, Jet Airways defaulted on bank payments on December 31, 2018. The debt-stricken airline has a total financial obligation of around Rs 10,000 crore. 
Jet and money crunch
 
To put things simply, Jet Airways is in dire need of funds. Reports suggest it has sought shareholders' approval for converting loans into shares. The company is also believed to be increasing its authorised share capital to a whopping Rs 2,200 crore from a mere Rs 200 crore. This means that Jet Airways can issue shares to lenders. Now all eyes are on a much-anticipated February 21 general meeting, that can save the airline by allowing it to issue shares.
Any takers for Jet Airways?
 
Initially, there were talks with Etihad which already won 24% share in the cash-strapped airline, to buy more shares so that the airline can repay some of its loans. 
There was a buzz that the talks didn't materialise when they approached Qatar Airways. It too refused, citing that an 'enemy nation' already has a stake in the airline. Etihad is a UAE-based airline company and the Arab world was in a diplomatic faceoff with Qatar, virtually cutting it off from other Gulf countries using its influence. 
There are rumours in the market that the State Bank of India (SBI) may acquire 15% stake in the airline, and Etihad may have to rethink and increase its share from 24% to 40%.
MyNation sent a detailed questionnaire to Jet Airways, but all it chose to respond with was a one-line statement saying, "In line with its policy, Jet Airways does not comment on speculation".
Whether the February general meeting allows what Jet Airways wants, whether the SBI indeed buys a stake in a dwindling company and whether Etihad rethinks of increasing its earlier snub to Jet - a lot will depend on these factors.
But what is certain after Monday's abrupt flight cancellations is that many experienced deja vu and recalled when Spicejet went out of business in the thick of winter of 2014.