Karnataka secretariat in Bengaluru, Vidhana Soudha, turned into a fortress as the state government celebrated Tipu Jayanti with massive security. Protests were staged in Kodagu and other places terming the ruler as murderer.
Kodagu: Amidst protests staged by a section of Hindus from Kodagu and coastal Karnataka (BJP's bastion) over the celebration of Tipu Sultan's 269th birth anniversary, Karnataka government went ahead with the official 'Tipu Jayanti'.
For BJP, which was hoping to gun this coalition government, used this official celebration as a tool to criticise its administration.
Protests were organised in Kodagu, Kolar, etc, and a bandh was called by Hindu organisations in these areas.
Calling Tipu as a murderer, KG Bopaiah, former speaker and Virajpet MLA, said, "Tipu ransacked 300 temples, killed over 80,000 people including Kodavas. He converted many Hindus. Bhankandeshwar temple, which marks the origin of river Cauvery, was targeted by Tipu. Broken tusks at the temple entrance are very evident of the fact that Tipu was against Hindus. He changed the names of areas in Kogadu. Madikeri was named Zafferbad, Bhagmandala was named as Afzalbad.  Government celebrating such a person's Jayanti should be criticised."
Supporting his claims, Bopaiah further added that just because Tipu helped Sringeri temple, he cannot be termed as a pious person. His role in ransacking holy Bhagmandala temple cannot be forgiven, said Bopaiah.
Rubbishing such claims, Mahesh Chandra Guru, HoD Journalism, University of Mysore, said that BJP's argument "defaming this great personality" cannot be accepted. People like SL Byrappa, writer, MP Pratap Simha and others do not know history, he said.
"Tipu was responsible for the development of over 150 temples. Sringeri Sharadha temple, Nanjangud Srikenteshwara temple, Mulbagal Anjaneya temple in Kolar, Ranganatha temple in Srirangapatna, Melkote temple and many others received grants from Tipu. When Marathas desecrated Sringeri Sharadha temple and threw the idol in Tunga river, Tipu helped in renovation. He also gifted golden elephant idols," said Guru.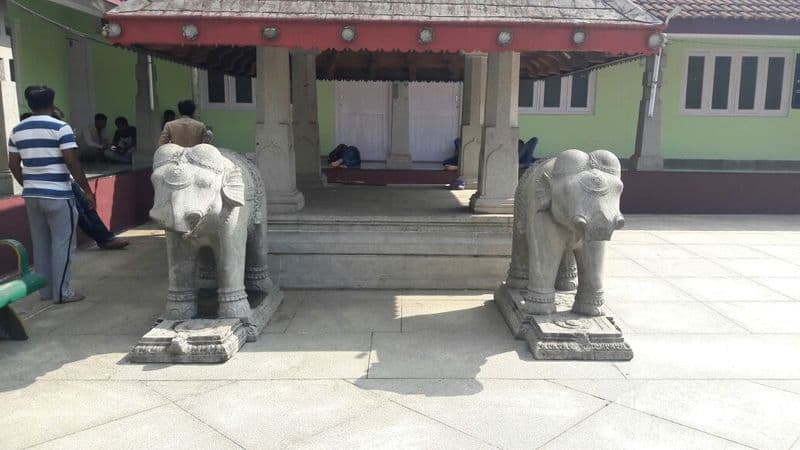 Terming Tipu as a great patriot, Guru gave the reference of how Tipu punished his adversaries from all sections.
Defending the attack on Kodavas, Guru stated that a few Kodavas joined the Marathas and hence they were attacked. Similarly, in Mangaluru, few Christians joined the Britishers and same with Nawab of Kadapa, who also joined the Britishers. Like a king who wants to save his kingdom, he attacked all of them and one cannot call Tipu a murderer for this, he said.
"Many say Tipu was a Kannada Virodhi (anti-Kannada), but in Sringeri temple, there are 30 letters written by Tipu in Kannada to the temple priest extending his support. This should shut a few self-appointed religious custodians' mouth,"  said Guru.
In honour of Tipu, Mahesh Chandra Guru has compiled a book and will shortly release it. The book is titled 'Mahatma Tipu Sultan'.
Last Updated Nov 10, 2018, 4:33 PM IST