Petrol prices have been cut by more than Rs 5.49 per litre and diesel by Rs 3.82 in the past one month in Mumbai.
New Delhi: Fuel prices have not increased since almost a month now, and were kept the downward trend on Thursday. In the past month, crude oil prices have fallen 18%, which also resulted in the rupee gaining against the US dollar. 
According to Indian Oil Corporation data on Thursday, petrol prices in Kolkata, Mumbai and Chennai, were at Rs 79.21 per litre, Rs 82.80 per litre and Rs 80.26 per litre, respectively, while diesel stood at Rs 73.95 a litre in Kolkata, Rs 75.53 in Mumbai and Rs 76.19 a litre in Chennai.
On Wednesday, crude oil prices fell by 7% and the rupee appreciated to 72 against the dollar. A litre of petrol now costs Rs 77.43 in Delhi, Rs 82.94 in Mumbai, Rs 80.42 in Chennai, Rs 78.05 in Bengaluru and Rs 79.36 in Kolkata.
Diesel, on the other hand, costs Rs 72.19 in Delhi, Rs 75.64 in Mumbai, Rs 76.30 in Chennai, Rs 72.58 in Bengaluru and Rs 74.05 in Kolkata.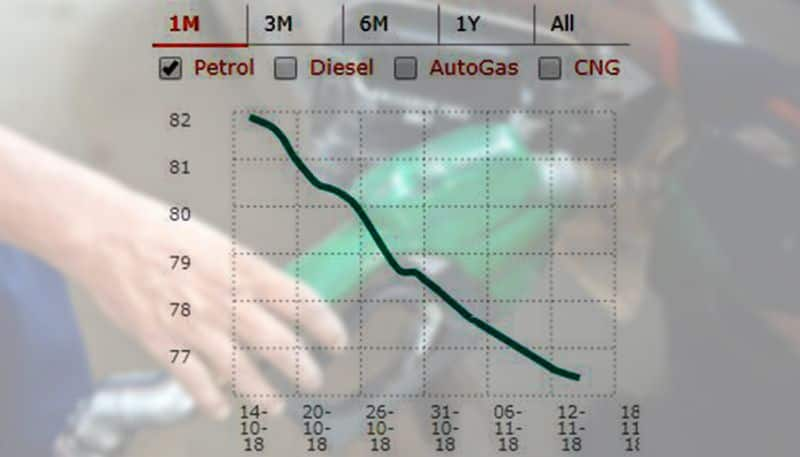 5 things to consider
1. High and then low: On October 4, petrol prices had touched an all-time high of Rs 84 per litre in Delhi and Rs 91.34 in Mumbai. The Centre had declared a cut in excise duty and a subsequent reduction in sales tax or VAT by several state governments. The state-run oil companies too had cut the prices by Re 1 per litre of petrol and diesel sold. Thereafter, crude oil prices entered a bear market, resulting in a drop in petrol and diesel prices.
2. Big decline: Since early October, the price of crude oil has fallen by a quarter to below $70 a barrel, its lowest in eight months. It is one of the biggest declines since a price collapse in 2014.
3. US sanctions: In early October, crude futures climbed to their highest since 2014 on fears that US sanctions against Iran would crimp supply. With soaring production in Saudi Arabia, Russia and the US, as well as unexpected US waivers for some buyers of Iranian crude, the market was provided with a buffer to potential supply shocks. The International Energy Agency has also forecast surplus oil supply in 2019.
4. Futures plunged: Crude oil futures plunged 7.1% in New York on Tuesday for the biggest one-day drop in three years. The plunge is likely to impact petrol and diesel prices on Friday in India, where oil companies consider a 15-day average price to compute retail prices of fuel. The US crude oil prices have fallen as much as 18% in the past two weeks on the back of a surge in supply and increasing concerns about an economic slowdown. 
At present, front-month Brent crude oil futures were trading at $65.90 per barrel, down 22 cents, or 0.3%, from their last close, Reuters reported. US West Texas Intermediate (WTI) crude futures were at $55.95, down 30 cents, or 0.5 percent.
5. Effect on rupee: The exchange rate of the rupee against the dollar is the second biggest factor in computation of oil prices. The rupee, which has lost 11% of its value this year, had hit a record low of 74.48 per dollar on October 11 but is now trading close to 72 a dollar. On Thursday, the Indian rupee strengthened for the third consecutive session against the dollar, courtesy gains in Asian currencies and a slump in crude oil prices.
Read Exclusive COVID-19 Coronavirus News updates, at MyNation.
Last Updated Nov 15, 2018, 1:46 PM IST