We have arranged a myriad visuals and pictures to prove that the anti-CAA protests were nothing but a platform to defame Hindus
Bengaluru: The protests against the Citizenship Amendment Act across the country have only proved emphatically that the participants have either not read the act fully or have wantonly abstained from reading, with the obvious intention of creating violence and vandalism in the society. 
For a moment, leave that aside. What's more shocking, saddening and even shameful is that, in the name of anti-CAA protests, it was hoodlums and hooligans who masqueraded as champions of free speech and upholders of freedom and equality. But in the end, they have exposed themselves as their hatred and abhorrence towards Hindus are out on display! 
1.    A Muslim threatening to burn the country 
Ugly face of anti CAA protests #IndiaSupportsCAApic.twitter.com/uqgKOJxQKB

— Ramesh Solanki (@Rajput_Ramesh) December 30, 2019
2.    'Allah is the only God' 
With the chanting of La ilaha illallah (There is no god but only God) during the protests, it was evident that Islamic extremists were openly displaying their intent to religionise the protest.
Say it on the barricade
La ilaha illallah

Say it in the tear gas
La ilaha illallah

Thera mere rishta kya?
La ilaha illallah. #CAA_NRC_Protests#IndiansAgainstCAA@OpusOfAli@irenaakbar@IndiasMuslimspic.twitter.com/UfyIgIpMeI

— Anaz Muhammed (Non-citizen) (@anaz_oam) December 27, 2019
3.    God of Hindus also not spared! 
While India continues to be a secular garden, with different religions acting as a variety of flowers, protesters don't seem to understand it. In Bihar, a Hanuman temple was vandalised and desecrated. 
"

4.    Tiranga in the front, vandalism at the back! 
It must be noted that there was a drive to portray that anti-CAA protesters were holding aloft the Indian tricolor and the pro-CAA campaigners were holding only saffron coloured flags. 
But do watch what these tricolor-wielding men did. After all, pictures speak better than words! 
Another video dated 20 Dec, 2019 from U.P.'s Bijnor shows Tiranga wielding Namazis indulging in rampage after Friday prayers during anti CAA protests. Carrying national flag is just a camouflage tactic to fool gullible Hindus about their real motives. pic.twitter.com/eKLDOaFqfd

— Divya Kumar Soti (@DivyaSoti) December 24, 2019
5.    This is disgusting! 
A protester with the placard, "Modi, don't ask for too old documents. Who knows? We might emerge as the owners of India," only goes on to show that Islamic adherents still believe they ruled India once!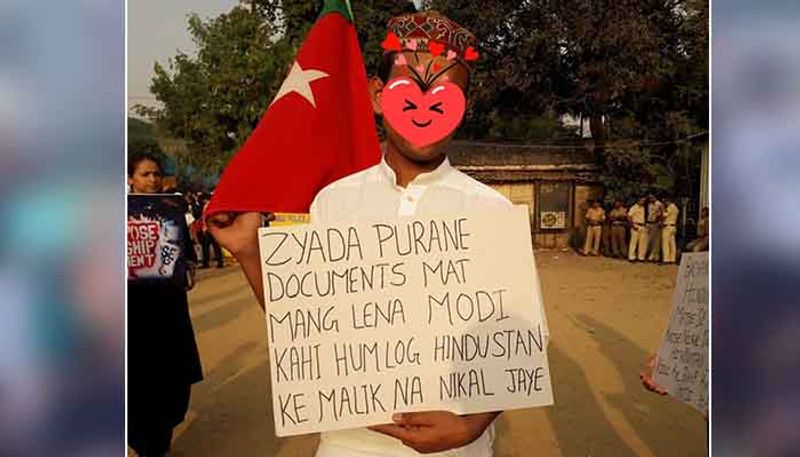 6.    The problem of 'idols' with Muslims 
There was one video emerging from IIT-Kanpur in which protesters were chanting, "When All Idols Will Be Removed… Only Allah's Name Will Remain". 
A faculty at IIT Kanpur has submitted this video and a complaint to director, alleging anti-India & communal statements made at a recent event held in 'solidarity with Jamia' & that event held without permission.

"When All Idols Will Be Removed...
Only Allah's Name Will Remain" pic.twitter.com/fbmNFwVBiw

— Swati Goel Sharma (@swati_gs) December 21, 2019
7.    Portraying Hindu symbol Om as Nazi symbol! 
Hindus consider the symbol Om as sacred, the primordial energy. But can you even understand the pain a devout Hindu undergoes when this symbol is manipulated to mean the Nazi symbol Swastika?