Vijay Mallya, the defaulter who has escaped to London, has tweeted about the issue of bank harassment while condoling the death of Cafe Coffee Day owner VG Siddhartha. But the question remains, despite bank harassment, how did Vijay Malllya escape to UK?
Bengaluru: Cafe Coffee Day owner VG Siddhartha's death has led to people openly discussing the issue of 'tax terrorism'. The letter that is said to have been written by Siddhartha has blamed the income tax department and banks for causing the tragedy. Taking a cue from this, defaulter Vijay Mallya, who is living a rather comfortable life in London and fighting his case, has tweeted slamming banks and government agencies, accusing them of causing the inevitable.
"I am indirectly related to VG Siddhartha. Excellent human and brilliant entrepreneur. I am devastated with the contents of his letter. The Govt Agencies and Banks can drive anyone to despair. See what they are doing to me despite offer of full repayment. Vicious and unrelenting," Tweeted Vijay Mallya.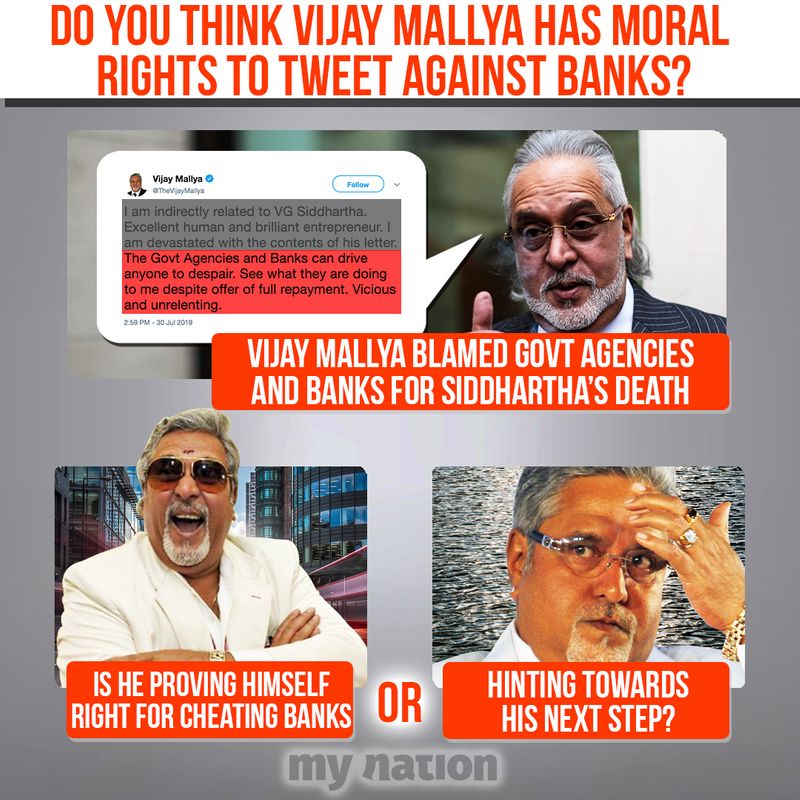 Is Vijay Mallya trying to prove that he is innocent and being framed by banks? The question remains, even after being the owner of an empire like Cafe Coffee Day, VG Siddhartha couldn't face his financial difficulties and allegedly ended his life in a tragic way.
If Vijay Mallya was also facing a similar problem, how did he manage to escape? Did he plan everything beforehand and manage to not only sneak out of the sight of banks and the Income Tax department but even from the watchful eyes of the country?
Who is causing a terror in the real sense? Banks or the individuals who managed to escape to foreign countries?