A unique initiative launched by the Uttar Pradesh government takes care of the stubble problem
Bengaluru: At a time when the whole nation fights to breathe some fresh air, all thanks to pollution caused by stubble burning, here's a unique initiative launched by the Uttar Pradesh government. 
Unnao's district administration has come up with a useful plan to make use of stubble. It has begun procuring stubble from farmers and in return, is giving them cow dung. 
The procured stubble will be used as fodder. As regards the proportion, every two trolleys of stubble will get one trolley of cow dung. 
Reports add that the district administration has procured 800 quintals of stubble till now. 
The initiative is called 'Parali Do, Khaad Lo'.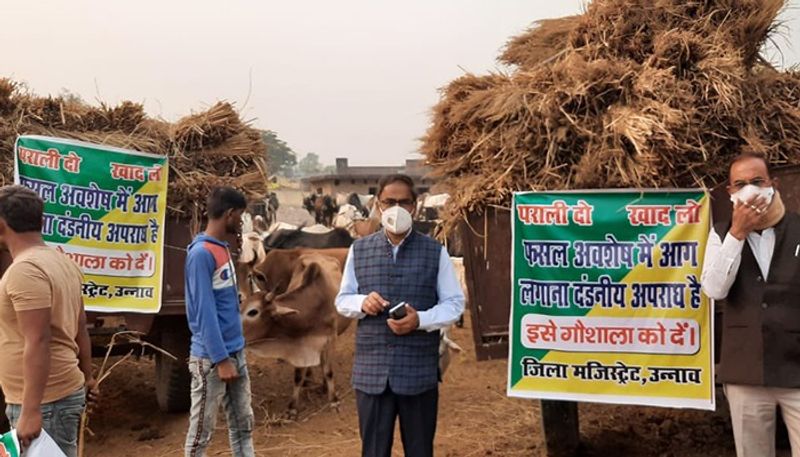 Unnao DM Ravindra Kumar spoke to Aaj Tak thus: "The district has 125 gaushalas in total. Out of this, 28 are quite large and these gaushalas produce ample amounts of cow dung manure. Farmers are offered to take 1 trolley of cow dung manure in exchange of 2 trolleys of stubble. The stubble will be turned into fodder and the manure will help the farmers to enrich their soil." 
Many technical institutions are coming forward to help farmers convert stubble in fertilisers. 
Stubble burning causes harm to environment: 
As farmers resort to burning stubble, it is the environment that gets polluted. From soil to air, everything gets unusable. 
Reports add that Punjab is the chief state contributing to pollution. They add that Punjab has seen a 240% increase in stubble burning, emphatically proving that Amarinder Singh's government has miserably failed in tackling the issue. 
On the other hand, Haryana and Uttar Pradesh, which are also notorious for stubble burning, have seen a 30% decrease in such acts. 
While stubble burning has a disastrous effect on environment, it also has cascading effects on festivals. The NGT has banned bursting of firecrackers as it adds to the pollution.  
 
Read Exclusive COVID-19 Coronavirus News updates, at MyNation.
Last Updated Nov 10, 2020, 12:42 PM IST