Quitting a high-paying job, two friends started a dairy business. Today, they earn in lakhs!
Bengaluru: To leave a high-paying job and to invest in a startup can be risky. And there are some who take this risk to achieve success in life. 
Manish Piyush and his friend Aditya Kumar, live in Ranchi, Jharkhand. Manish is an IIM graduate and has worked in 14 countries. In 2017, he returned to India as general manager of Tata Motors in Mumbai. During this time he went to Ranchi to attend a programme called 'Momentum Jharkhand'. A few days later, Manish quit a job worth Rs 10 million a year and started a dairy startup Puresh Daily in Ranchi with Rs 10 lakh of his savings in January 2019.
So what does Manish's startup provide?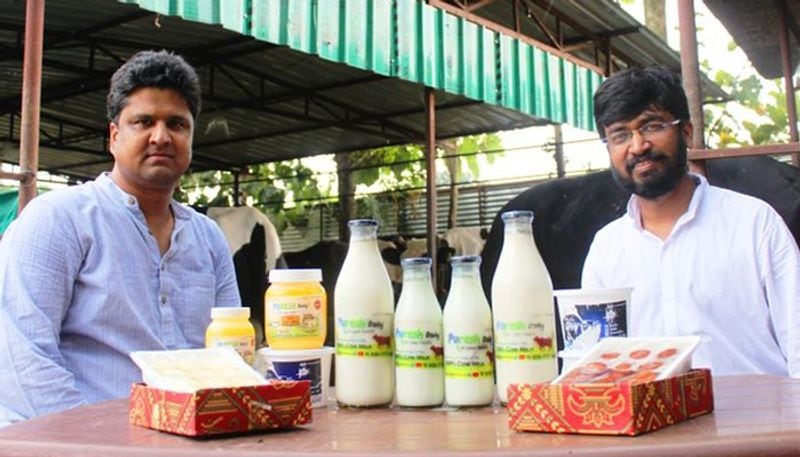 It provides cow's organic milk and 35 types of chemical-free dairy products to his 1500 plus customers at his doorstep. Today his company's valuation is around Rs 15 crore and his annual turnover has reached Rs 3 crore.
Manish Piyush says, "I worked in about 14 countries from 2009 to 2017. I then returned to Mumbai in 2017 as general manager of Tata Motors. During this time, a programme called 'Momentum Jharkhand' was being held in my hometown Ranchi on business prospects. In this programme, when I was standing outside the conference hall during tea break, I heard some people talking that such conferences are only for two days, but Jharkhand stays there". 
Manish and his friend once visited a milk processing company to understand the process of how it works as they were to create a software for its management. 
And that is what changed their lives. 
They saw that there were a lot of chemicals being used. That is when they decided to start a dairy to provide milk. 
Since then, there has been no looking back. 
What started with minimal savings now earns them profits in lakhs. 
 
Last Updated Jan 15, 2021, 2:13 PM IST