Though Rajasthan chief minister Ashok Gehlot won the trust vote, the seat allotted to his deputy Sachin Pilot, one near that of the opposition, has only made use wonder if everything is alright
Bengaluru: Have Rajasthan CM Ashok Gehlot and his deputy Sachin Pilot patched up? 
Well, that is the development we all have been made to believe. 
But deep inside, the embers have not cooled!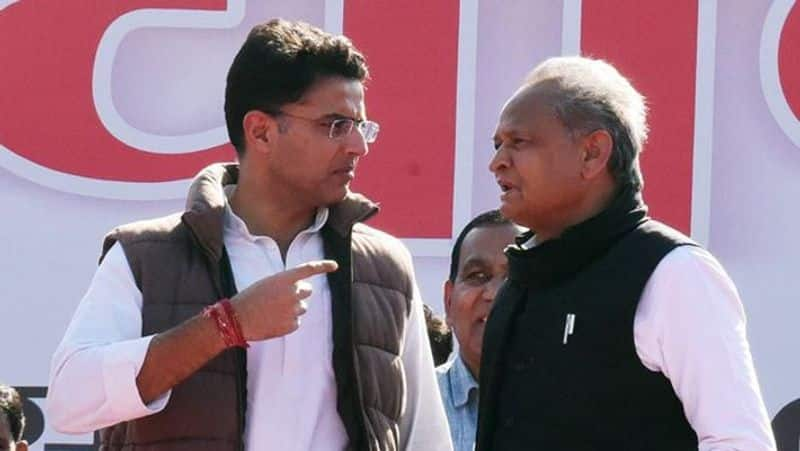 Though Rajasthan chief minister Ashok Gehlot has won the trust vote, seems like he is yet to defeat his bad blood with his deputy.  
Winning the trust vote makes sure his government is stable. Sachin Pilot's return to the party has further bolstered the Congress party. 
But news reports add that Sachin Pilot, had been allotted an unusual seat, one near that of the opposition. 
This is being seen as a snub. 
But Sachin Pilot maintained his poise and said, "When I entered the Assembly at 11.30 am today, I found my seat here. When I would sit there, I was a part of the government and safe. I understand that this is the border and the most powerful warrior is sent to the border."
Rajasthan CM also took a dig at the Union home minister Amit Shah for trying to destabilise the government. He said, "You tried a lot to lure our colleagues. The way it beautifully ended, in the end, stunned the BJP and Amit Shah and no one else. Your party, your high command conspired against us and the whole nation saw what you did in Goa, Manipur, Karnataka, Madhya Pradesh. This is a naked dance and you don't even bother about (hiding) this. Is this democracy - to topple an elected govt? I am in politics for 50 years and have been in senior posts". 
But it is immature on the part of the chief minister to have blamed BJP for fight that is more internal than external. 
Sachin Pilot and his coterie returned to Congress fold after he decided to rebel against the CM Ashok Gehlot. 
As a punitive measure, the Congress high command had even stripped him of deputy chief minister's post and president of the PCC. 
The fight between the two had hit the nadir when Ashok Gehlot had labelled him useless and worthless. 
But after the rapprochement, Ashok Gehlot even wanted to resign while the Congress restored honours on Sachin Pilot. 
Sachin Pilot had met Rahul Gandhi and Priyanka Gandhi in order to change his stance and return to the party fold. 
 
Last Updated Aug 14, 2020, 5:24 PM IST