Mamata Banerjee has set the ball rolling once again with her tweet wherein she claims that for the past five years, the country has been reeling under 'super emergency'. This on the day that marks 44 years since Emergency was imposed.

Kolkata: West Bengal chief minister Mamata Banerjee has stormed to headlines once again for her statement that the country is now reeling under "super emergency" as opposed to the 1975 Emergency.
Banerjee took to microblogging site Twitter to say, "Today is the anniversary of the Emergency declared in 1975. For the last five years, the country went through a 'Super Emergency'. We must learn our lessons from history and fight to safeguard the democratic institutions in the country."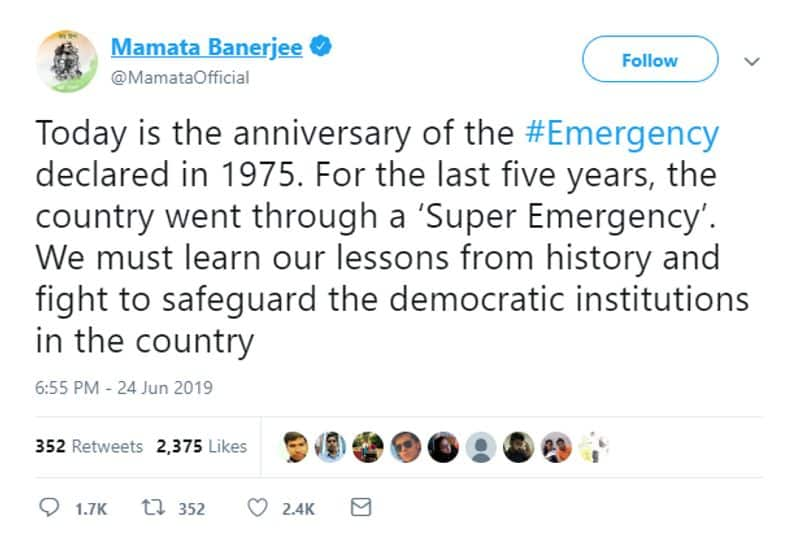 MyNation spoke to national spokesperson of the BJP, Zafar Islam who said, "Who is Mamata to speak about democracy? She is autocratic and manipulative and uses anti-social elements."
Zafar Islam iterated that it was Bengal that is reeling under a state of Emergency.  He further went on to say that the BJP was making Mamata uncomfortable and such tweets were a result of that insecurity.
"The people have decided on who should govern them and that must continue. Now she (Mamata) is feeling the heat after we ensured that free and fair elections have been conducted," added Zafar Islam.
Responding to the question on whether the BJP would take any action against Mamata Banerjee, Zafar said, "No, we will not take any action against her. She is vindictive, not us."
Emergency was imposed by the then Prime Minister Indira Gandhi on this day in 1975 which was in effect until March 21, 1977.
On the morning of June 25, Prime Minister Narendra Modi paid homage to all "those greats" who resisted the Emergency imposed by the then Prime Minister Indira Gandhi on this day in 1975 and said democracy had prevailed over authoritarianism.
Read Exclusive COVID-19 Coronavirus News updates, at MyNation.
Last Updated Jun 25, 2019, 1:35 PM IST