As per an opinion poll conducted by Jan Ki Baat, BJP will romp home in both Maharashtra and Haryana, continuing to enjoy the confidence of the people.
Bengaluru: While the states of Haryana and Maharashtra go to poll on October 21 and the results will be out on October 24, an opinion poll conducted by Jan Ki Baat gives a clear thumbs up to the BJP's victory prospects in both the states. 
Here are the numbers.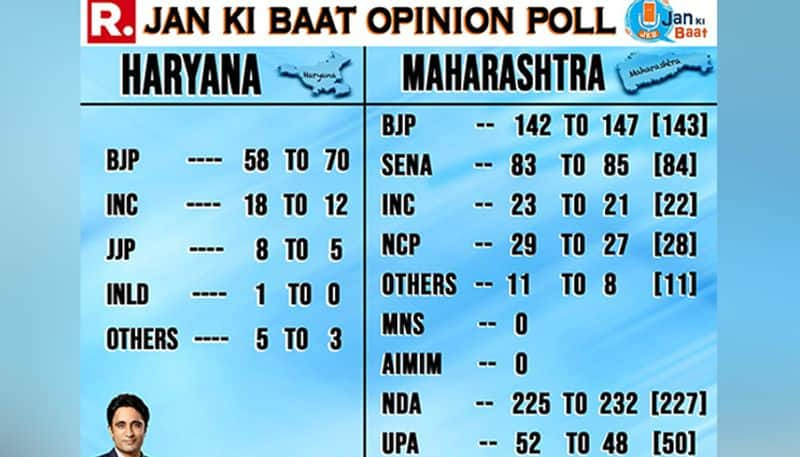 While the opinion poll predicts anywhere between 58 and 70 for the BJP, it predicts anywhere between 18 and 12 for the Congress in Haryana. 
As regards Maharashtra, the opinion poll gives the BJP anywhere between 142 and 147, the Sena, anywhere between 83 and 85, the Congress, anywhere between 21 and 23 and for NCP, it gives anywhere between 27 and 29. 
In the last 2014 assembly elections, the BJP-Sena combine had won 185 seats in Maharashtra while the BJP had won 47 seats in Haryana. 
Maharashtra has a total of 288 assembly seats while Haryana has 90 seats. 
Lakshman Savadi, a deputy chief minister of Karnataka and convener for Maharashtra elections can't hide his happiness over the opinion poll predictions. He said, "We will win by two-thirds majority. We have campaigned extensively. Members from NCP and Congress have quit their parties to join us. People are happy with the administration Devendra Fadnavis has given. So a massive pro-Fadnavis wave has been created. We will easily cross the 200 mark. I am sure we will do well even in Haryana as well."
The BJP is fighting the polls keeping in mind the policies taken by PM Modi after taking oath as the PM for the second time, chiefly, the abrogation of 370 while the Congress is hoping to expose the Modi government on its failures, especially on the economic front. 
These elections are utterly important because they happen to be the first after Modi returned as the Prime Minister for the second time. 
Read Exclusive COVID-19 Coronavirus News updates, at MyNation.
Last Updated Oct 18, 2019, 8:27 PM IST