A complaint has been lodged against a Telugu daily for publishing a cartoon, in which Lord Krishna and INX scam accused P Chidambaram, have been used.

Bengaluru: While being humorous, one can run the risk of being pejorative and end up hurting the feelings of a particular religion.
The whole of India is celebrating Krishna Janmashtami with joy and enthusiasm as He is a revered figure. But one Telugu newspaper Andhra Prabha is being accused of being insensitive to the feelings of Hindus.
The daily published a cartoon, keeping in mind the INX scam in which former Union finance minister P Chidambaram is an accused.
The cartoon has P Chidambaram on all fours, trying to move forward while he is tied to two boulders, which are too big to pass through a gap between two trees. Most importantly the cartoon of Chidambaram is clad in an attire resembling Lord Krishna's. The words 'ED, CBI' and 'cases' have also been used.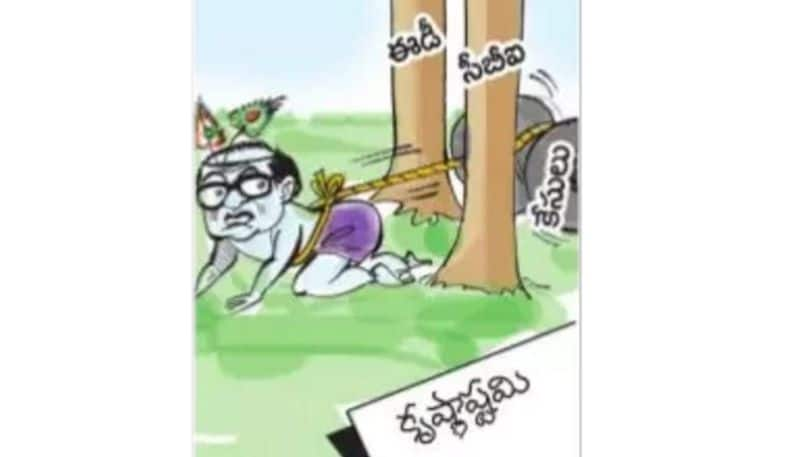 Taking umbrage at this publishing, a lawyer, Karunasagar Kashimshetty, from the Hindu Sanghatan has lodged a complaint against the concerned, for hurting sentiments of Hindus.
Speaking to MyNation, he said, "My complaint is against the cartoonist for depicting Lord Krishna as Chidambaram and the editor of the news daily. What do they want to say by doing this?"
He added, "If they did want to send some message, is this the means? Why are they connecting a scam accused to Lord Krishna?"
The cartoon seems to be all the more provocative and insensitive because it has been published on Janmashtami.
The lawyer had more to say.
"Will they do it with any other religion? Is this because Hindus are soft and don't resort to protests? At a time when Hindus are celebrating Janmashtami, they are doing this because they don't have any regards for the sentiments of Hindus and have no fear of law."
Such cartoons attacking religions and religious heads have not been taken kindly to.
Charlie Hebdo, a French weekly was under attack as it published a controversial cartoon of Muhammad. In 2015, 12 were killed as a retaliatory attack for the publication.
Read Exclusive COVID-19 Coronavirus News updates, at MyNation.
Last Updated Aug 23, 2019, 6:16 PM IST