The Karnataka Congress has sent a show cause notice to Roshan Baig. But disgruntled MLA says he is not against the party, but he is upset with the three leaders - Siddaramaiah, Dinesh Gundu Rao and KC Venugopal
Bengaluru: After raising a storm in the Congress in Karnataka, MLA Roshan Baig said that he was not against the party, but that he was angry with the working style of three prominent leaders of the party.
Roshan Baig said that people are trying to depict him as an anti-Congressman. He mentioned that his anger was directed towards Congress Legislative Party (CLP) leader Siddaramaiah, state part president Dinesh Gundu Rao and AICC general secretary KC Venugopal, who is also the Karnataka in-charge of Congress.
Roshan Baig had lashed out against the three leaders. He had called Siddaramaiah arrogant, Dinesh Gundu Rao a flop show and Venugopal a buffoon. He demanded an immediate resignation of theirs.
Following this, the Congress had sent Baig a show cause notice. Reacting to which, Baig said, "I've received the show cause notice sent to me by the Congress. I'm not even going to bother to read it because it is clearly sent by the orders of the same people whose incompetencies were highlighted by me."
The show cause notice read, "You have given insulting statements about Karnataka in-charge and general secretary, KC Venugopal, state party president Dinesh Gundu Rao and party leader and former chief minister Siddaramaiah. You have referred to them as flop show, buffoon, etc, according to media reports. Your statements to the media have embarrassed the party. You have acted against the principles of the party by expressing your disappointment publically in front of the media. You have hurt the dignity of the party. This action of yours has been taken seriously and is being considered as anti-party activity. So, within a week, clarify your stand and give us an explanation as to why the party shouldn't take action against you . In case you fail to do so, the party will take disciplinary action."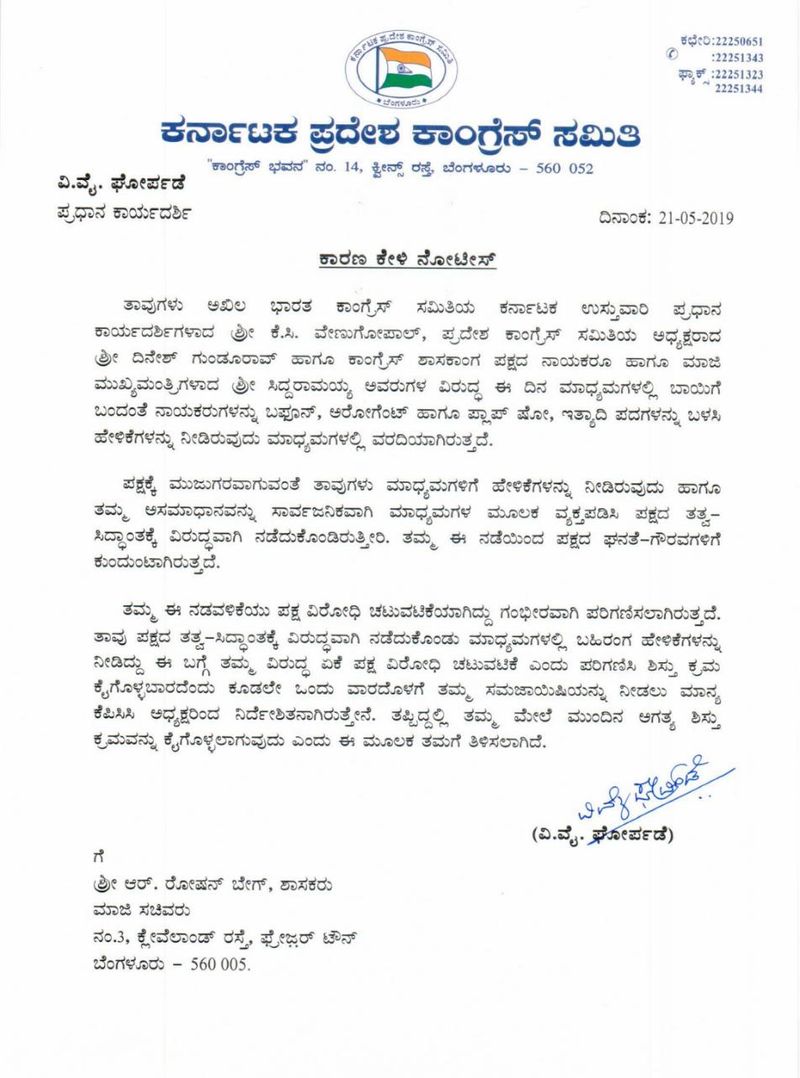 The show cause notice was sent by Karnataka general secretary of the Congress VY Ghorpade.
Baig took to Twitter and said, "All the leaders I spoke against are conveniently using the party machinery at their disposal to make it look like I spoke against the party. What they don't want to admit is that I spoke against their shortcomings and they are trying to divert attention."
Baig also said, "I have great regards for longtime Congressmen like DK Shivakumar, MB Patil, KJ George, Ramalinga Reddy, who are still performing well in their capacity. I'm speaking against the incumbent leadership who are degenerating the party by treating leaders like personal ATMs.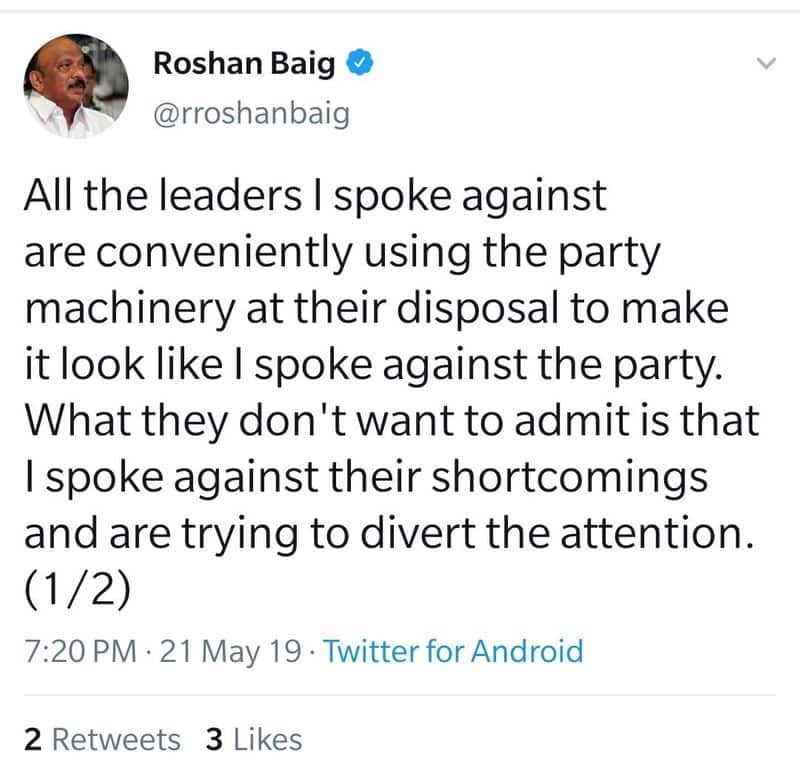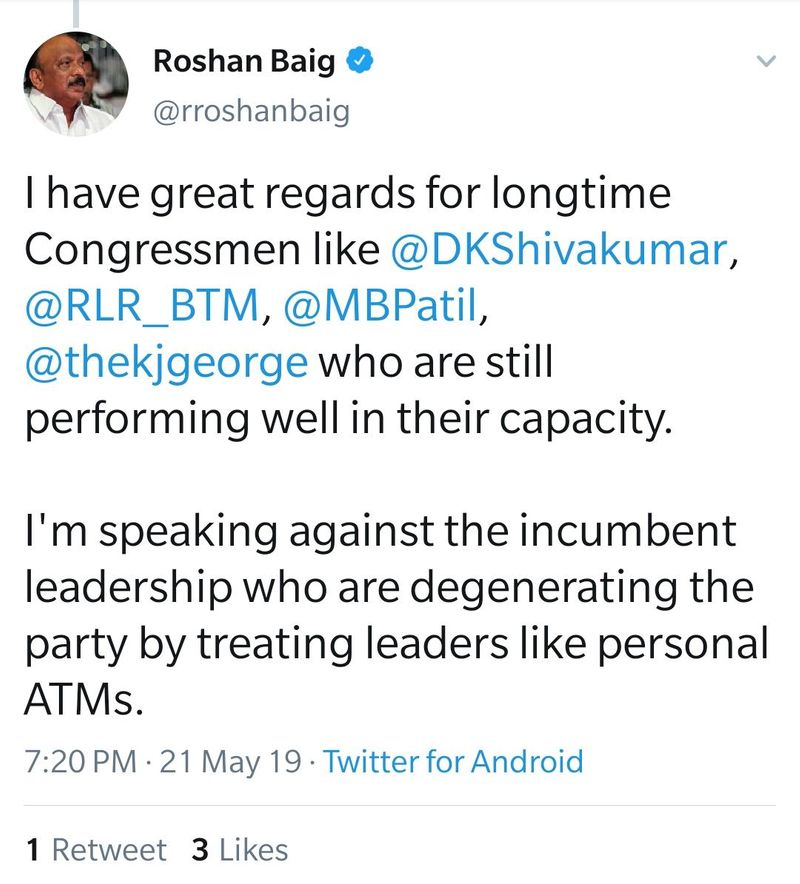 However, Baig's statements have not gone well with Congress leaders including minister Zameer Ahmed, Gundu Rao and G Parameshwara, who have slammed him for insulting party leaders.
It remains to be seen if DK Shivakumar and others will come to the rescue of Baig or is it just a tactic to keep his (Baig's) option of joining other political parties open. 
Read Exclusive COVID-19 Coronavirus News updates, at MyNation.
Last Updated May 22, 2019, 4:30 PM IST