Congress' Legislative Party (CLP) leader Siddaramaiah launched the Krishi Bhagya Scheme. Karnataka chief minister BS Yediyurappa has sought an inquiry into it following allegations of irregularities on the scheme.

Bengaluru: Karnataka chief minister BS Yediyurappa has ordered an inquiry into the Krishi Bhagya scheme following complaints of irregularities in the scheme that was brought in by CLP leader Siddaramaiah. 
Yediyurappa wrote a letter to the chief secretary to conduct an investigation into the alleged irregularities on September 7. The chief minister has demanded spot inspections and reports from district agriculture directors. 
The letter reads, "In the backdrop of a bunch of complaints we received about large scale irregularities, it is directed to conduct detailed investigation and submit a report within two months." 
Yediyurappa further stated that the documents show that the agriculture department had spent as much as Rs 921.2 crore on the scheme but he expressed that the figures seem to be inflated.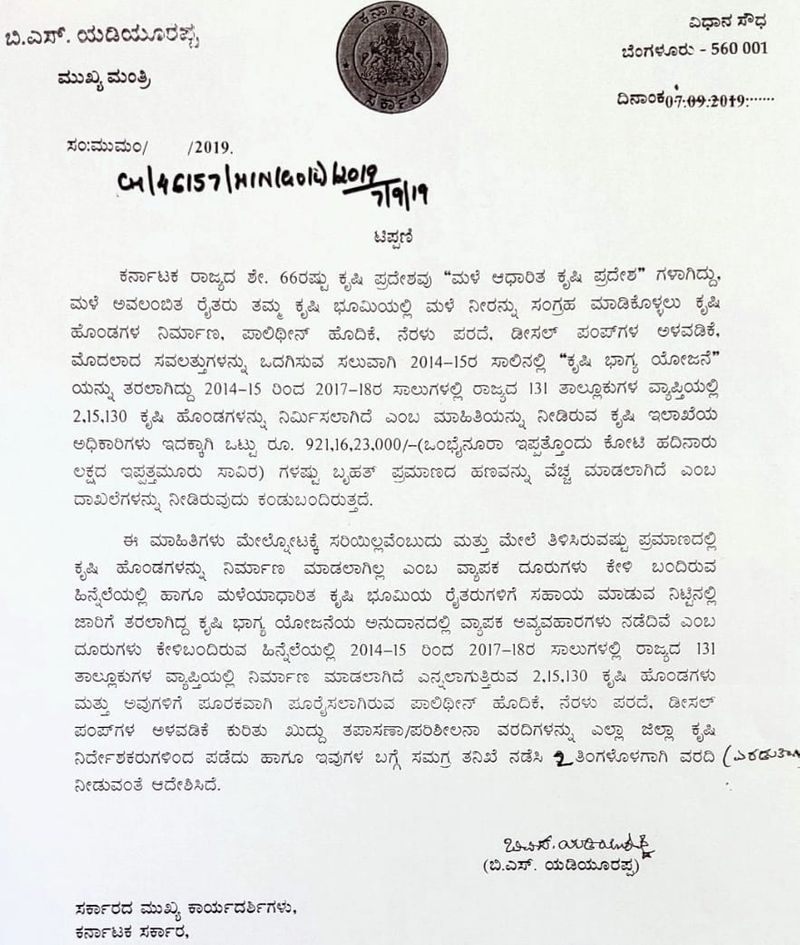 The chief minister stated that 66% of the region wherein the scheme has been implemented is largely rain-fed and hence would not require such high expenditure. 
The scheme envisages conservation of rainwater in farmland, especially in rain-fed areas. In also includes constructing farm ponds and fixing diesel pumps. 
The scheme was launched in 2014-15 and documents show that 2,15,130 pnds were constructed across 131 taluks. 
The alleged irregularities have allegedly taken place between 2014-15 and 2017-18 when Krishna Byre Gowda was the agriculture minister. 
However, CLP leader Siddaramaiah has refuted stating that this is nothing but vendetta. 
Reports have also come in about BS Yediyurappa ordering an inquiry into the alleged irregularities in the civic body's (BBMP) waste management. 
In yet another letter, he raised questions over the supposed spending of Rs 1067 crore annually towards waste management and the expenditure of Rs 410 crore towards the setting up and running of seven scientific waste processing units, most of which are dysfunctional.. 
These two inquiries pile on to the already existing orders of inquiries into the white-topping of roads in Bengaluru and Indira Canteens.