Kangana Ranaut has taken a jibe against Naseeruddin Shah saying he is angry with her because she likes Hinduism and praised Narendra Modi
Bengaluru: The Sushant Singh Rajput death case has divided the film fraternity, for sure! While some supported the campaign for a CBI probe into his death, some did not. 
In an interview with an English news channel, Naseeruddin Shah took a jibe at Kangana Ranaut, who had stridently extended her support to the campaign. 
He had said, "It's sickening. It is absolutely sickening. I have not followed it. I felt deeply grieved when the young man died. I did not know him but he had a bright future and it was a waste of a life. But I did not bother to follow the nonsense that's being spouted by a whole lot of people. Every person who has any little frustration in his mind, in his heart, about the commercial industry, has been vomiting it out to the press. It is absolutely disgusting. I mean, keep these complaints to yourself, no one is interested."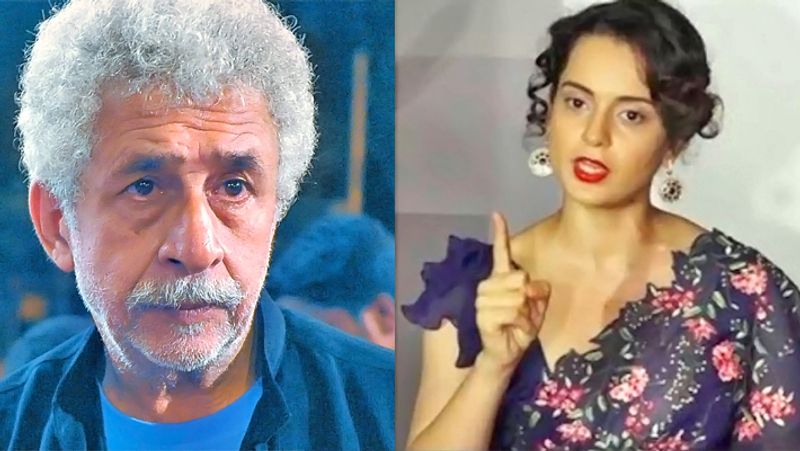 He even used the phrase "half-educated-starlet".
In her latest response to Shah, Kangana has said her love for Hinduism is the reasons Shah was hurt. 
"Naseeruddin Shah does not think that I am a half-educated starlet, he is angry because I praised Modi ji and Hinduism and because I am proud of my religion and background...rather than being ashamed of it." 
Much before this, she had said, "Thank you, Naseer Ji, you weighed all my awards and achievements which none of my contemporaries have on the scale of nepotism, I am used to this but would you say this to me if I were Parkash Padukone/Anil Kapoor's daughter?"
The intense debate over CBI for Sushant Singh was finally settled after the top court wasn't happy with the way Mumbai police behaved with  their Bihar  counterparts and allowed the CBI to investigate. 

Sushant Singh was found dead in house in Mumbai on June 14. 
 
Last Updated Aug 20, 2020, 4:19 PM IST