Prime Minister Narendra Modi's gesture of visiting Ladakh and patting the backs of our soldiers in the wake of the Galwan clashes is laudable
Bengaluru: Our soldiers guard us from external threats. At the borders, they stave off dangers at the cost of their lives.
It would certainly be no exaggeration to state that we owe a lot to these selfless souls as they would toil day and night to see us happy.
Also Read: At 11000 feet, Modi warns China against expansionism
It becomes our bounden duty to express our gratefulness to these jewels of our country. It is impractical for us citizens to go to the highest and rugged terrains of our country to acknowledge their exemplary service and contributions in the safety of our country. But we should all feel lucky that our Prime Minister Narendra Modi visits our soldiers often and boosts their morale and conveys the goodwill of a hundred crore plus Indians.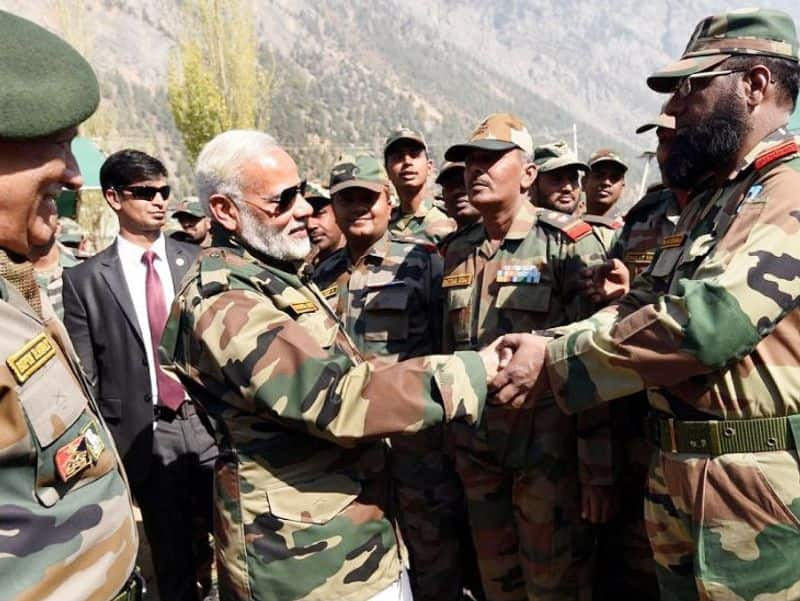 On July 3, Narendra Modi visited Leh. The visit comes in the wake of Chinese aggression at Galwan, martyring as many as 20 Indian soldiers. It was an attack most unethical as Indian soldiers had gone unarmed to meet their Chinese counterparts, honouring an agreement signed by both countries in 1996. However, in spite of being unarmed, Indian soldiers did not cringe or cower, but like true sons of Mother India, fought proportionately and inflicted maximum damage on the opposite side.
Our soldiers are truly exemplary. They care little for credits or calumnies. But when the Prime Minister of a country visits them and gives them a pep talk, telling them emphatically that the nation is ever indebted to them and gives them a pat on their back, they feel really elated.
Narendra Modi did just that.
He said, "The bravery of 14 Corps will be talked about everywhere. Tales of your bravery and valour are echoing in every house in the country. The bravery that you and your compatriots showed, a message has gone to the world about India's strength."
He signed off thus:
"I once again pay my tributes to the brave soldiers martyred in Galwan Valley. Your courage is higher than the heights where you are posted today."
Incidentally, this is not the first time that the Prime Minister has thrown his weight behind the soldiers of our country.
Last year in 2019, he celebrated Diwali with troops in Rajouri in Jammu and Kashmir and praised the soldiers by saying that tough decisions were being taken, solely because of the bravery they exhibit.
In 2018, Modi celebrated Diwali with the personnel of Army and Indo-Tibetan Border Police.
In fact, such surprise visits by the highest official in the country gives the soldiers a sense of gratification and contentment.
Read Exclusive COVID-19 Coronavirus News updates, at MyNation.
Last Updated Jul 4, 2020, 10:41 AM IST