When P Chidambaram was the Union home minister in 2010, incumbent Union home minister Amit Shah was arrested in relation to a fake encounter case. Now, almost a decade later, there is role reversal with Chidambaram staring at an imminent arrest
Bengaluru: Don't coincidences make things interesting? They simply add that element of curiosity and intrigue, making it worthwhile to give a read.
That being the case, we thought of touching upon an important current affair, involving ex and incumbent home ministers P Chidambaram and Amit Shah respectively.
Chidambaram is a versatile personality. In July 2010, Chidambaram was performing his role as the Union home minister under the then Prime Minister Manmohan Singh.
At that point in time, the current home minister Shah was embroiled in a controversy related to the killing of alleged terrorist Sohrabuddin Sheikh.
He was charged with the murder, extortion, and kidnapping among other charges. At one time, Shah was considered as one of the main contenders for the Gujarat chief minister's post.
Now, turn the clock by almost a decade and there is a perfect role reversal.
Shah is in the same position as Chidambaram was in 2010 and the Congressman is in the same situation as Shah was in 2010.
Now Shah is the Union home minister and Chidambaram is facing charges of financial fraud in the INX media case. He runs the chance of being arrested if the Supreme Court doesn't overturn the Delhi court verdict and insulate him from going behind the bars.
While we prefer to call it coincidence, some journalists like Rajdeep Sardesai have given it a twist, giving birth to a debate on vendetta politics.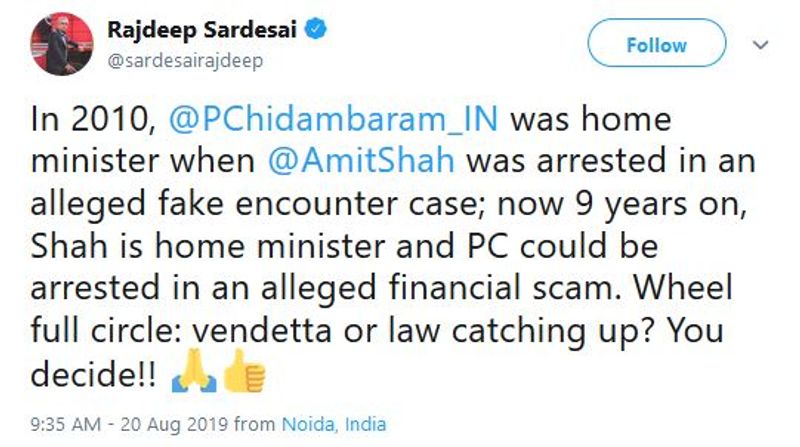 And the moment it was put up, he was criticised as some said, "it was law when Amit Shah was arrested and it is vendetta when Chidambaram might be arrested."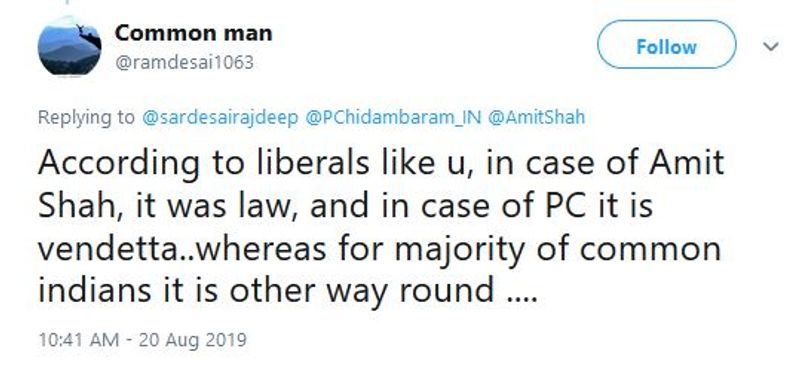 The INX media case is in which Chidambaram is accused and it dates back to 2007 when the company promoted by Indrani Mukerjea and her husband Peter Mukerjea, was given Foreign Investment Promotion Board (FIPB) clearance for receiving overseas funds of Rs 305 crore. Incidentally, it was Chidambaram who was the Union finance minister then.
"In fact, I don't want to compare Amit Shah's position with that of P Chidambaram. Amit Shah was innocent. He was persecuted and tortured. That was with vengeance. Today, Chidambaram has cheated the government and amassed wealth to the tune of crores. He pretends to be innocent. It is completely legal that the ED is behind him. There is no angle of vendetta here," say Go Madhusudhan, a BJP spokesperson. 
Read Exclusive COVID-19 Coronavirus News updates, at MyNation.
Last Updated Aug 21, 2019, 5:22 PM IST