In the light of Indian Air Force's (IAF) powerful attack in Balakot, the media in Pakistan is bungling up facts and printing lies. Take a look
New Delhi: Just like the Pakistan Army, it looks like the media in that country has pressed the panic button.
On Tuesday, the Indian Air Force (IAF) carried out air strikes at Jaish-e-Mohammad's (JeM) terror camp in Balakot in Pakistan.
Also read: Why Pakistan's Balakot and Muzaffarabad were ripe for Indian airstrikes
However, the Pakistani media termed the attack on the camp as 'intrusion', 'violation of the LoC'. Amusingly, many Pakistani media organisations claimed that their forces had 'chased away Indian jets'. Perhaps they were under the compulsion to toe the Pakistan Army line, as that was what some of their officers had tweeted.
Indian aircrafts intruded from Muzafarabad sector. Facing timely and effective response from Pakistan Air Force released payload in haste while escaping which fell near Balakot. No casualties or damage.

— Maj Gen Asif Ghafoor (@OfficialDGISPR) February 26, 2019
The details that have emerged from Balakot show that a dozen IAF Mirage 2000 fighter aircraft penetrated up to 100 km into Pakistan's territory and returned home safely after killing over 300 Jaish terrorists, trainers and top commanders.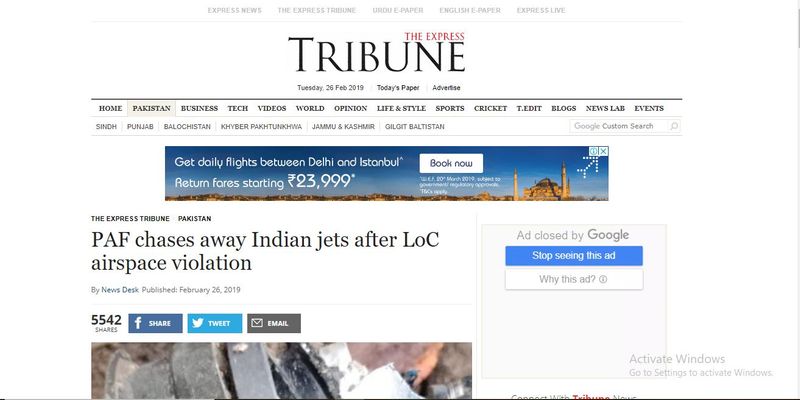 The Indian government described the IAF action as "non-military, pre-emptive air strikes" across the Line of Control (LoC). At around 3.30 AM, 12 Mirage 2000 fighter jets crossed the LoC and dropped 1,000 kg bomb at the hub of suicide attack training.
Also read: How India prepared for Tuesday air strikes on Pakistani terrorist camps
A majority of the English language media in Pakistan was seen speaking the language of the Pakistan Army.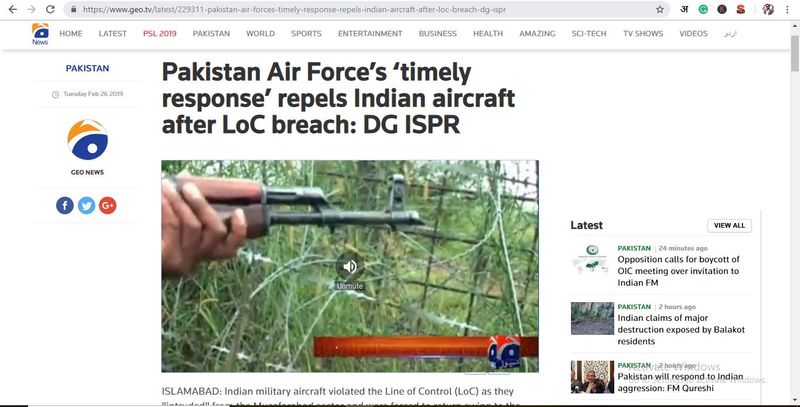 Quoting Inter-Services Public Relations (IPR), The Dawn wrote, "Indian aircraft violate LoC, scramble back after PAF's timely response: ISPR". The report added, "In their haste to escape, Indian aircraft ended up releasing payload which fell near Balakot, says DG ISPR".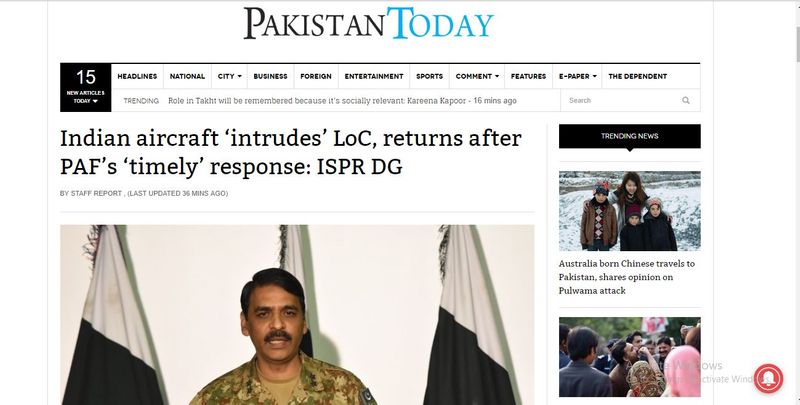 Another daily, Express Tribune, led with the following headline: "Pakistan chases away Indian jets after LoC violation." It carried another article where Pakistani foreign minister Shah Mahmood Qureshi spoke about a "befitting response".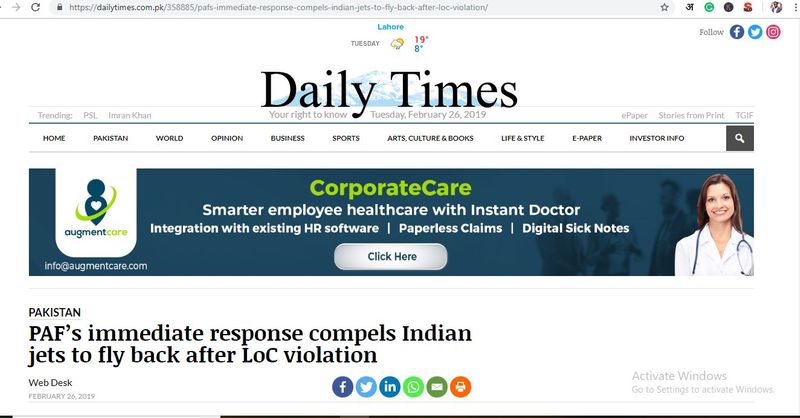 Pakistan has called the strike a violation of the LoC. Qureshi said it was a "grave aggression" by India against Pakistan.
Here are some of the top headlines in Pakistan media
1. The Express Tribune – 'PAF chases away Indian jets after LoC airspace violation'
2. Geo News – 'Indian aircraft breach LoC, leave after PAF's timely response: DG ISPR'
3. Dawn – 'Indian aircraft violate LoC, scramble back after PAF's timely response: ISPR'
4. The Nation – 'Indian aircraft violate LoC, PAF responds timely, says DG ISPR' and 'Pakistan's armed forces, citizens are on alert, says FM Qureshi'
5. Samaa – 'Pakistan Air Force foils Indian attempt to breach Line of Control'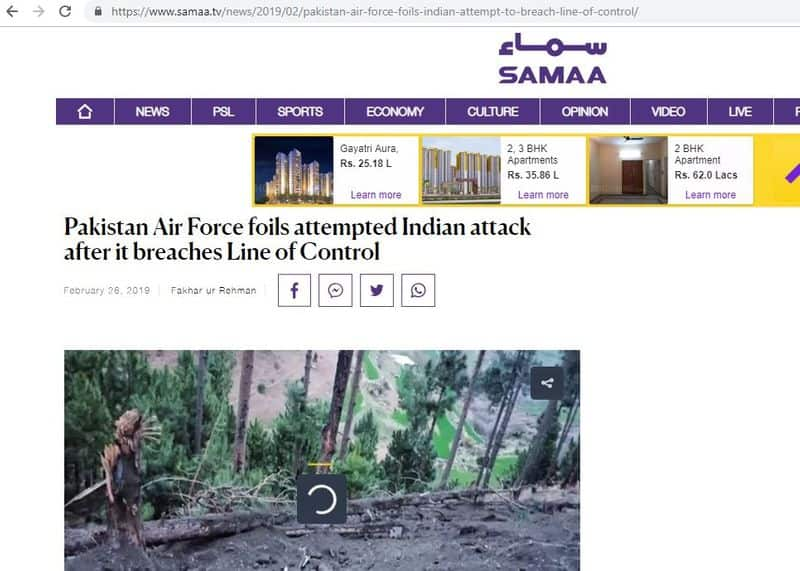 Last Updated Feb 26, 2019, 8:24 PM IST