Amid the outbreak of coronavirus in India, the number of COVID-19 patients surged passed 14000. It has spread its tentacles to several corners of the country. The way the outbreak of coronavirus is spreading, it seems like the virus would knock on the doors of villages.
So far, the concentration of coronavirus spread has been in cities. Expert says that if the outbreak of coronavirus reaches villages, the situation would be more much worse than now. Central and state governments are trying very hard to curb the spread of virus.
The opinion is that the virus can be more impactful in villages because medical facilities in villages is minimum, and awareness is little. Though it is legitimate to think that anxiety in rural areas would be really high because of the lack of medical facilities, certain villages of india have proved people wrong. Their performance to curb the pandemic has been effective to a large extent. On one hand we have reports of people in cities disobeying lockdown regularly, while in villages of india, with the help of the panchayats and villagers, the government has been able to control the surge of coronavirus in certain regions to a large extent.
To prevent the spread of coronavirus, panchayats are adopting lots of ideas. For awareness, posters regarding coronavirus are posted on walls of houses. Panchayats are also taking help of social media to make people aware. Villages are sanitised with disinfectant. Financial support is being given to provide rations to the needy. In order to not give reasons for people to step out, panchayats have been providing essential commodities by home delivery.

To curb the outbreak of coronavirus in many states at panchayat levels, the government is taking effective measures

In Bihar's Darbhanga district lies a village named Pauram Hayaghat, where villagers are more aware about coronavirus than many others in the region. People maintain social distancing, with regular police patrol in effect. BDO Prem Kumar has been keeping an eye on the situation. Block level officers are posted at quarantine centres. Aganwadi and ASHA workers are also given responsibility to cook food at quarantine centres. The state government is also providing relief funds through the panchayat. Information regarding coronavirus is announced regularly through loudspeaker.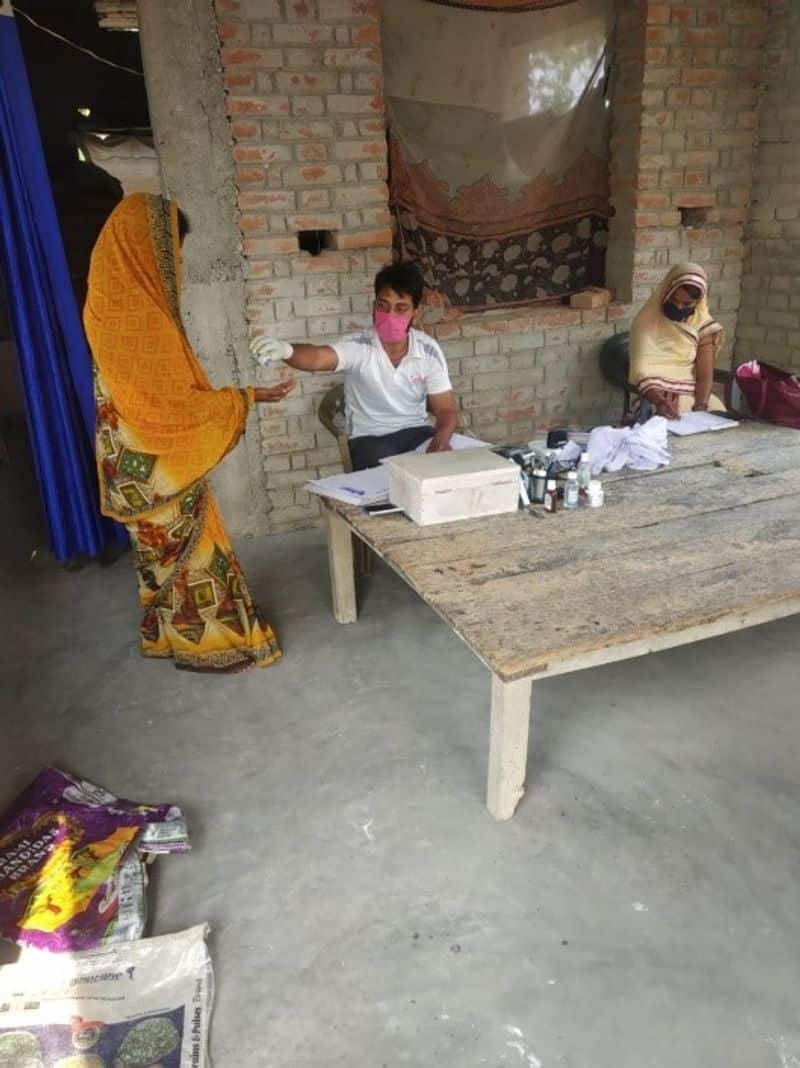 When we contacted the ration dealer Ashutosh Jha of this village about social distancing while distributing ration, he said that they are not using e-posh machine and not taking signatures of anyone while distributing the ration. Instead, pictures are being taken for verification.

When we spoke to former sarpanch Suryawali Jha, he stated that wheat is cut using modern techniques and machines. "By this we can reduce the manpower. To curb the effect of coronavirus even villagers also take up administrative responsibilities. Initially, we entrusted responsibilities with few active villagers. To prevent the entry of outsiders. we are buying and selling vegetables in the premises of village. We banned bathing in the river and sowing. Though we have done this, villagers themselves have displayed responsibility and awareness. Until now there has been no case of coronavirus in my district", Jha stated.
Suryawali Jha further added that few villagers who arrived from Kolkata were stopped outside the village. "With the help of police, we make sure that they all are inspected. We make them bathe at outside the village and only then allow them to enter the village. They have to isolate themselves for 20 days at home. We used this model in 2004 at the time of floods. At that time we distributed duty among the villagers 24x7. In absence of power, we used generators for one month," he stated.
Singh Vahini is a village 14km away from the Indo-Nepal border. The sarpanch of this village has been writing slogans of caution and care related to coronavirus.
Indrabhushan Singh, sarpanch of Bharathipur panchayat also runs a similar campaign to make everyone aware about coronavirus, and also appeals to everyone to stay at home. 
 
भरथीपुर पंचायत, सकरा मुज़फ्फरपुर।
मुखिया इन्द्र भूषण सिंह अशोक द्वारा कोरोना वायरस के संबंध में जागरूकता अभियान चलाया गया। लोगो से घर से ना निकालने के लिए अपील किया गया। साथ ही भरोसा दिलाया की सरकार और अन्य संस्था आपकी मदद के लिए लगी हुई है। @mopr_goi @DM_Muzaffarpur @PMOIndia pic.twitter.com/SOfKae7yPD

— Indrabhushan singh Ashok (@IndrabhusanS) April 13, 2020
Uttar Pradesh is a hotspot for coronavirus. The villages of Uttar Pradesh have been extremely cautious. Administration has kept a close watch so that people do not disobey lockdown protocol. In Hasudi Ausanpur gram panchayat, officials have kept an eye on people with the help of CCTV cameras. They have been keeping close watch on every nook and corner. Masks and Dettol soaps are distributed among villagers. Sanitisation of village is carried out regularly. To make people aware about coronavirus, posters and slips are distributed to every household.
ग्राम पंचायत -हसुडी औसान पुर जिला सिद्धार्थ नगर उत्तर प्रदेश में लगे 23 cctv कैमरों से कोरोना से बचाव के लिए पूरे गांव के हर गली, चौराहों पर नजर रख कर लॉक डाउन का शत प्रतिशत पालन किया जा रहा है pic.twitter.com/hJ9kLcg6Y4

— Ministry of Panchayati Raj, Government of India (@mopr_goi) April 14, 2020
ग्राम पंचायत -हसुडी औसान पुर की अनूठी पहल जिला सिद्धार्थ नगर उत्तर प्रदेश : सबको मास्क व डिटॉल साबुन बांटे, कोरोना से बचाव की जन जागरूकता के लिए हर घर मेंं पोस्टर और पम्फ़्लेट्स दिये इस गाँव मे लगे 23 पब्लिक एड्रेस सिस्टम से सुबह शाम कोरोना से बचाव के लिए प्रसारित होता है। pic.twitter.com/XxBgQNLTPG

— Ministry of Panchayati Raj, Government of India (@mopr_goi) April 10, 2020
In Uttar Pradesh's Barabanki district, lots of efforts have been made to create awareness among people. Panchayats are giving training to women about washing hands. During training, women are instructed to make others aware about coronavirus. 
आज पंचायत मे सोशल डिसटेनसिग को ध्यान में रखते हुए गाँव की जागरूक महिलाओं को फिर से हाथ धोने का प्रशिक्षण दिया गया साथ ही सभी महिलाओं से आग्रह किया गया कि अपने पडोसियों को भी कोरोना वायरस से बचाव मे होंने वाली सावधानियो के बारे मे भी प्रेरित करें।
घरों मे रहिये सुरक्षित रहिये! pic.twitter.com/EsJizkAMO5

— Chandwarabarabanki (@Chandwarabarab1) April 15, 2020
Rajasthan is one of the states which has been affected by coronavirus to an extent. Here, every gram panchayat took to social media to make everyone aware. They also use WhatsApp groups to spread awareness. Apart from this they have even cautioned people through posters.

In Makkasar Panchayat of Hanumangarh district cleaning of roads are taken up regularly. The officials of the panchayat have been monitoring activities. Panchayat and social workers have been sanitising the village at regular intervals, distributing masks and creating awareness about handwash and keeping oneself from touching their face and nose.  Apart from providing rations to villagers also they have also been feeding animals too.
Haryana- The Kamalpur Roadan panchayat, Indripur village blocked all routes around the village. The panchayat has been keeping an eye on main routes and are making efforts to make everyone aware about coronavirus. Distribution of masks and sanitisation of the village has been taken up on priority.
Jharkhand- to curb the effect of coronavirus , the nagar panchayat of Kodarma has been sanitising different wards through sanitising machines tankers. 
कोरोना वायरस के संक्रमण से बचाव को लेकर जिला प्रशासन, जिले को सेनेटाइज करने में लगातार लगी हुई है। इसी क्रम में आज नगर पंचायत कोडरमा के विभिन्न वार्डों को स्प्रे मशीन और सैनिटाइजर टैंकर के माध्यम से जलवाबाद से गिरिडीह रोड तक सेनेटाइज किया गया।#CoronaWarriors@dckoderma pic.twitter.com/Pee3RkLGYv

— IPRD Koderma (@IprdKoderma) April 13, 2020
Chattisgarh- Panchayats of Kanker district are making people aware of social distancing by running campaigns that promote exercise of caution to curb coronavirus spread. Along with this, PR professionals have been providing training to MGNREGA workers about maintaining distance and washing hands.

Tamil Nadu- Kannur gram panchayat is been sanitised at regular intervals. In Metupati village, while distributing rations, panchayat ensured social distancing norms were maintained. In Koyatambur district, the Vadakiyalam panchayat has been regularly sanitising their village.
Vegetables are being distributed by vehicles to the needy in Pullarambakkam block, in Thiruvallur district. Similarly, large-scale cleaning and sanitisation work is in operation in Virudhunagar block

Tiruvannamalai district has also been sanitised. Along with this, 3 types of PPE kits have also been distributed to health and sanitation workers.
Disinfectant was sprayed in every house of Tiruvannamalai district of Tamilnadu. pic.twitter.com/Fhk7R92x5T

— Ministry of Panchayati Raj, Government of India (@mopr_goi) April 9, 2020
Health and sanitation workers in Tiruvannamalai district of Tamil Nadu distributed 3 types of PPE Kits . Everyone is maintaining social distancing. pic.twitter.com/evQfsGrnf4

— Ministry of Panchayati Raj, Government of India (@mopr_goi) April 9, 2020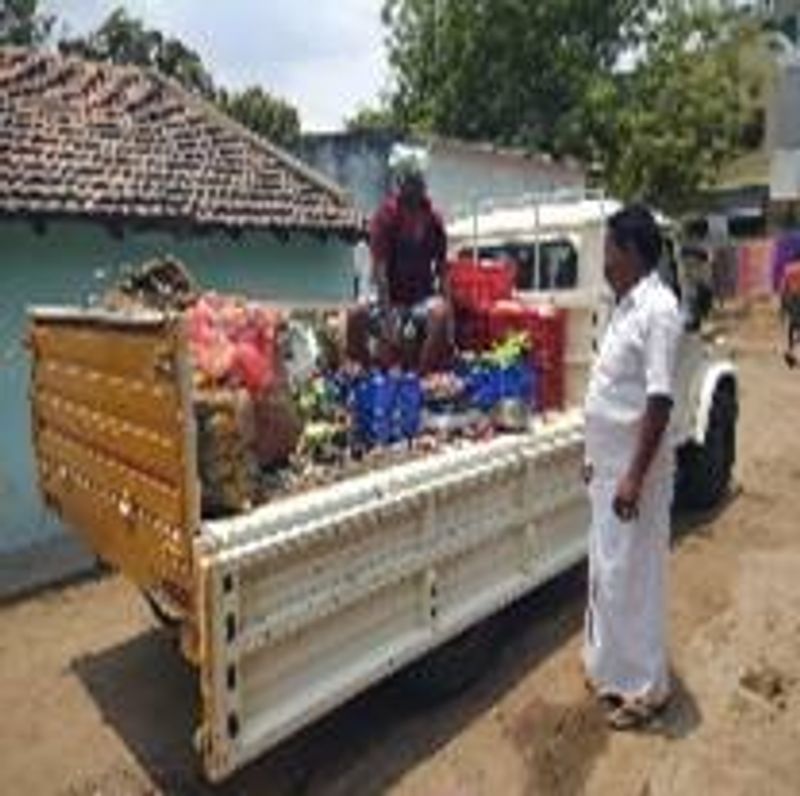 Odisha- Food arrangements have been made for needy in Cuttack, Bhubaneswar and Bhadrak. Food security assistance has also been carried out for the needy in Bhandaripokhari Gram Panchayat.
Sanitisation has been carried out in Bhadrak. People are being made aware of social distancing. Slogans like "more life, less crowd" are used to make people aware about social distancing.

At the same time, the head of Bilaspur panchayat has been creating awareness, and personally, been responsible for cleaning the school. The village head has also been distributing masks, sanitisers, and food to the people with the help of village youth.

Telangana - A meeting has been held with all the sarpanches, councillors, members of the zilla parishad, city presidents and tehsildars to make people aware of coronavirus at the district level in the state, where all information regarding coronavirus is available to them
 
In the Gram Panchayat of Rangareddy district, SB Pali has made it mandatory for every volunteer and government official to wash their hands with sanitiser before entering the village.
At same time, Mandal president of Shakarpalli made masks with his hands in the Kottapalli gram panchayat and distributed it to the people. In Shalkarampet Mandal of Medak district, the MPDO distributed pensions directly to those who could not access banking facilities during the lockdown.

Karnataka - The Jali Town Panchayat in Bhatkal taluk of Uttara Kannada district started its fight against COVID-19 before the lockdown in the country in a commendable effort. There would usually be a gathering of local people, fishermen and tourists on Bhatkal beach. The panchayat president seized the boundaries of the area to minimise the chances of people being infected. He also included neighbouring gram panchayats in it, and printed pamphlets to make people aware of coronavirus.

Ladakh: In view of the danger of coronavirus in Ladakh, Chowkiyal Gram Panchayat, Dras Block and Disket Nubra Gram Panchayat are distributing food to the needy. Health check-ups and quarantine centres have also been arranged.
 
केंद्रशासित प्रदेश लद्दाख के दुर्गम और दूरदराज इलाक़े में स्थित ग्राम पंचायतों ने ग्रामीण जनता के लिए स्वास्थ्य सेवाओं, क्वारंटीन की सुविधा, राशन सामग्री और अन्य आवश्यक सेवाओं की निर्बाध आपूर्ति का प्रबंध और लोग द्वारा लाॅकडाउन के नियमों का शत-प्रतिशत अनुपालन pic.twitter.com/OlcZzDe6At

— Ministry of Panchayati Raj, Government of India (@mopr_goi) April 7, 2020
<tweet> 
Andaman and Nicobar Islands - The entire market including shops, vegetable markets, panchayat buildings and public places is being sanitised in the Nile Center by the Gram Panchayat here.
Relief materials are being provided to the people. Monetary assistance has also been provided to some families.
 
Goa: In Goa too, there is a continuous effort to beat coronavirus at the panchayat level. In Sonal village of Sattari, North Goa, residents have installed a wooden gate to seal the boundary of the village, which is monitored by the youth all seven a week. In order to ensure that no person leaves the village, essential items are provided by the Gram Panchayat within the village.

The Ministry of Panchayati Raj has also made several efforts with the state governments to deal with coronavirus. In addition to consultation with the state government and district officials, lockdown has been ensured. 

These efforts to counter coronavirus and defeat it are in action across India. 
The number of COVID-19 case in the country surged to 14, 378, while the death toll has increased to 480.
Read Exclusive COVID-19 Coronavirus News updates, at MyNation.
Last Updated Apr 22, 2020, 7:56 PM IST