Pooja Apte Badamikar makes use of scrapped tyres to make footwear, thereby giving a lot of impetus on recycling

Bengaluru: The best to way to lessen the burden on the environment is to recycle. 
This way, the stress can be mitigated. 
One such example would be recycling tyres to manufacture slippers. 
Pooja Apte Badamikar, a 28-year-old IT professional is based in Pune.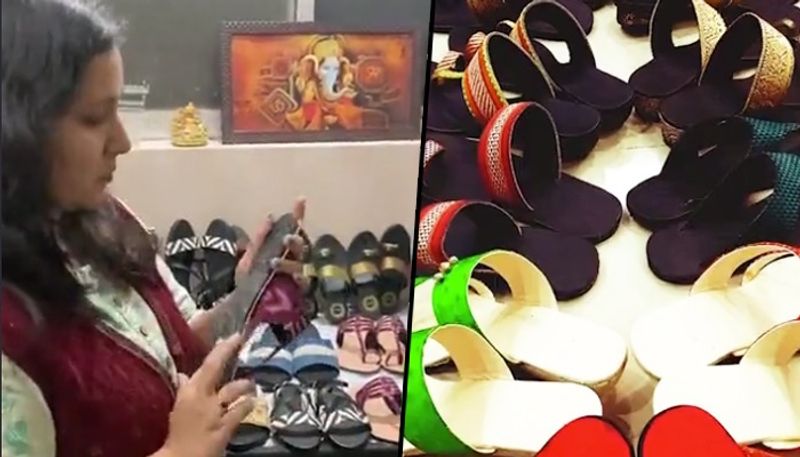 To her credit, she has taken up the work of manufacturing slippers from worn-out or scrapped tyres. 
Every month, she manufactures around 200 pairs using such tyres and earns Rs 7 lakh annually. 
Pooja got a job in an IT company after doing her electronic and telecom engineering from Pune University. She worked there for four years. During this time, she did her post-graduation in renewable energy from Terry University, Delhi. During the course she started reading up about recycling. Then she came to know that everyone knows about plastic, but even she was inquisitive as to why none were serious about the tyre issue. 
She says, "100 million scrap tyres are generated every year in the world. Of this, only 0.1 percent reuse and recycle. In such a situation, many tyres remain in the landfill. When I started reading and doing research on this, I came to know about African communities, who were making footwear from tyre scraps. I was inspired by her and decided to work on a plan to design beautiful shoes. Shortly afterwards I designed two prototypes from scrap of truck and aircraft tyres and introduced them to 'Startup India'. The design was well-received and in 2018 I also received a prize of Rs 50,000 in the upcoming woman entrepreneur category. This is how I started my brand Nemital". 
Creating prototypes was certainly not easy or her. She says, "When I went to the local cobbler (cobbler), at first he refused, saying that it will not be made. With the help of some cobblers, they prepared prototypes. I spent the prize money on research and development of the product. In April 2019, I launched products in the market".
Pooja says, "We are preparing 35 types of products in men's category. We sell them through online platforms. Apart from this, we have a small warehouse in Pune. We also sell products from here. Our raw material and designing work is also done here". 
 
  
Read Exclusive COVID-19 Coronavirus News updates, at MyNation.
Last Updated Dec 30, 2020, 2:35 PM IST