Aiman Rizwi, a prominent face in the Shaheen Bagh protests, has wished death for Amit Shah
Bengaluru: Shaheen Bagh was in the news earlier this year for its protests against the Citizenship Amendment Act. 
Now, one of its protestors Aiman Rizwi is in the news for wishing death to Union home minister Amit Shah as he has tested positive for COVID-19. 
In a video that has surfaced, she says, "You should pray that if he has got corona, which he does not have, but if he does have, then pray that he dies." 
And more shockingly, she goes on to say that they would believe in coronavirus only if Amit Shah dies. 
She says, "We will believe in coronavirus if he dies. Because none of the BJP people or BJP-friendly media people have not died of coronavirus. But if a Muslim or a Dalit gets even a normal illness then they are dying."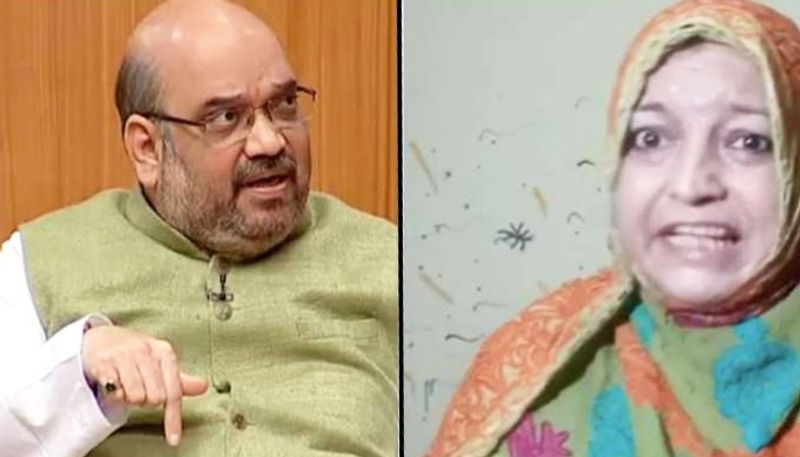 Furthermore, she targets BJP spokesperson Sambit Patra and a few others. "Sambit Patra, Zee News people, Jyotiraditya Scindia and even the 'paaltu, chatukar' Delhi CM Kejriwal also went on a honeymoon in the guise of coronavirus. So now they were wondering who shouldwe say is infected. If they would have said Modi is infected, then how will he go for the Shilanyas of Ram Mandir? Hence as per strategy, they made Amit Shah get coronavirus."
Then, she goes on to criticise Uttar Pradesh Yogi Adityanath. "He did not go to his father's funeral because his father never met him. Why would anyone want to meet him? He killed his Guru to take his position." 
Amit Shah has constantly been targeted by Islamo-fascists as his being the home minister, has been in the vanguard of taking some phenomenal decisions as PM Modi is at the helm for the second consecutive time.
 
In its second term, the Modi-led NDA government has abrogated articles 370 and 35A, passed the important CAA in December 2019.  

Watch the video here: 
Last Updated Aug 4, 2020, 3:59 PM IST