In a tweet put by the Indian National Congress, former Prime Minister Manmohan Singh has blamed the Narendra Modi government's policies for the economic sluggishness (including demonetisation). Reacting to the allegations, the BJP has hit back saying demonetisation has helped improve tax collections.
Bengaluru: Former Prime Minister Manmohan Singh has expressed his displeasure at the fact that Indian economy is slowing down and has squarely blamed the Narendra Modi-led government for the alleged disaster. In a tweet put out by Indian National Congress (INC) he can be seen detailing his point. 
Our economy has not recovered from the man made blunders of demonetisation & a hastily implemented GST... I urge the govt to put aside vendetta politics & reach out to all sane voices to steer our economy out of this crisis: Former PM Dr Manmohan Singh #DrSinghOnEconomicCrisis pic.twitter.com/83cBJWHay9

— Congress (@INCIndia) September 1, 2019
While the former Prime Minister points his fingers at demonetisation, Vishwanath Bhat, convener, BJP Economic Cell negates it saying, demonetisation has helped improve tax collections. 
He says, "Being a Congressman, he has to say such things. There is no surprise. The tax collections have improved by 80%. It only goes on to show that a sizeable portion has entered the mainstream Indian economy." 
He further adds, "The Congress was not interested in bringing back black money to the mainstream. We have improved economy as the money now rests with creditors, not just borrowers. We have also ensured borrowing has improved. Now, there is a lot of cash being injected into the economy." 
While the BJP junks Manmohan's claims, there were others on twitter, noting that economic slowdown is not just limited to India, but countries like Thailand and Japan too are a part of its far-spread tentacles.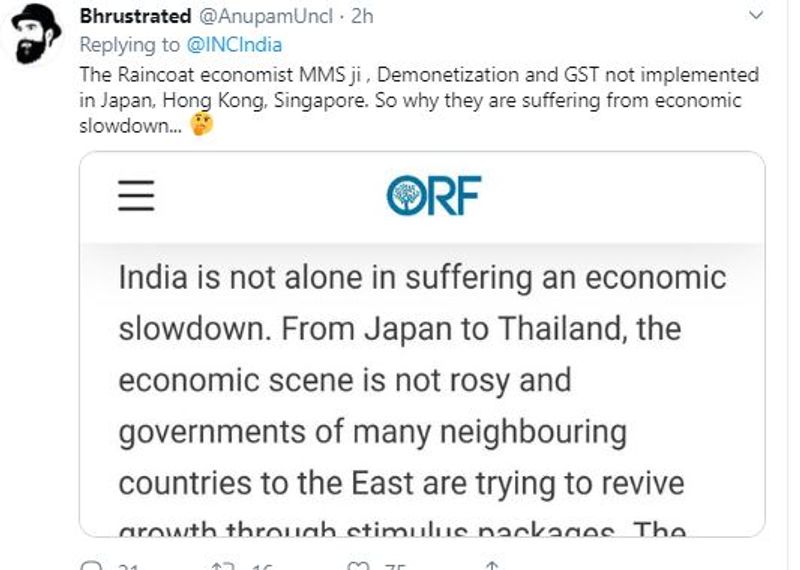 India's GDP has slowed down to 5% from 5.8% in April to June quarter, the lowest in 6 years. 
Taking note of the sluggishness, finance minister Nirmala Sitharaman has announced the merger of many public sector banks. It also aims at improving liquidity and enhancing economic growth.
Also read: Nirmala Sitharaman announces governance reforms, merger of public sector banks
A few sectors that took a beating were the manufacturing sector as its GVA (Gross Value Added) at basic prices grew by only 0.6 per cent during Q1 FY20, as compared to 12.1 per cent in Q1 FY19. Similarly, 'agriculture, forestry and fishing' also registered a dip in growth rate to 2 per cent from 5.1 per cent during the year ago period. 'Construction' sector grew at 5.7 per cent in Q1 FY20, as against 9.6 per cent during Q1 FY19, as quoted by Business Today.