A couple, who returned from abroad, purchased 25 acres of land in Telangana, planted 12000 varieties of trees. Now they do business of leaf-plate worth lakhs

Bengaluru: Meet Madhavi and Venugopal. One has a master's in pharmacy while the other is a mechanical engineer. 
Both were leading a good life abroad. But in the year 2003, as their kids were growing up, they wanted to return to India so that their kids could imbibe Indian values.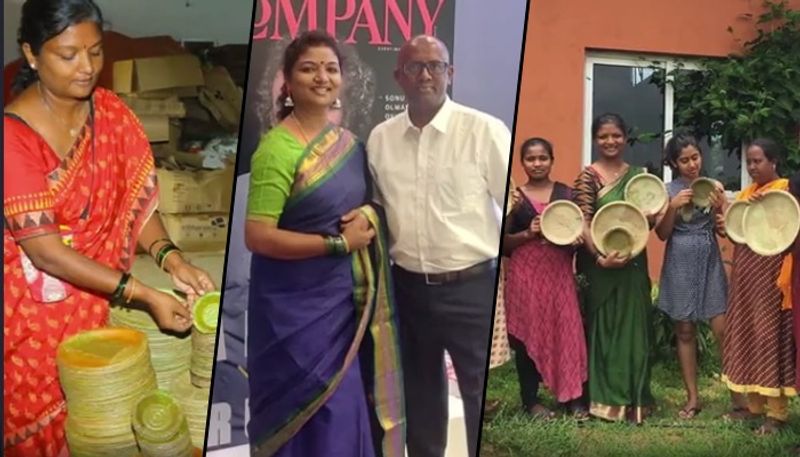 One day, as they returned, Madhavi saw a pool of plastic plates lying on a road in Hyderabad. She was disturbed by it. As if adding to her dismay, a few days later, she also got to know that a cow had died, eating the plastic. 
Struck hard by it, they wanted to do something to eliminate plastic from usage. That is when he started Visatraku, where Madhavi and Venu contribute to environmental protection by preparing 7 types of eco-friendly plates and bowls from Sal, Siali and Palash leaves. 
As reported by Dainik Bhaskar, Madhavi says, "On our return from America, we took 25 acres of land from our savings in Siddipet in Telangana. Here we planted more than 12 thousand trees of more than 30 varieties of fruits. We used to visit the farm often. There are also many Palash trees on our farm. Venu and I gathered some leaves of Palash and tried to make plates with them. We got success but the plates were very small." 
The website further adds Venu as saying: "On a Facebook group I came to know that the tribal communities in Odisha still make such leaves from Sal and Siali leaves and they call it Khalipatra. It was then understood that eco-friendly plates, both sides etc. are still made. But their use has reduced and it has been replaced by single-use plastic crockery." 
The couple now market the leaf-plates well. Their friends and well-wishers have used them and have give good review about them. 
Now, they do business worth lakhs together and employ several girls.