As the video of the bride dancing along with Yakshagana artistes was shared on social media, the couple was criticised for misusing a traditional art for a private function and demeaning it. This happened in Karnataka's Udupi district
Udupi (Karnataka): A video of a bride entering the wedding venue performing along with Yakshagana artistes in Karnataka's Udupi district has created a controversy.
The incident was recorded and posted on social media as an entry of the bride and groom to the venue in Udupi followed by Yakshagana artistes has earned the wrath of the followers of the traditional art form in Karnataka.
Shruthi and Chethan from Dendoorkatte in Udupi district made an entry into Seshanayana Hall in Udupi recently along with the Yakshagana artistes.
In the video, the bride is seen dancing along with Yakshagana artistes accompanied by Badagutthittu (a form of Yakshagana) artistes with the sound of Chande (percussion instrument).
 
Yakshagana is a traditional theatre form that includes dance, music, dialogue, costume, make-up, and stage techniques. Yakshagana is influenced by Vaishnava Bhakti movement. This form of theatre performed traditionally from dusk to dawn have stories drawn from Ramayana, Mahabharata, Bhagavata and other epics and also ancient Indian traditions.
It is considered as a sacred form of performance and needs much preparation in spiritual aspects too before performing it. Using it in any form other than a proper performance has led to controversies and has earned the wrath of those following it traditionally.
Yakshagana is considered as a unique form of traditional art from Udupi and Dakshina Kannada districts. Though other forms of unique performances from the coastal side like Hulivesha (tiger dance) and others are used in movies and during weddings too, Yakshagana was not used at private events.
"Yakshagana is not meant for marriage Hall, park, bus stand, and road side, it has its own place.. Pls don't don't do this (sic)," said Disha on her Facebook account.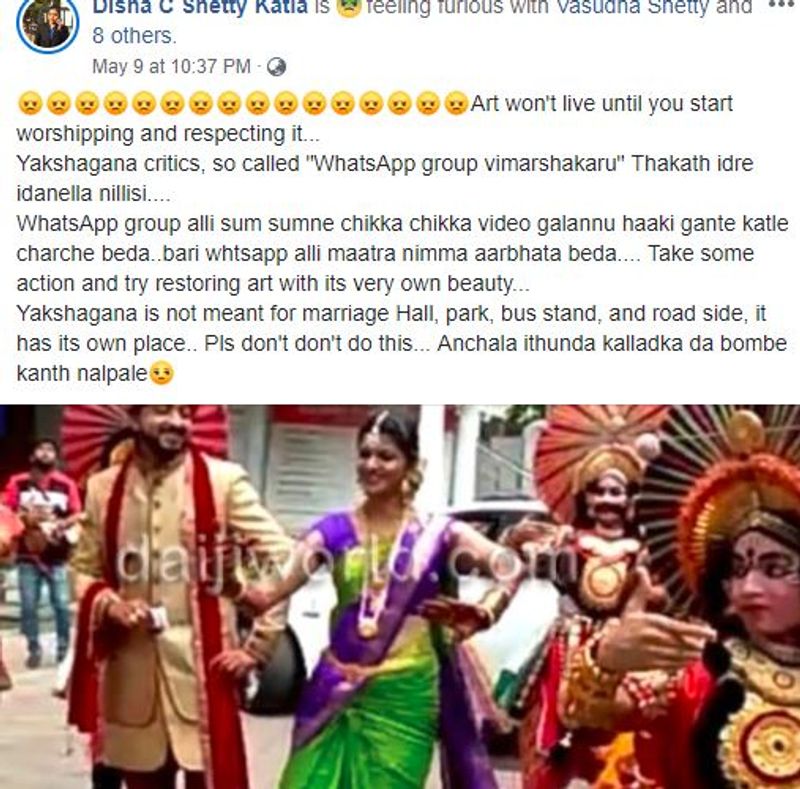 On the other hand, sometimes ago, another Facebook user, Poornachandra Upadhya had shared a Yakshagana fusion being performed at a marriage event.
"I strongly encourage sanatanis to encourage folk artistes by performing at such events and help keep our vibrant traditions alive. Bollywood will survive without our support, but our local art forms may not," he said.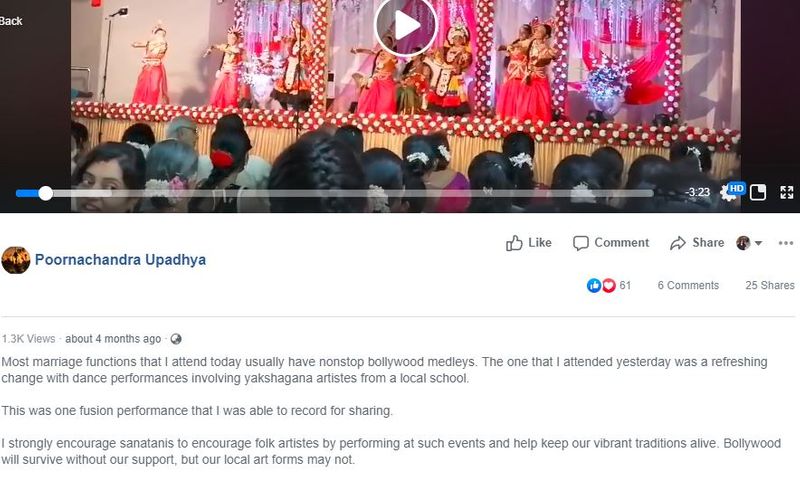 * Image is used for representative purpose only.
Read Exclusive COVID-19 Coronavirus News updates, at MyNation.
Last Updated May 12, 2019, 4:12 PM IST