Senior Congressmen Shashi Tharoor and Abhishek Singhvi have joined the chorus of not demonising Modi, first started by another Congressman Jairam Ramesh
Bengaluru: Slowly but surely and even certainly, there is a change in the script. Foes are turning into friends and even admirers.
We are talking of the way a few prominent Congressmen have changed their stance regarding Prime Minister Narendra Modi.
While on Thursday (August 22) a senior Congressman Jairam Ramesh openly confessed that demonising Modi at all times was not at all a good idea. Today, he got massive support from other distinguished Congressmen Abhishek Singhvi and Shashi Tharoor.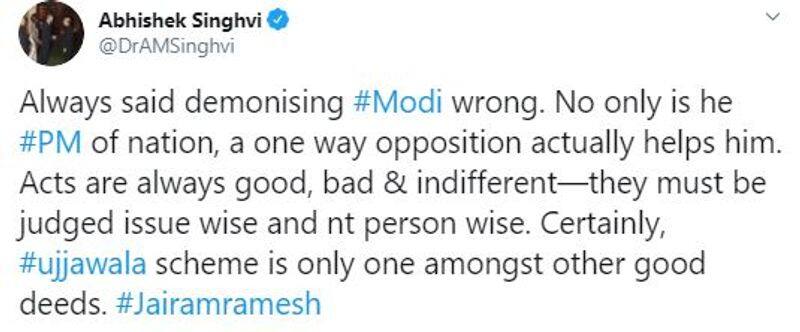 Shashi Tharoor said, "As you know, I have argued for six years now that Narendra Modi should be praised whenever he says or does the right thing, which would add credibility to our criticisms whenever he errs. I welcome others in opposition coming around to a view for which I was excoriated at the time."
If one recalls, Narendra Modi has been at the receiving end from the Congress since the 2002 Gujarat riots. The Congress has been so cynical about whatever Modi does that it has become counterproductive many times. The more they have criticised him, the stronger he has emerged.
Way back in 2014, while he stormed to power for the first time at the Centre, in 2019, he came back with more seats, surprising the opposition.
Any good opposition should work with the spirt of construction, not humiliation or vindictiveness. This is what is being exhibited by Jairam Ramesh and others.
There was a time when 65 MPs had written to President Obama not to grant visa to Narendra Modi. Some Congressmen have even called him "Hitler, Mussolini, impotent, neech among others," and have paid heavily for it.
The Congress has realised that the schemes and issues the Prime Minister has created can be debated, discussed and even criticised. But visceral hatred is certainly not expected.
Read Exclusive COVID-19 Coronavirus News updates, at MyNation.
Last Updated Aug 23, 2019, 5:09 PM IST