The awesome duo of PM Modi and Union home minister Amit Shah have taken some phenomenal decisions in the last six months. From abrogation to criminalisation of triple talaq, the going is not easy. But as they say, when the going gets tough, the tough get going!
Bengaluru: The pace with which Narendra Modi 2.0 is functioning may induce thoughts that elections are fast approaching. 
But to keep you grounded to facts, the second stint of Modi has not completed more than six months. The next general elections are 4 ½ years away! 
Propelled, aided and advised by his protégé and most trusted lieutenant Union home minister Amit Shah, PM Modi has taken some phenomenal decisions in his second tenure till date. 
What's pertinent to note here is that Narendra Modi has stayed behind the curtains in his second innings till date and has allowed Amit Shah to garner the limelight, as also be in the vanguard of policy-making.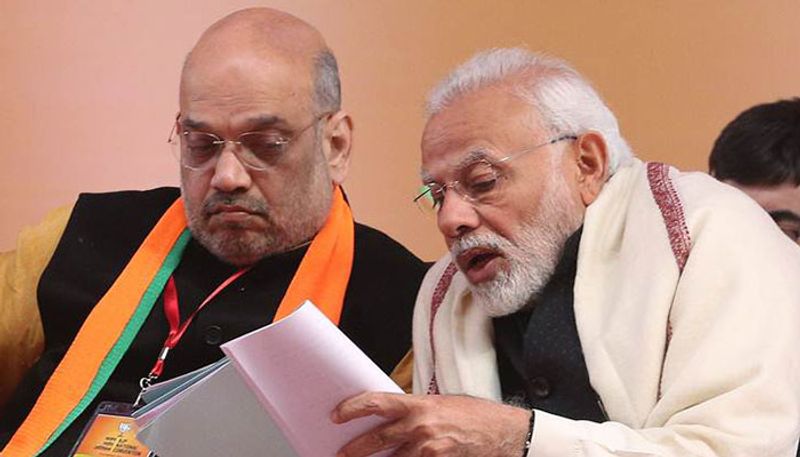 Take for example. In the year 2016 when the demonetisation was held, it was Modi who led from the front. He even appeared on TV screens to announce the scrapping of notes. 
But contrast this behaviour of his in his second term. Be it abrogation or the passing of the Citizenship Amendment Act, Modi has allowed his subaltern to take guard. 
Fiercely loyal to Modi, pugnacious to the core and having a will as solid as a rock, Amit Shah never dithers from speaking his mind out. 
During his replies to the abrogation or the CAA in the Indian Parliament, Amit Shah was not just eloquent but had the political wherewithal to corner his opponents on all subjects. 
Considering that sensitive issues like abrogation, criminalising triple talaq or the introduction of the CAA or the way the administration and the security of the country was handled in the wake of the
Ayodhya verdict need a lot of guts and gumption, courage and perseverance, Amit Shah has done phenomenally well. 
In his own words, "The Congress didn't deal with the country's problems. This is Modi's government. And we are not here to run a government but to resolve country's problems. We aren't here to do politics. We could've sat down for five years."
With the benefit of hindsight, one can easily assume that Modi 1.0 missed Amit Shah the most. If he had had the reins in the first term itself, it's impossible to guess what more important decisions he would have taken. 
 
Read Exclusive COVID-19 Coronavirus News updates, at MyNation.
Last Updated Dec 28, 2019, 1:41 PM IST