A legal notice was sent to The New Indian Express for publishing an article written by S Gurumurthy titled Tablighi Jamaat - its other, evil side, which exposes the Tablighi Jamaat for defamation charges of Rs 1 crore. In its reply, the TNIE's lawyers have maintained that the article published was in good faith, supported by facts and figures.
Bengaluru: The havoc created by Tablighi Jamaat (TJ) because of its congregation in New Delhi has literally become unbearable. 
There have been reports of Tablighi attendees spitting at doctors, walking semi-nude in front of female nurses, throwing urine-filled bottles and defecating in front of rooms of their quarantine centres. 
There have also been reports of Tablighi members spreading the coronavirus across India and thereby increasing the count. 
Noted journalist S Gurumurthy penned a piece on the organisation - Tablighi Jamaat's terror links which was published in The New Indian Express on April 2, titled Tablighi Jamaat - its other, evil side.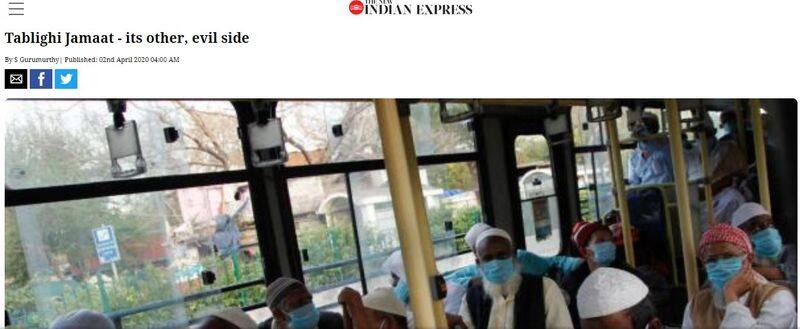 In the article, the journalist exposes how the TJ has been "inviting the innocent and idealistic young Muslims into an ideological line that ultimately turns them as terrorists. The less known and dangerous side of the century-old TJ began unfolding the world over since 2001, but not in India." 
He also dedicated a column under the header "Nursery and gateway to terror." 
In this, he quotes Dr Farhan Zahid, a Pakistani counter-terrorism and security expert as saying, "TJ is another system driver and integral element of Islamist Violent Non-State Actors' internal dynamics; in many cases it has acted as nursery for indoctrinating Islamist terrorists."

Under another header "Terror record in Europe, US" the journalist exposes, with the hep of Dr Farhan, how "traces of links have been found between TJ and Islamists involved in acts of terror. Shoe bomber Richard Reid who attempted a trans-Atlantic airline bombing [2001], Jose Padilla who tried dirty bomb manufacturing [2002] in New York city, Barcelona terror plot [2008] and the arrest of American Taliban John Walker in Afghanistan [2001] were all linked to TJ."

 In this way, the journalist has dealt in detail about the TJ and how it has carried out terrorist activities across the globe. 
As the TJ is caught unawares, a Bengaluru based TJ member – Shaikh Mahbub Abbas – sent a legal notice to Indian Express and the journalist, filing a defamation suit for writing and publishing such articles. 
The legal notice demands a sum of Rs 1 crore from Indian Express.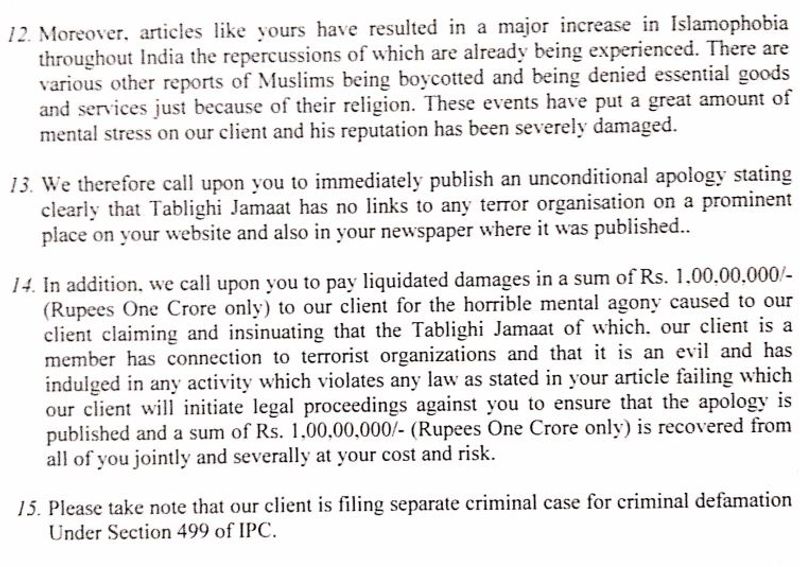 While the legal notice was sent, the Indian Express has replied to the legal notice, saying "they have published the impugned article of the 4th of our client (Gurumurthy) in good faith and for public interest and have published it at the most appropriate time. None of our Clients bore any ill-will or spite against your client. The impugned article was published as the same relies on facts which have been unearthed and published by experts and have stood the test of time."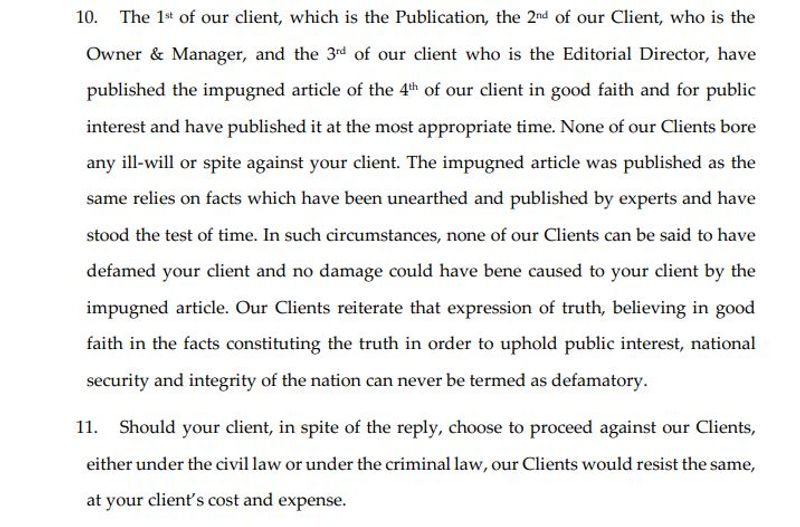 Gurumurthy too has mentioned this in one his tweets. 
New Indian Express has told Tabligh Jamaat member, which has given notice of defamation to NIE against my article "Tablighi Jamaat its other, evil side" (link in the thread next) to sue NIE at own cost https://t.co/4uRiaJOTnc via @NewIndianXpress

— S Gurumurthy (@sgurumurthy) April 12, 2020
Read Exclusive COVID-19 Coronavirus News updates, at MyNation.
Last Updated Apr 13, 2020, 2:06 PM IST