Family first mantra is overwhelmingly visible in the first-ever list of the Samajwadi Party (SP). While Akhilesh Yadav's father Mulayam Singh Yadav is being fielded from family stronghold Mainpuri, Dharmendra Yadav will fight from Badaun
A day after the Congress released its first list for 2019 general elections, the Samajwadi Party (SP) unveiled six names for Uttar Pradesh, on Friday. Interestingly, but unsurprisingly, as much as 50% of the candidatures declared are reserved for the first family of the SP. But, here are the top three takeaways from the Akhilesh Yadav-led SP's first list.
1. Father ditches brother, for son
In spite of tacit attacks on his son and Ram Gopal Yadav, who took control of the original Samajwadi Party, Mulayam Singh Yadav decided to go with his son. It also shows that he isn't retiring from active electoral politics, not as yet. After the coup by his son, Mulayam was seen to be siding with his brother Shivpal Yadav, who formed a new party. In fact, last October, Mulayam shared the stage with Shivpal for his new Samajwadi Secular Morcha (SSM), giving rise to speculations.
Also read: Besides backing Modi, Mulayam said something crucial; what his move means
In fact, in the same event, Mulayam openly sided with Shivpal while he said, "Injustice must always be opposed. If a brother does injustice to a younger brother than that must also be opposed. Such were the thoughts and philosophies of Dr Lohia and I agree with this. Wherever there is an instance of injustice, be it a family, a village, a city, a voice must be raised against it. Lohia always sided with justice and always opposed injustice."
But with this list, it is clear that Mulayam stands with son, not his brother. This is, undoubtedly a big boost for Akhilesh who could have suffered a few blows if his father would have chosen to stand with Shivpal. But similarly, it may help the BJP to exploit a hurt Shivpal, who has a reasonable sway over the Yadav votes in Uttar Pradesh.
2. It is family first
Family first mantra is overwhelmingly visible in the first-ever list of the SP. While Akhilesh's father Mulayam is being fielded from family stronghold Mainpuri, Dharmendra Yadav will fight from Badaun. The third Yadav who is named in the prestigious first list is Akshay Yadav, who will fight from Firozabad. Akshay is the son of Ram Gopal Yadav, who in turn is the cousin of Mulayam and uncle of Akhilesh.
Also read: Samajwadi Party gets 37, BSP 38 seats to contest from Uttar Pradesh
Meanwhile, the non-Yadavs but close to the first family of the SP, who are named are Kamlesh Katheria from Yadav family's home turf Etawah, Bhailal Kol from Robertsganj and Shabbir Ahmad Balmiki from Bahraich.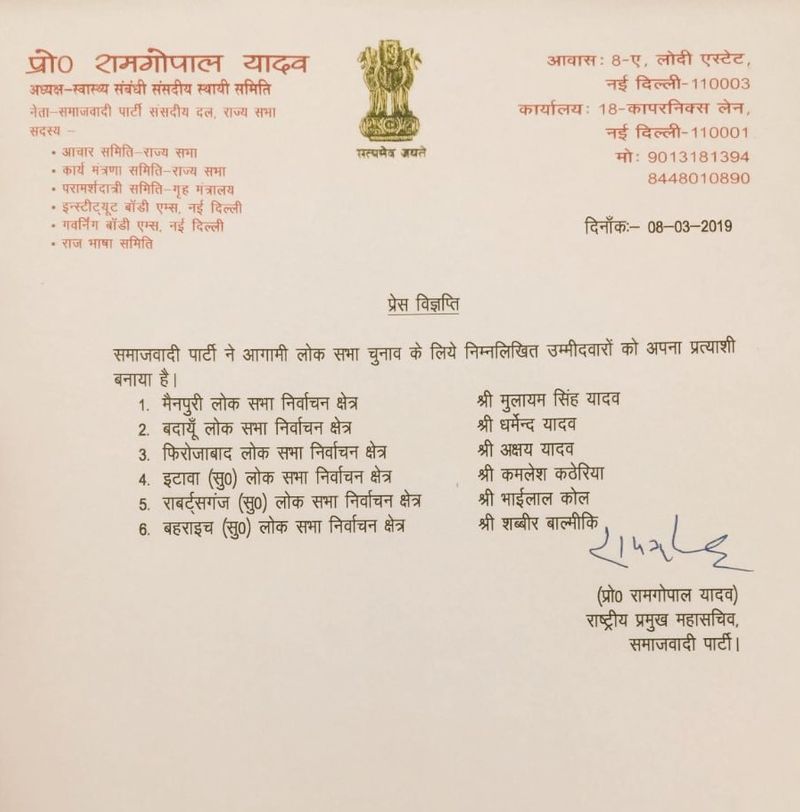 This family first approach means the BJP raising the 'parivarvad' jibe more in Uttar Pradesh. It has been doing so against the Congress. Now, the SP too is likely to be at the receiving end.
3. Badaun is Congress vs SP, as well as Muslim vs Yadav
In spite of optics of Mahagathbandhan meetings, the fact that the SP and BSP are going to take on the Congress in Uttar Pradesh has become more than apparent. Badaun constituency is the first such example where the SP has fielded Dharmendra Yadav, while Congress has fielded Saleem Iqbal Sherwani. After being left in the cold, the Congress unilaterally declared its first list on Thursday where 11 candidates from Uttar Pradesh were declared. The list included Iqbal's name who has been fielded from Badaun. Within 12 hours, the SP released its first list which also had a Yadav family member Dharmendra Yadav, who is given the Badaun seat.
Badaun is the first seat where the SP and Congress have expressed to fight against each other, even after the resolve at the national level, of 'tactical understanding to defeat BJP, at any cost'. Badaun indicates that chances of any back door talks to accommodate the Congress in the SP-BSP alliance in Uttar Pradesh is almost impossible now.
It also puts both the SP and Congress in a very tricky situation, where Yadav and Muslim votes will be up against each other. It's the Muslim-Yadav combination that most of the Mahagathbandhan parties were banking upon, to take on the BJP's effort of a Hindu consolidation, in the twin states of Uttar Pradesh and Bihar.
It is still an open battle in India's most populous state, where the BJP which won 71 out of 80 seats in 2014, hasn't yet announced a single candidate so far. But the twin list of the SP and Congress will only ensure that Uttar Pradesh is heading for a three-way fight where Muslim-Yadav friction may end up helping the BJP.