Even just a few days earlier, Pakistan Prime Minister Imran Khan in an interview with the Washington Post said, "The ruling party [in India] has an anti-Muslim, anti-Pakistan approach"

New Delhi: Pakistan seems to be rather happy with the recent political development in India — the ruling BJP party lost three crucial states, i.e. Madhya Pradesh, Chhattisgarh and Rajasthan, to Congress after the Assembly elections of 2018.
An article in Dawn published on December 12 hints that this defeat was due to BJP's Hindutva motifs, which are apparently not "clicking with the people".
The newspaper writes, "Results from crucial state polls in India on Tuesday have come as a major setback for Prime Minister Narendra Modi ahead of next year's general election…Mr Modi's term in office has seen an unprecedented recourse to lynching of Muslims by self-styled cow vigilantes as an instrument of political mobilisation."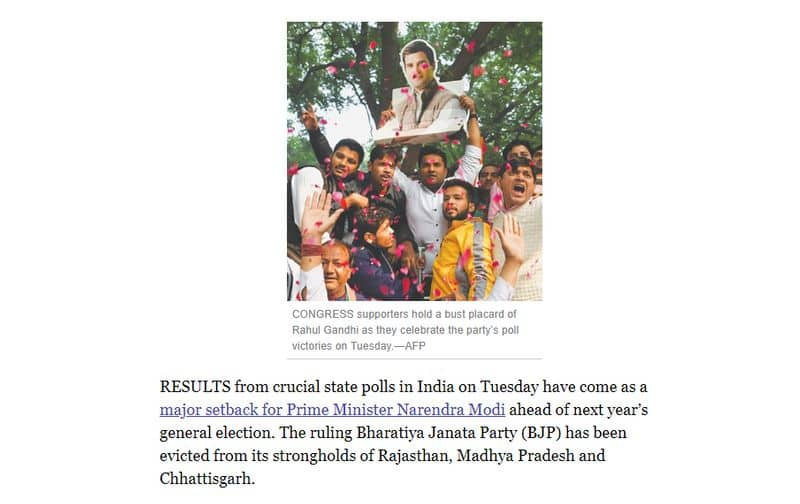 Mentioning the defeat of India's "first cow minister, Otaram Dewasi" from Rajasthan, the writer also mentions that it is "a symbol of sorts to mock the prime minister's politics of Hindutva."
Dewasi lost his seat in Sirohi to an independent candidate by 10,000 votes.
Also read: Welfare schemes do not get you votes: BJP learnt the hard way
The writer also talked about UP chief minister Yogi Adityanath. He wrote, "The fact that it (BJP) deployed Uttar Pradesh Chief Minister Yogi Adityanath for campaigning is being interpreted in two ways. The BJP's Hindutva hardliners are arguing that Mr Adtiyanath, known for his anti-Muslim vitriol, may have saved the party from a bigger defeat. But it could also be a talking point for those in the BJP who see the campaign to build the Ram temple in Ayodhya and other Hindutva motifs as not clicking with the people."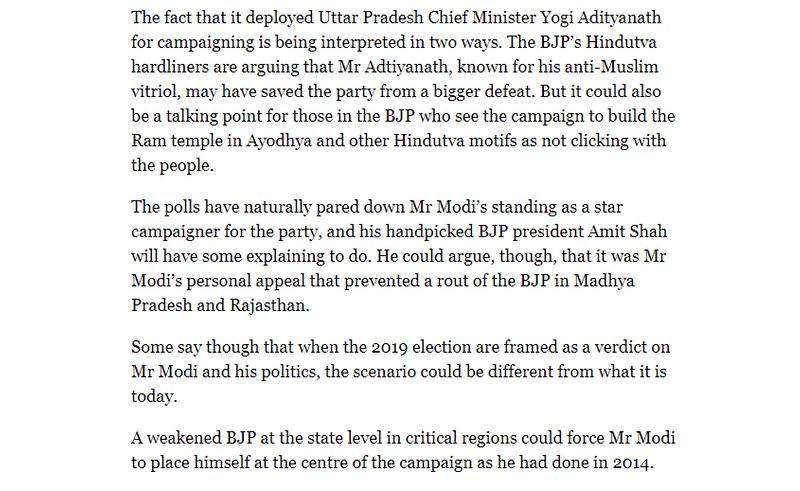 Past instances
However, Pakistan media celebrating BJP's defeat is nothing new.
In 2015, when Narendra Modi's Party lost the elections in Bihar, Dawn carried a headline "Bihar steals Modi's firecrackers". This was interpreted as a clear dig at BJP President's Amit Shah's pre-election warning where he said that if BJP lost in Bihar there would be crackers (or fireworks) in Pakistan. The media house also wrote in a report published on November 10, 2015, "The Indian voter has demonstrated an early and decisive rejection of communal politics. Mr Modi would do well to listen to the voter. An India lurching to the right is a threat to domestic cohesion and regional stability."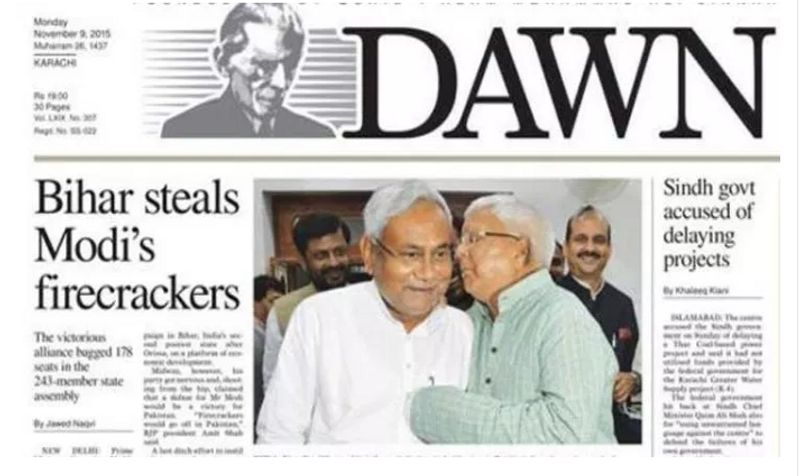 Not only Dawn, but The News International also said in an editorial, "arguably the first good news to come from India in the last few months."
Also read: BJP pays hefty price for re-nominating incompetent MLAs in Madhya Pradesh
Even just three days back, Pakistan Prime Minister Imran Khan in an interview with the Washington Post said, "The ruling party [in India] has an anti-Muslim, anti-Pakistan approach." 
Pakistan's tendency to lock horns with India has miffed Prime Minister Narendra Modi before. In 2017, PM Narendra Modi speaking at Palanpur in north Gujarat claimed that Pakistan was working with Congress to prevent a BJP victory.
The Prime Minister said that a retired DG of the Pakistan Army wanted Ahmed Patel, political adviser to Sonia Gandhi, to be Gujarat's chief minister. Modi also claimed that claimed that former Pakistan foreign minister Khurshid Kasuri and its high commissioner had met Congress leaders.
 
Read Exclusive COVID-19 Coronavirus News updates, at MyNation.
Last Updated Dec 12, 2018, 6:27 PM IST