A tweet by a user refusing to accept food delivered by a "non-Hindu rider" has sparked off an online debate on whether or not food has religion. Twitter stands divided, while one section slammed the user, another slammed Zomato for its response.
Zomato continues to be a topic of debate after a user, Amit Shukla, cancelled his order after a "non-Hindu rider" was assigned to deliver the food that he had ordered.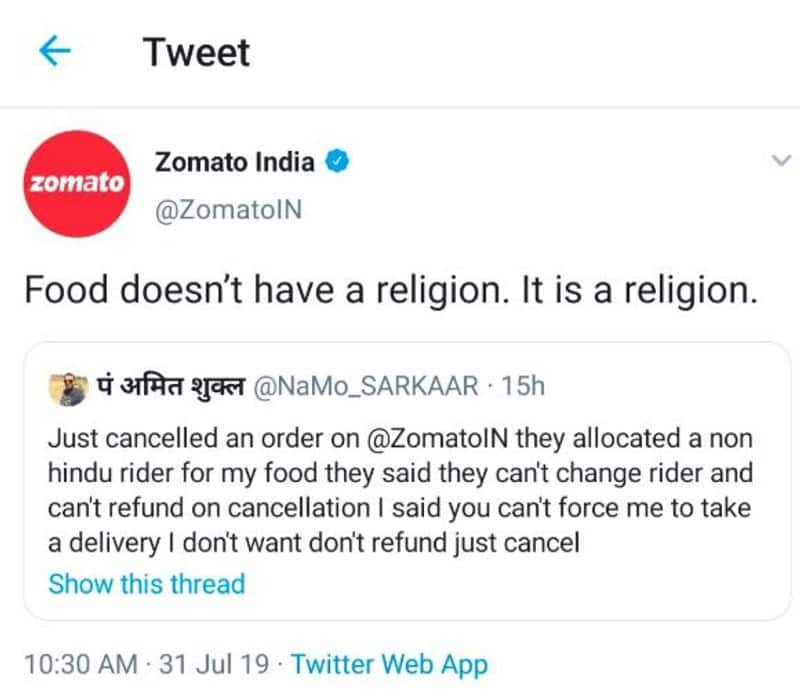 Zomato India, including the founder had replied to the user saying that food didn't have a religion as it is a religion in itself. 
We are proud of the idea of India - and the diversity of our esteemed customers and partners. We aren't sorry to lose any business that comes in the way of our values. 🇮🇳 https://t.co/cgSIW2ow9B

— Deepinder Goyal (@deepigoyal) July 31, 2019
The internet, which first praised Zomato for its response, later was left divided, as several people began to tweet instances of Zomato being hypocritical. 
Respect!

— Shivam Vij (@DilliDurAst) July 31, 2019
I always found Swiggy a bit more convenient but after today, the way Zomato have stood up for love against hate, I am bowled over by the courage. I vow for life, will only use Zomato. Thank you @ZomatoIN @deepigoyal #FoodHasNoReligion

— Sanjukta Basu (@sanjukta) July 31, 2019
Several people had tweeted instances wherein a Muslim user had refused to accept food because the meat that was served was not "halal".
When Hindu is a customer: Food has no religion.

But when Muslim is a customer : food has a religion,

If food don't have a religion u write halal in food packets ??

What a hypocrisy?? Why such a biasness with Us??#boycottzomato #boycottubereats #boycottuber #IStandWithAmit pic.twitter.com/vPMgO8oKyA

— Arvind Mishra🇮🇳🇮🇳💯%FB (@ArvindMishraIND) July 31, 2019
Some others questioned why Zomato had to advocate Halal while listing users, if they truly believed that food has no religion. #Halal and #Zomato was trending because of these instances on Wednesday (July 31). But on August 1, Twitterati began trending #BoycottZomato for its tweet that food has no religion. #BoycottUberEats also trended simply because it had extended its support to Zomato India. 
Here is My response to @UberEats_IND #BoycottUberEats pic.twitter.com/ZuFg9zh4Co

— Ritesh Dubey (@RiteshJee1986) August 1, 2019
But a day later, the trend on Twitter was #IDontStandWithAmit as users posted images of Amit's tweets wherein he had passed crass remarks at Taslima Nasreen - a Bangladeshi writer. 
#IDontStandWithAmit this is the guy who was telling to bring a Hindu driver what a shame he wants to say celebrities that they have boobs wow what a big social media warrior pic.twitter.com/I4rDWkdTox

— Mithun nair (@Mithunnair15) August 1, 2019
Amit has a problem with non-hindu delivery boy, but he don't has problem with b**** of non-hindu lady#IDontStandWithAmit @ZomatoIN you did a great job. Take a bow.
Until yesterday, I made my own food... today i will order from zomato pic.twitter.com/GtckTOW5Gi

— Anonymous_Slayer (@anonymousslaye2) August 1, 2019
Read Exclusive COVID-19 Coronavirus News updates, at MyNation.
Last Updated Aug 1, 2019, 12:08 PM IST