In Bengal, the undoing of the 34-year-long left regime started when police crushed a popular uprising in Singur by using fire power. The villagers were protesting forcible land acquisition by the state for a car manufacturing unit
History repeats itself in the most predictable ways. But it chooses its own time.
It was 12 June 1975 when the Allahabad High Court found the then Prime Minister Indira Gandhi guilty of using government machinery for her election campaign. The court in a second unseated her from her position in the Lok Sabha. JP Narayanan kick-started a massive protest commonly known as the JP movement. Gandhi in panic declared an emergency. 
While she enjoyed absolute power until the emergency lasted, but it started her undoing as a public figure. In the 1977 election, the Congress lost for the first time since independence. More recently, the scam-tainted UPA 2 started its undoing by arresting Anna Hazare from a flat in Delhi's Mayur Vihar as he was getting ready to sit on an indefinite fast in demand of a Lokpal in India. 
In Bengal, the undoing of the 34-year-long left regime started when police crushed a popular uprising in Singur by using firepower. The villagers were protesting forcible land acquisition by the state for a car manufacturing unit.
The doctors strike in Bengal that has finally come to an end on Monday evening, many political thinkers believe has started the undoing of another regime that was marketed as of Ma, Mati, Manush (mother, soil and people).
What kicked off the protest?
The death of a patient in Kolkata's Neel Ratan Sarkar Medical College, popularly known as NRS, turned violent when a large group of relatives, friends and acquaintances attacked a doctor. 
The victim was an on-duty intern, Dr Paribaha Mukherjee, who sustained fatal injuries that the CT scan of his skull showed a big clear dent. So severe was the attack that the frontal right section of the young doctor's head was bludgeoned. 200 people attacked the young doctor and came loaded in trucks to the hospital. The deceased was the father of a local imam and hence his death sparked more outrage.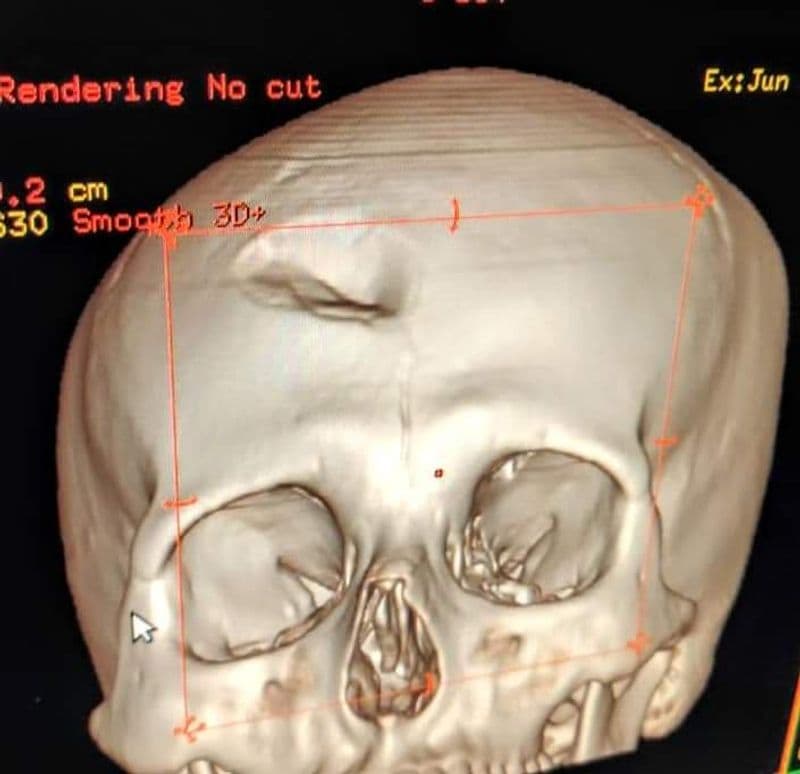 How did it grow so big?
The fact that the attackers were Muslims and the victim was a Hindu was enough to release pent up communal passion in a polarized state like Bengal. And with a free run on social media and BJP exploiting it to the hilt to further cement its base in Bengal after an 18-seat-win gave the protesting doctors a shoulder to cry and platform to use. 
But it didn't go big because BJP used it to its advantage but for the statements made by the chief minister and actions by her police that gave out a reception that Mamata Banerjee, the chief minister of Bengal is not sympathetic towards a vast number of doctors who feel wronged.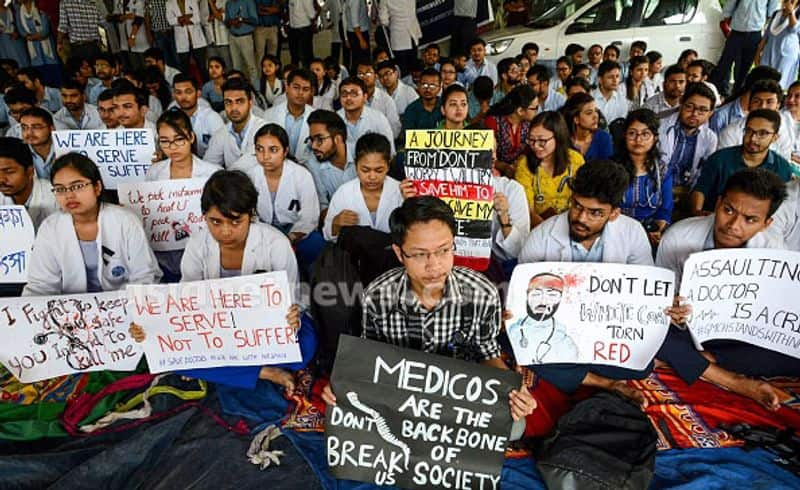 How did it spread like wildfire in no time?
Soon after NRS doctors went on immediate strike, many hospitals of the state joined in. The situation worsened on Friday when doctors from the city's top four medical colleges -IPGMER and SSKM Hospital, Calcutta Medical College, and RG Kar Medical College started a mass resignation campaign apart from joining the solidarity protest. In the district level, the protest turned violent in some cases. 
The resignation spree was emboldened with the fact the Superintendent and the Principal of NRS, started tendering their resignation. Moved by this, many senior doctors from other medical colleges too started putting down their papers. A video went viral when senior doctors were welcomed with thunderous applause by interns after they came down after resigning.
What was a spark turned into a wildfire. The Indian Medical Association came forward to announce it will protest across India, in solidarity with the attack on the doctors of Bengal. From AIIMS in Delhi to King Edward Memorial Hospital and Seth Gordhandas Sunderdas Medical College, popularly known as KEM in Mumbai joined in. In fact, the AIIMS released a detailed protest note. Many doctors across India were pictured treating patients sporting black ribbons as a mark of protest.
Junior doctors in Odisha staged dharna with bandages. Approximately 4,500 resident doctors in Maharashtra, including roughly 2,800 in Mumbai, went on a one-day strike.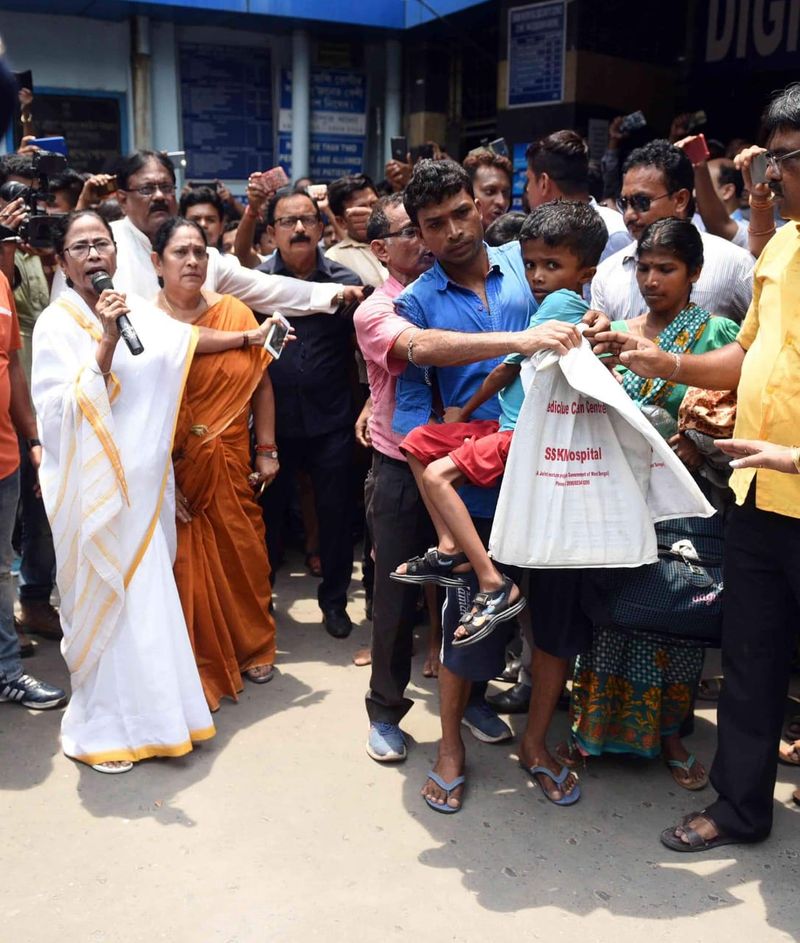 Mamata's ESMA threat, 'outsider' tag et al
When faced with steep opposition from doctors across the country, the chief minister of Bengal chose to walk into SSKM hospital in Kolkata and guess what? Give a stern warning!  She alleged "outsiders" had entered medical colleges, a statement shocked and infuriated the agitating doctors. 
"We want unconditional apology of Chief Minister Mamata Banerjee for the manner in which she had addressed us at the SSKM Hospital yesterday. She should not have said what she had", said a junior doctor entrusted with the responsibility to talk to media. To make things worse for herself, Mamata alleged the protest is "political". 
But a political party exploiting a situation and blaming the situation to be a part of the same politics are clearly very different things. The doctors sought an "unconditional apology" from the CM. Probably realizing it is not helping her, Banerjee had met senior doctors and later invited them for talks on Saturday which they declined. On 14th, in a letter to the doctors, the tone was much more conciliatory where she said, "Our government has taken full care of the injured doctor. We pray that he recovers quickly. As per information received, he is stable and improving."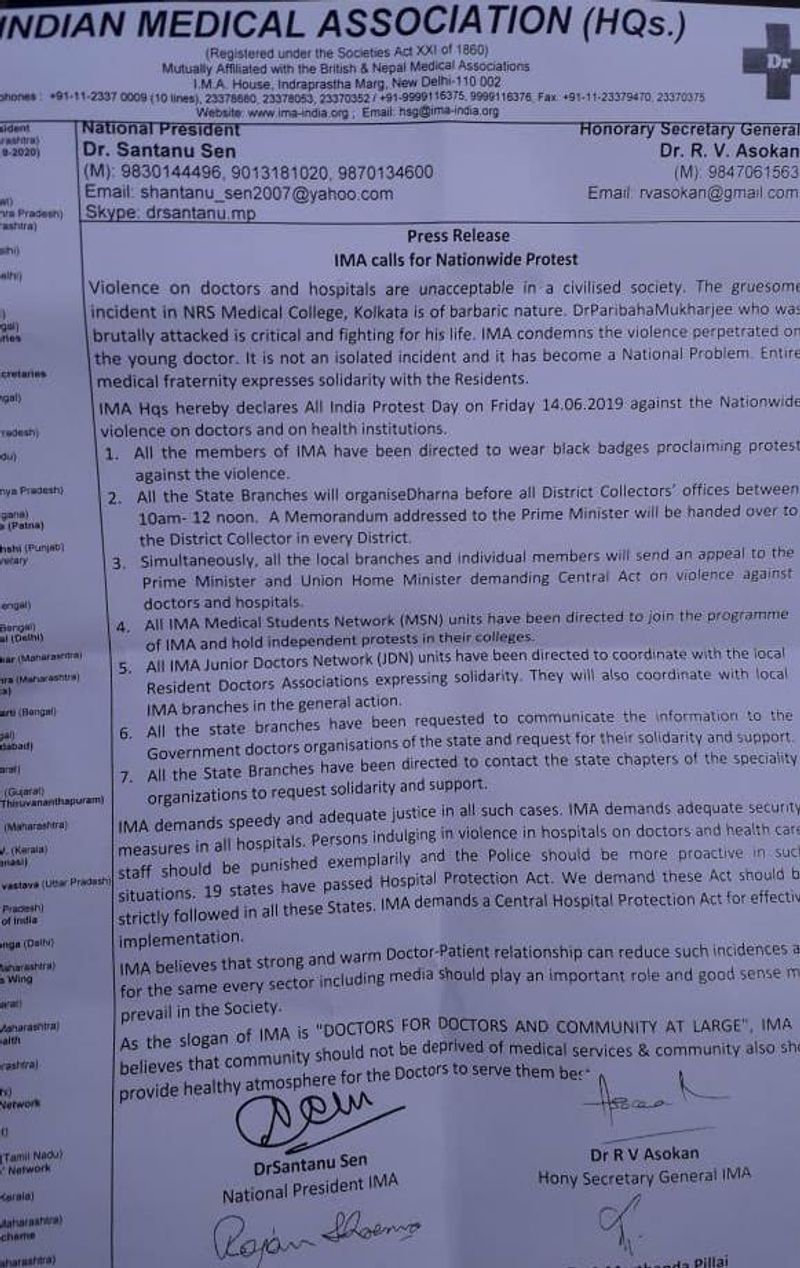 Mamata's course correction was too late
By the time Mamata realized her upping the ante on doctors was not helping her cause in any which way, it was too late. Mamata requested the doctors "to withdraw the agitation as people are not getting treatment." Five people were arrested as well. The IMA wrote a letter to home minister Amit Shah requesting him "to bring central legislation in the form of a special law against violence on doctors and health care establishments". 
The BJP held multiple walks and protest marches across Bengal in "support of doctors". Not wanting to be left out of the politics of it, Pradesh Congress committee of Bengal too took to streets. Union health minister Harsh Vardhan wrote to Banerjee requesting not to make the matter a  "prestige issue", and thus insinuating she has made it one. 
What's more? Even the Governor Keshar Nath Tripathi complained he had dialled the CM to talk about it but she didn't respond. "I have tried to contact the chief minister. I have called her up. Till this moment, there is no response from her. If she calls me, we will discuss the matter," Tripathi told reporters after visiting Paribaha Mukherjee, the attack on whom started this political crisis.
West Bengal Governor, Keshari Nath Tripathi: I have tried to contact the CM, I have called her, till this moment there is no response from her, if she calls on me then we will discuss the matter. I have called her, let her come. #DoctorStrike pic.twitter.com/3xvKoY6yZP

— ANI (@ANI) June 14, 2019
Even her minister, filmmakers sang a different tune, this time!
In politics, when your traditional supporters stand against you on any issue, you know you are on the wrong track. After Mamata Banerjee swept to power in 2011, defeating the gigantic left, she walked up to writers building, the then state secretariat as the road was clogged with hundreds and thousands of people to catch her glimpse. 
Since then, probably for the very first time, Mamata has tasted this uncertainty when even her backers turned against her. The tallest Muslim TMC leader Firhad Hakim's daughter Shabba Hakim took to Facebook to claim, "...as a TMC supporter I am deeply ashamed at the inaction and the silence of our leader."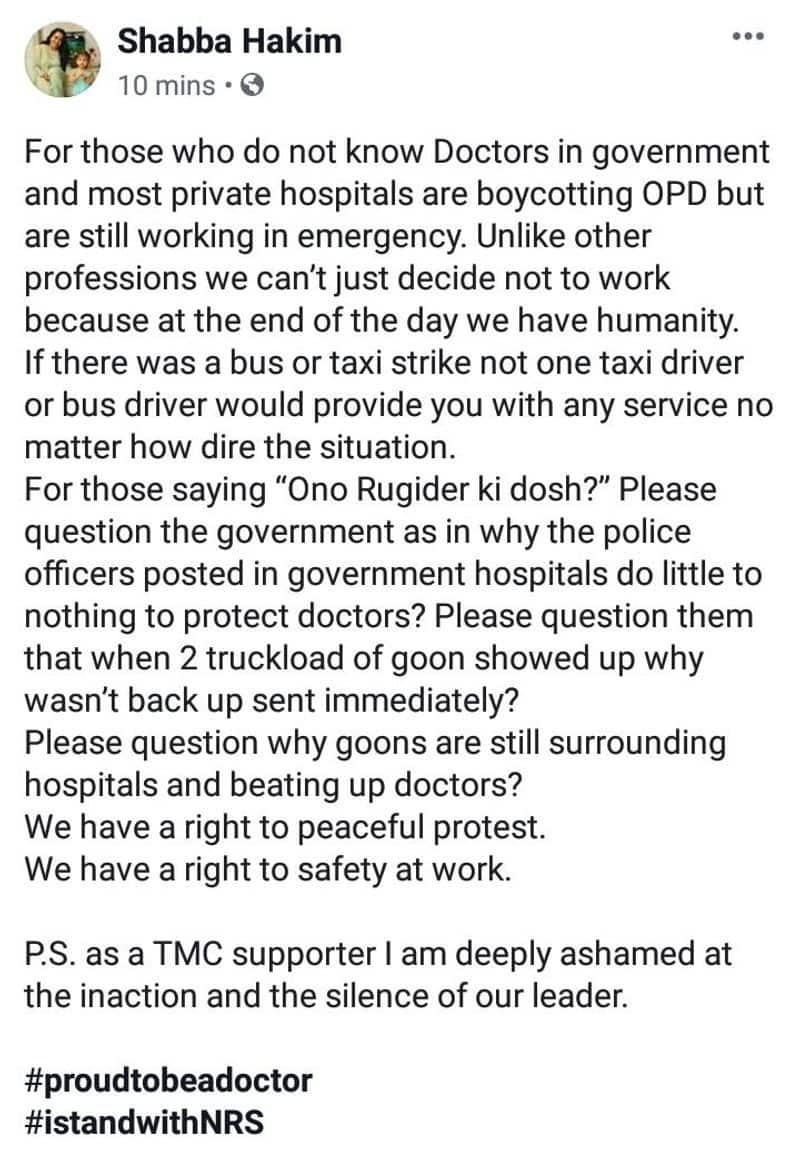 Even Shabba's father Firhad Hakim, the Kolkata Mayor and influential minister who has Urban Development & Municipal Affairs portfolio apart from Fire an Emergency Services called the attackers "gonoshotru" (enemy of the people), in a tweet. 
A Mamata faithful filmmaker Aparna Sen appealed her to "show sensitivity and end the suffering of patients across the country".
The protest may have come to an end after many negotiations, but the dent it has left is huge.
Mamata Banerjee has a brand image of a self-made leader who withstood the left brutality as a youth Congress leader, who had the acumen to form her own party and even lead a successful popular uprising. Mamata Banerjee could turn any political event to her favour. Much before the people of India came to know about Nandigram and Singur, she successfully raised her voice against Chhoto Angariya massacre to Keshpur violence. Hers is illustrious political innings and even her detractors agree, after Jyoti Basu, no one ever came close to her in understanding the politics of Bengal. 
But then, even Indira Gandhi was the "Iron Lady" or when UPA 2 came back to power with a thumping victory, Dr Manmohan Singh was also branded as "Mr Clean".  History indeed has its own pattern of repeating itself.
Read Exclusive COVID-19 Coronavirus News updates, at MyNation.
Last Updated Jun 18, 2019, 1:16 PM IST