Karnataka Police continue to arrest people alleging that they are peddling fake news. However, on the other side, the BJP calls it 'emergency in Karnatka', alleging that the arrests are random under some 'strange acts' and that they won't help.
Bengaluru: In the state of Karnataka, police continue to arrest people on the charges of peddling fake news. In the last fortnight or so, the police have arrested three people. Last night (on May 2), the police arrested another right leaning youngster Ajith Heranje.
The charges pressed against him are fabricating a news item against none other than the chief minister HD Kumaraswamy himself on social media. And as the arrests continue to happen unabated, incidentally, only against those who are right leaning, BJP feels it is nothing but vendetta politics. The BJP has also taken to social media slamming the arrests and calling it 'emergency in Karnataka'.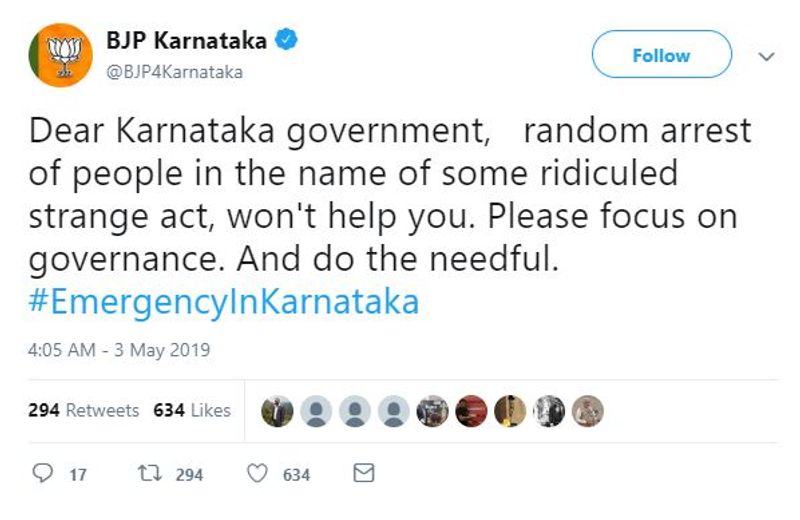 In the month of April alone, Mahesh Vikram Hegde, founder of Postcard News, Shruti Bellakki, who openly challenged home minister MB Patil on FaceBook, a senior journalist SA Hemanth Kumar were arresred. And now, Ajith Heganje is the latest addition. It might also be recalled that Sharada Diamond, another youngster challenging MB Patil on the Lingayat issue is also under the scanner. Though she has not been arrested, an FIR has been filed against her.
The BJP is fuming with anger.
 "It is unfortunate that the state government of Karnataka is using police power to harass the public, who have opposed the government. The criminal division of religion the Congress wanted to execute during the time of last Assembly election for which the present home minister himself is responsible is unforgettable. No enquiry under MB Patil can be fair. So we demand a CBI inquiry and if at all Karnataka government is interested in any inquiry, it should hand it over to the CBI. We condemn any arrest in the name of this investigation," said Go Madhusudhan, a BJP spokesperson.
There are also aggrieved feelings that HD Kumaraswamy is targeting only a section of the society, while it chooses to remain tight-lipped against so-called rationalists like Bhagwan, who speak very "cheaply about Hindu gods and goddesses".  
Last Updated May 3, 2019, 7:23 PM IST