Images of an 'unclean' Ganga from 2015 have been circulated to claim what the river remains in a dirty state. What's worse, at least one of the photos attached by Yadav in this tweet is from a filthy locality in Pakistan, conveniently passed off as the bank of the Ganga.
New Delhi: With the general election just round the corner, the Congress and RJD have gone all out to malign the Modi government and its efforts to clean the Ganga. But sadly, they have not done their home work. The result: a glaring error and a self-goal.  
The RJD and the Gujarat unit of the Congress are making fact-defying claims of no progress in the cleaning of Ganga. In fact, images of an 'unclean' Ganga from 2015 have been circulated to claim what the river remains in a dirty state. At least one of the photos attached by RJD leader Tejashwi Yadav and the official RJD handle in their tweet is from a filthy locality in Pakistan, conveniently passed off as the bank of the Ganga.   
This is similar to what the AAP did before the last Lok Sabha polls. In the run-up to the 2014 general election, the AAP, which had dreams bigger than its wherewithal, tried to sink its teeth in Gujarat by various means including false propaganda. They tweeted the photograph of a dilapidated building and claimed it was Gujarat's health centre whereas the fact was that the medical facility of the state was located in a swanky building in a superlative condition.
Now that the AAP has little chance of making it big in the 2019 election, the Congress and RJD have stepped into Arvind Kejriwal's shoes. And it is not just the "Ambani, Ambani" rant that used to be Kejriwal's mainstay in the campaign during the AAP's formative years. 
मुद्दों पर बात करने में तो गोदी मीडिया का गला सुख जाता है। #मोदी_नहीं_मुद्दे_पे_आइये https://t.co/JHms2LurtI

— Tejashwi Yadav (@yadavtejashwi) March 21, 2019
दागदार मोदी को अधिक चुनाव प्रचार की ज़रूरत नहीं पड़ती है, गोदी मीडिया का मुँह काले धन से भर दो, चुनाव प्रचार हो जाता है!

एक ज्यादा ही तेज चैनल कह रहा है कि मोदी के आने से घाट चकाचक हो गए हैं! आप भी देख लीजिए! pic.twitter.com/Hy3FiscOfM

— Rashtriya Janata Dal (@RJDforIndia) March 21, 2019
The first photo in the RJD tweet is of the Ganga from February 20, 2015. The third photo is again an old image of the Ganga. It is from July, 2015. The fourth image is of a garbage-strewn railway track from Karachi, Pakistan.  
The Gujarat Congress claims that the Ganga is a lot dirtier despite the Rs 20,000 crore spent on the Namami Gange initiative of the Narendra Modi government. It has shared a video of a dirty Ganga shore, but that is from February 25, 2015 — not even a year since Narendra Modi took over as the Prime Minister. The Gujarat Congress has also used a video from 2012 to claim that the Modi government's Ganga cleaning programme has been a failure.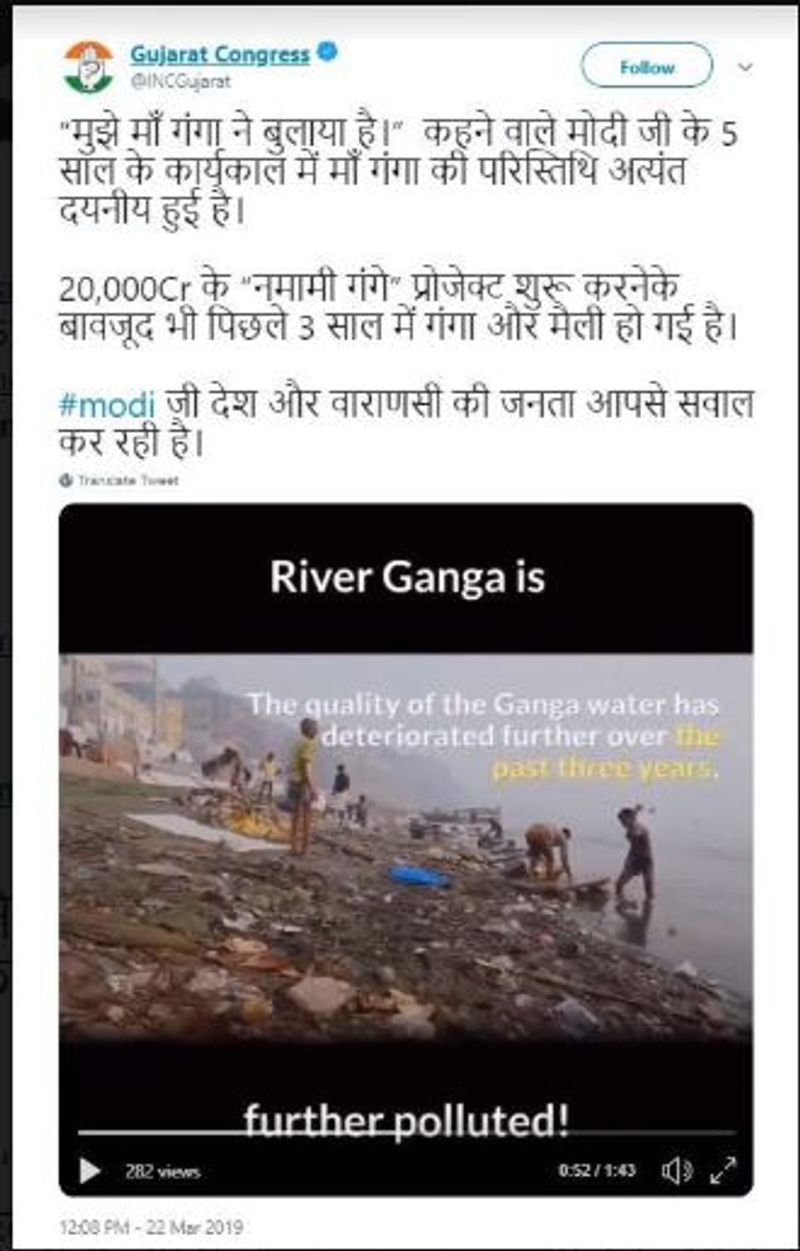 "मुझे माँ गंगा ने बुलाया है।" कहने वाले मोदी जी के 5 साल के कार्यकाल में माँ गंगा की परिस्तिथि अत्यंत दयनीय हुई है।

20,000Cr के "नमामी गंगे" प्रोजेक्ट शुरू करनेके बावजूद भी पिछले 3 साल में गंगा और मैली हो गई है।#modi जी देश और वाराणसी की जनता आपसे सवाल कर रही है। pic.twitter.com/hQPcMTDAPK

— Gujarat Congress (@INCGujarat) March 22, 2019
The fact is that, first of all, Rs 20,000 crore is the budget outlay for Namami Gange. It is not an amount that has been spent already.
The ongoing works under the Namami Gange programme are many.
The water quality of the Ganga river has improved at several locations, according to an assessment carried out by the Central Pollution Control Board (CPCB), the government had informed the Lok Sabha.
In a written response to a question, Satyapal Singh, minister of state for water resources, river development and Ganga rejuvenation, said Dissolved Oxygen (DO) levels improved at 33 locations and was above the primary bathing water quality requirement of 5mg/l. Biochemical Oxygen Demand (BOD) levels and faecal coliforms have decreased at 26 locations and at 30 locations.
The river stretches where improvement has been observed are: Rishikesh, Haridwar, Allahabad Sangam, Kanpur, Varanasi (Assi Ghat), Buxar (Ramrekha Ghat), Patna (Punpun), four locations in West Bengal — Diamond Harbour, Garden Reach, Behrampore and Howrah-Shibpur.
"The comparison of observed water quality in 2017 with the bathing water quality criteria indicates that the Dissolved Oxygen, which is an indicator of river health, has been found to be within the acceptable limits of notified primary bathing water quality criteria," Singh said.    
"BOD is found above acceptable limit in part stretches downstream of Haridwar to Kannauj, at Kanpur, at Allahabad, at Varanasi, some stretches in West Bengal (Behrampore, Serampore, Palta, Dakshineshwar, Howrah, Garden Reach, Uluberia and Diamond Harbour)," he added.
The central government, under the Namami Gange project, has been undertaking steps to rejuvenate the river and its tributaries and sub-tributaries. So far, a total of 221 projects have been sanctioned at an estimated cost of Rs 22,238 crore for various activities.
Also Read: How buying these 20 gifts of PM Modi can help in saving Ganga
 
Sixty-three sewerage management projects are being implemented in Uttarakhand, Uttar Pradesh, Bihar, Jharkhand and Bengal. Twelve new sewerage management projects have been launched in these states.
A sewerage capacity of 1187.33 MLD (million litres per day) is being built. Two projects have begun under Hybrid Annuity-based PPP model in Jagjeetpur of Haridwar and Ramanna of Varanasi.
Twenty-eight river-front development projects and 33 entry-level projects being built or modernised while 182 ghats and 118 crematoria are being renovated.
Real-time effluent monitoring stations (EMSes) have been installed in 572 out of 760 grossly polluting industries (GPIs). Closure notices have been issued to 135 GPIs so far. The rest of the GPIs have been given deadlines for compliance to stipulated norms and for installation of online EMSes.
At 11 locations, the river surface is being cleaned by collecting floating solid wastes from the surface of the ghats and the river. The waste is disposed of in no time.
To take care of the aquatic life and also that of animals in the catchment areas, bio-diversity conservation projects, namely Biodiversity Conservation and Ganga Rejuvenation, Fish and Fishery Conservation in Ganga River, Ganges River Dolphin Conservation Education Programme, have ensured the return of migratory birds as well as rejuvenation of the local fauna. Five bio-diversity centres at Dehradun, Narora, Allahabad, Varanasi and Barrackpore have been developed for restoration of identified priority species.
As for flora, forestry interventions for Ganga through the Wildlife Institute of India; Central Inland Fisheries Research Institute and Centre for Environment Education have begun. The government has executed forestry interventions for the Ganga according to the detailed project report prepared by Forest Research Institute, Dehradun, for a period of 5 years (2016-2021) at project cost of Rs 2,300 crore. In seven districts of Uttarakhand, work has begun for medicinal plants.
The ministry of drinking water and sanitation has identified 1,674 gram panchayats situated on the bank of the Ganga in Uttarakhand, Uttar Pradesh, Bihar, Jharkhand and Bengal. "Out of the targeted 15, 27,105 units," says the government, "the MoDWS has completed construction of 8,53,397 toilets; a consortium of seven IITs has been engaged in the preparation of the Ganga river basin plan and 65 villages have been adopted by 13 IITs to develop as model villages. The UNDP has been engaged as the executing agency for rural sanitation programme and to develop Jharkhand as a model state at an estimated cost of Rs 127 crore."