The BJP accused West Bengal chief minister Mamata Banerjee of causing the death of at least 70 family members of BJP activists in the state. The caricature showed Mamata soaked in blood.
New Delhi: BJP Spokesperson Tajinder Pal Singh Bagga put up caricatures of a blood-stained West Bengal chief minister Mamata Banerjee in New Delhi. The overnight feat took place after the chief minister decided to give PM Modi's swearing-in ceremony a miss.
Mamata Banerjee had earlier said that she will attend the ceremony but backed out at the last minute.
In response to this, Bagga put up posters of a blood-soaked Mamata Banerjee, in an effort to indicate that the chief minister was connected to the murder of BJP workers in Kolkata.
"Reason for not coming to Oath Ceremony," tweeted Bagga.
Reason for not coming to Oath Ceremony pic.twitter.com/eVtXLTz8hw

— Tajinder Pal Singh Bagga (@TajinderBagga) May 31, 2019
The posters were placed in all major parts of New Delhi.
The poster entitled "Mamata's U-turn at the last minute" shows Mamata dropping the invitation to a swearing-in ceremony.
The picture is accompanied with various texts such as:
"Political murders" – appears on the blood-stained saree
"Sorry Modi ji, can't find a clean saree" – appears in the speech balloon
Mamata in a Tweet had said, "The oath-taking ceremony is an august occasion to celebrate democracy, not one that should be devalued by any political party".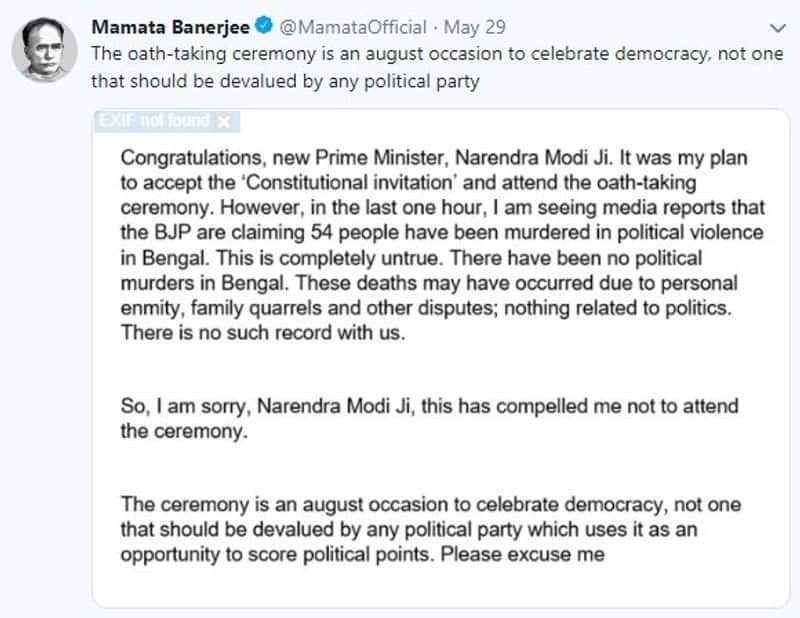 This angered the BJP, who took no time in replying to Mamata with a louder visual and voice through the caricature.
The BJP had stated that at least 70 family members of party activists were killed in West Bengal.
This caricature comes at a time when 4 TMC MPs joined BJP, in a big jolt to the government in West Bengal, that secured 22 seats in the Lok Sabha election, while BJP increased its number to 18 in the state.
Many Twitter users shared the post of the caricature and stated that this was "the true face of Mamata."