Carrying forward the legacy and philosophy of Pandit Deen Dayal's Antyodaya, Modi has envisioned many programmes and policies that have brought about a positive change in the lives of poor and downtrodden. In this post we take a look at five such schemes:
The NDA government led by Narendra Modi has been working tirelessly for the betterment of the people lying at the bottom of the pyramid. Carrying forward the legacy and philosophy of Pandit Deen Dayal's Antyodaya, Modi has envisioned many programmes and policies that have brought about a positive change in the lives of poor and downtrodden. In this post we take a look at five such schemes: 
1. Pradhan Mantri Jan Dhan Yojana; A Game Changer for Underprivileged

The PMJDY is a national mission for financial inclusion under which zero balance savings accounts are opened for poorer sections of society in urban and rural areas. 34.6 crore accounts have been opened under the scheme with total deposits of 91,800 crores. Under PMJDY, people have been inspired to open bank accounts for an amount as low as Re 1 and a debit card for free. Debit card has helped people resort to cashless means of exchange. Besides, the money deposited in the banks is being judiciously used by the state government for implementation of different welfare schemes.
 
The scheme has not only made the opening up of bank accounts easier for farmers and daily wage labourers of the state but has also instilled a sense of responsibility among them, who, until the recent past had a habit of tucking money in their houses.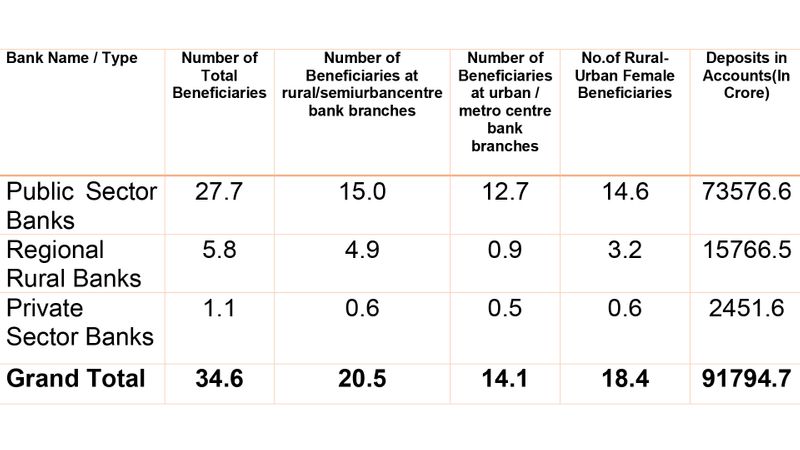 To provide easy and cost-effective insurance coverage government has also introduced social security schemes like Jeevan Jyoti Beema (life insurance) and Suraksha Bima Yojana (accidental insurance). Less than 20% population of India is covered by any form of insurance. This leaves families to face hardship in case of untimely death or life threatening / paralytic accidents. Life insurance coverage of Rs. 2 lakh is provided for a premium of Rs. 330 per annum and accident coverage of Rs. 2 lakh at Rs. 12 per annum. The schemes are linked to bank accounts under Jan Dhan Yojana for ease of transactions. More than 20 crore people have enrolled for these schemes.
 
 2. Ujjwala Yojana changed lives of rural women

 The Pradhan Mantri Ujjwala Yojana (PMUY) has brought a revolution in the lives of rural women in India. Many rural households in India use firewood, dung cakes, coal etc. as cooking fuel. Smoke emanating from such fuel adversely affects the health of women making them susceptible to respiratory diseases and other disorders. Under the scheme launched on May 1, 2016, 8 crore LPG connections are to be provided to BPL families with the support of Rs 1,600 per connection by 2019 and waiving of the upfront payment. The first-of-its-kind initiative has benefitted 6.9 crore families in different states by Feb. 2019. 
About 35% of the connections have been provided to SC/ST families to ensure the scheme reaches the needy. Installation of LPG connection in rural households has ensured that womenfolk do not have to walk miles or put their lives at risk by entering dense forests only to fetch firewood. This has led to rural women adopting smokeless and healthy cooking means. Mothers are using the time saved by spending quality time with family, teaching ad playing with children.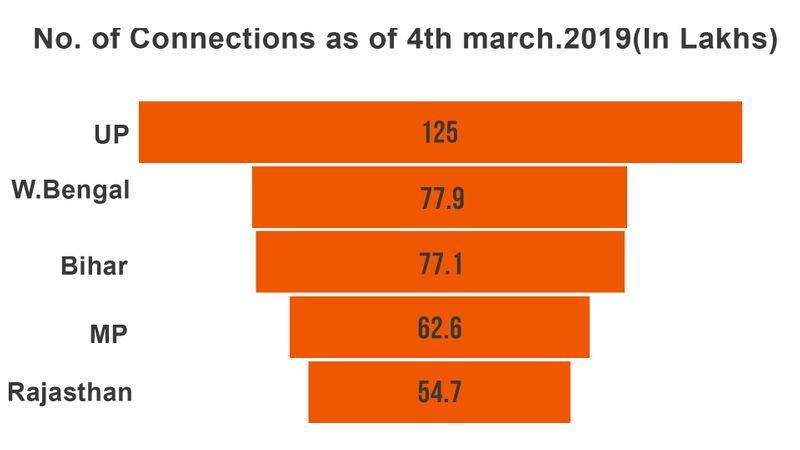 3. Pradhan Mantri Awas Yojana (Gramin) giving wings to the dreams of rural populace
Modi government is committed to provide "Housing for All'' 2022. Indira Awas Yojana was re-structured into Pradhan Mantri Awaas Yojana – Gramin (PMAY-G) from April 1, 2016. The scheme aims at providing a pucca house, with basic amenities, to all houseless householder and those households living in kutcha and dilapidated house, by 2022. The immediate objective is to cover 1 crore households with minimum 25 sq m in three years from 2016-17 to 2018- 19.The cost of unit assistance is shared between Central and State Government in the ratio 60:40. The scheme fulfills one of the most basic needs out of rodi, kapda and makaan. It provides safety and security to families, prevents them from vagaries of weather and instills a sense of confidence among poor that the lives of their children can change for the better. 80 lakh such houses were constructed during 2017-19 as per Ministry of Rural Development  site.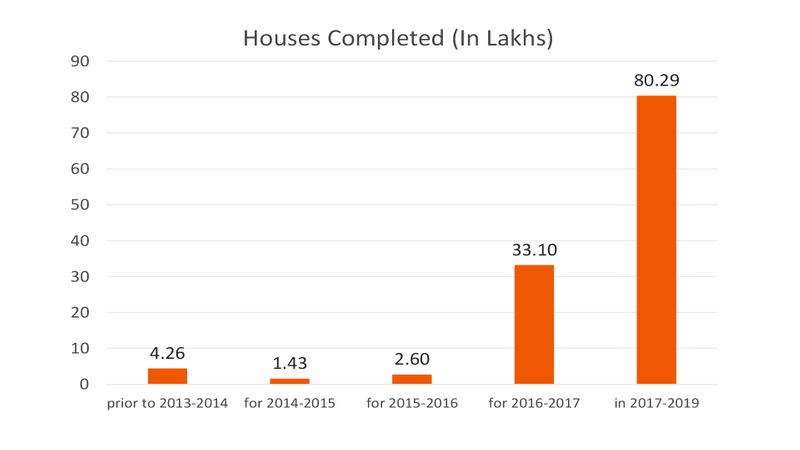 4. Mudra loans fulfilling the aspirations of people
Pradhan Mantri MUDRA Yojana (PMMY) was launched on April 8, 2015 for providing loans up to Rs 10 lakh to the non-corporate, non-farm small/micro enterprises. These loans are given by commercial banks, RRBs, small finance banks, cooperative banks, MFIs and NBFCs. The scheme has been designed to support people at the bottom of the pyramid for their comprehensive economic and social development. The scheme has provided self-employment to budding entrepreneurs in small cities, towns and villages. The average size of the loans has been rising from Rs. 38,000 in 2015-16 to Rs. 52,000 in 2018-19 benefitting more than 16 crore people with more than Rs 7 lakh crores worth loans. They are playing a key role in rural development by promoting economic and social causes and generating employment. 
5. Pradhan Mantri Gram Sadak Yojana has revved up economy of villages 
Villages are the lifeline of India. More than 2/3rd of our population lives in rural India. Agriculture is the key source of livelihood for a majority of this population. As Gandhiji said a century ago, India lives in her villages. India cannot grow without the development of our villages. Former PM Shri Atal Bihari Vajpayee realized that lack of proper connectivity of villages with towns and cities was holding back the development of Indian economy, even after decades of independence. In the year 2000, he launched Pradhan Mantri Gram Sadak Yojana (PMGSY), an initiative to provide all-weather road access to unconnected habitation and bridge the gap between rural and urban India. 
After the UPA government came to power in 2004, the implementation of the scheme became sluggish. After Narendra Modi has taken over as PM, the scheme has received a new impetus over the last three years. 25,316 km of roads were constructed under the scheme in 2013-14 (under UPA II). This has almost doubled to 48,742 km in 2017-18. Average road construction per day has increased from 73 km/ day in 2013-14 to 133.5 km/day in 2017-18-17. Earlier farmers had to battle bad weather and shoddy road conditions to make it to the markets to sell their products. This made them prone to accidents, resulting in the loss of lives and agricultural produce. The construction of roads has given them easy access to the market. Road connectivity is not only a key ingredient of rural development by promoting economic and social causes, it is quintessential for increasing agricultural income and generating employment.
6. Jan Arogya Yojana: Shield of poor from high medical expenses
The poor of the country have been incurring high out-of-pocket expenditure for health and medical costs while at the same time enjoying low financial protection / health insurance coverage. More than 60% of our population are not covered through any form of health protection. The NDA government under the visionary leadership of Narendra Modi launched the ambitious Ayushman Bharat to provide quality medical facilities to 10.7 crore households covering 50 crore population.
Under the Ayushman Bharat ambit, Pradhan Mantri Jan Arogya Yojana (PM-JAY) aims to reduce the financial burden on poor and downtrodden from diseases and high medical expenditure, up to Rs.5 lakhs per family per annum. The scheme is strengtheningour public health care systems and creating a fit India, improving the ease of living quotient. Over 10 lakh poor people have already benefitted from this scheme launched mid last year. 
While Indira gave the naara of garibi hatao in 1971, it is Modi who is fulfilling her dream. A lot has been done, a lot more needs to be done. That is why Modi once more is the buzz word today.
 The views expressed in this article are personal and may not reflect the editorial position of MyNation.
Read Exclusive COVID-19 Coronavirus News updates, at MyNation.
Last Updated Aug 19, 2019, 4:38 PM IST