Responses to two RTI queries and a CIC statement flies on the face of Rahul Gandhi's holier-than-thou attitude that egged him on to mock Prime Minister Narendra Modi whose regime had merely updated a 2009 order issued by the UPA government led by the Congress
New Delhi: On December 21, Congress president Rahul Gandhi had tweeted, "Converting India into a police state isn't going to solve your problems, Modi Ji. It's only going to prove to over 1 billion Indians, what an insecure dictator you really are". Strong words in reaction to the recent government order to authorise 10 central agencies to intercept "any information" on computers!
The finance minister Arun Jaitley clarified, "On December 20, the same order of authorisation was repeated that was existing since 2009. You are making a mountain where a molehill does not exist". In fact, the order was amended in UPA 2 era when Shivraj Patil was the home minister.
But logic notwithstanding, the sharp reaction of the Congress president would make any one of us believe there was no interception or 'snooping' in the Congress era. Because how could Rahul Gandhi be okay with something that he calls an ingredient of 'police state'? MyNation has exclusively accessed two RTI documents filed way back in 2013 that hold the answer.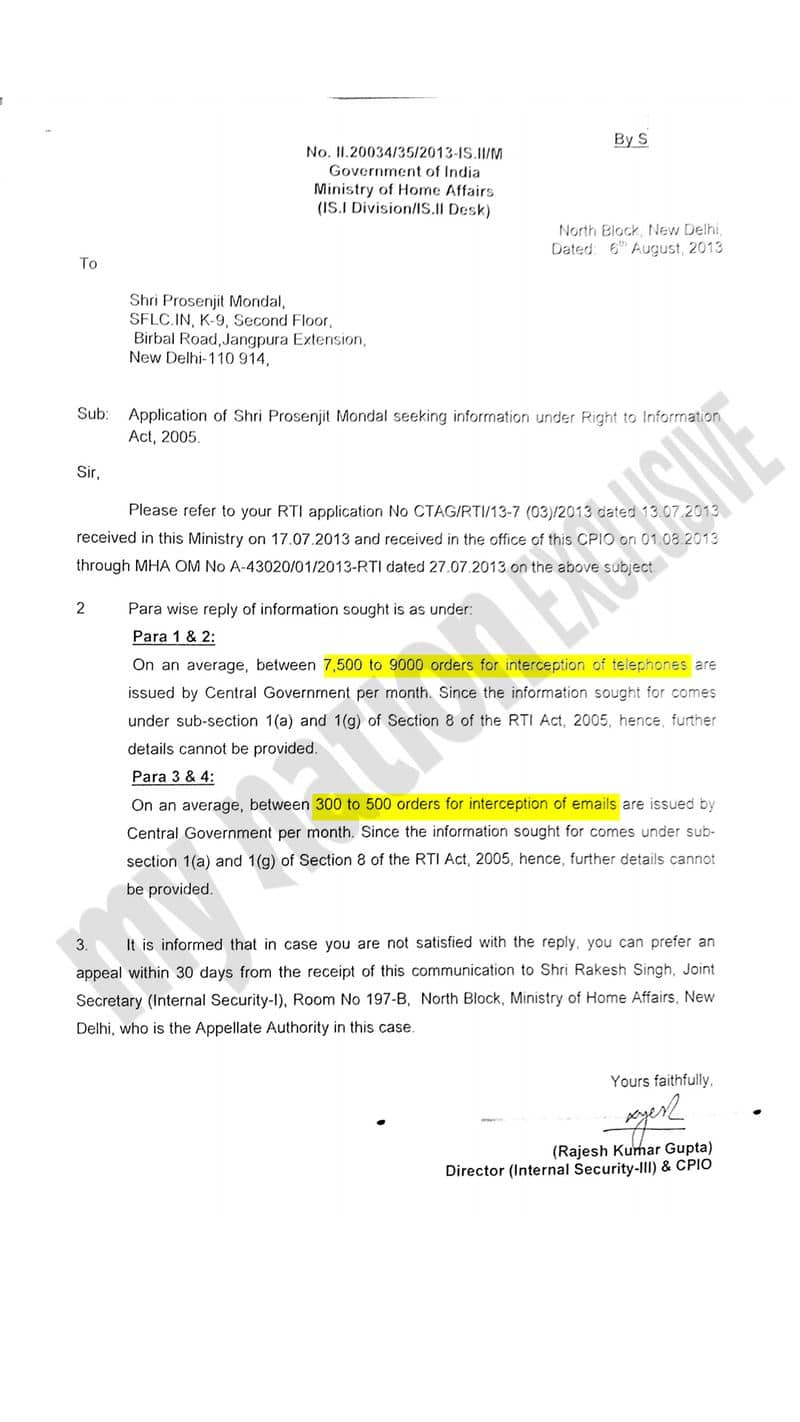 UPA tapped 7,500-9,000 calls a month
Prosenjit Mondal, a person based out of Delhi's Jangpura, had filed an RTI query in 2013 about the interception that Rahul Gandhi calls the crux of a 'police state'. The answer to which came back on August 6, 2013. Interestingly, Sushil Kumar Shinde was the home minister then. Mondal filed an RTI query asking how many telephone interception orders were issued by the central government at that time on a monthly basis.
Presuming interception is the sign of a 'dictator', the answer should have been zero. But guess what? The reply clearly states, "On an average, between 7,500 to 9,000 orders for interception of telephones are issued by Central Government per month."
If that wasn't quite a shocker, the second question was related to monthly interception of emails. And the answer was: "On an average, between 300 to 500 orders for interception of emails are issued by Central Government per month." This was the government led by Manmohan Singh under UPA chairperson Sonia Gandhi. The home minister of the time was none other than Sushil Kumar Shinde. All the three tall leaders of the Congress! So, going strictly by the logic of Rahul Gandhi, was Manmohan Singh being an 'insecure dictator' for 'snooping' into so many phone calls and private emails of individuals?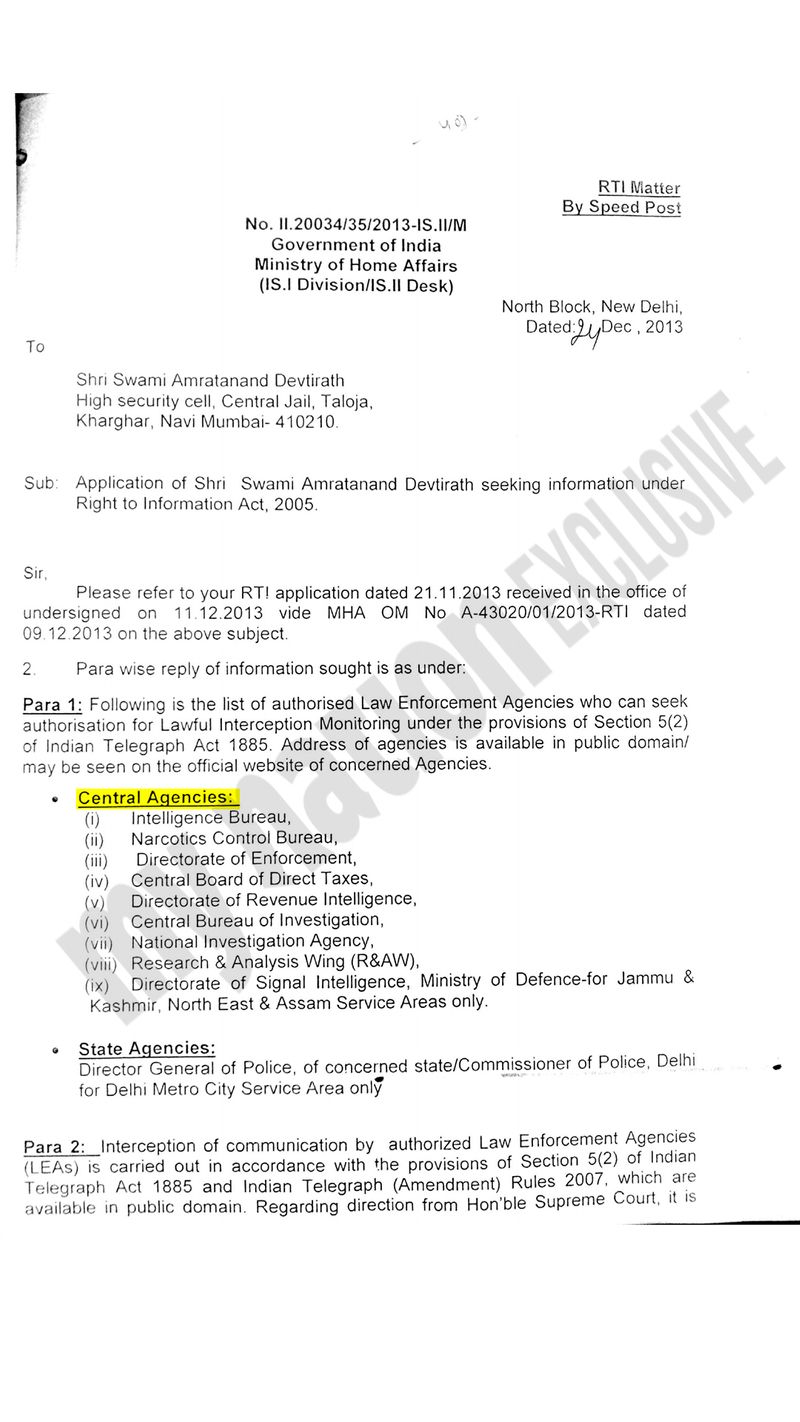 9 central agencies 'intercepted' under Manmohan's watch
The same year, another person had sought information on similar lines. This time, the RTI applicant was an inmate in the high-security cell of Navi Mumbai's central jail. Swami Amratanand Devtirath sought to know the name of the state and central agencies that were allowed to intercept as on November 2013. The answer was a long list of agencies who were allowed to snoop.
Nine central agencies were on that list. Apart from some predictable names like the Intelligence Bureau (IB), Research and Analysis Wing (R&AW) and Directorate of Enforcement (ED), there were less predictable Narcotics Control Bureau (NCB), Central Board of Direct Taxes (CBDT) or Central Bureau of Investigation CBI. Among the states, Director General of Police of states as well as Delhi Police for Delhi Metro service areas.
As many as nine central government agencies were snooping upon 7,500 to 9,000 calls on an average a month by a government ruled by a party whose then vice president was none other than the person who has created a fear psychosis over the latest amendment: the current Congress president Rahul Gandhi.
In fact, according to the reply to the RTI query, it was clearly stated, "The Central law enforcement agencies submit monthly outcome reports, however, further details cannot be provided as the information sought is exempted…"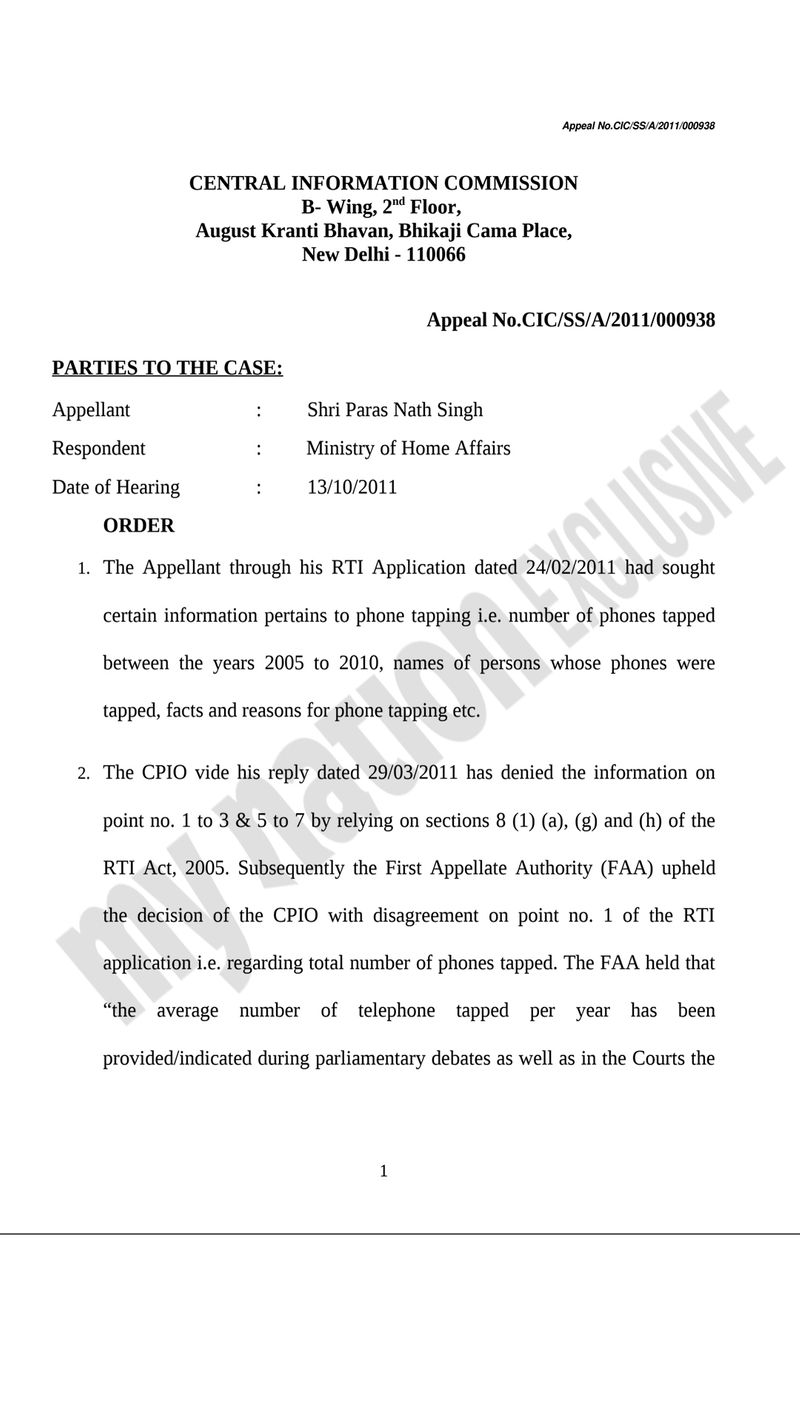 Before 2013 expose, there were roadblocks in 2011
Rewind a couple of years to 2011. One Paras Nath Singh had a similar query with more details. He fought every level of bureaucracy to get the desired information up till the Central Information Commission. Primarily, he wanted to know the "number of phones tapped between the years 2005 and 2010, names of persons whose phones were tapped, facts and reasons for phone tapping etc". The chief public information officer in his reply on March 29, 2011 denied most of the claims. When he appealed at the First Appellate Authority (FAA), it upheld the earlier order with a minor amendment to it. There wasn't any reprieve even from the CIC.
It may have been too ambitious on the part of Singh to seek individual names of those whose phones were being tapped, but there was a clear attempt to shut the doors of information at the highest level. But by 2013, Mondal and Devtirath managed to extract information that goes on to prove even the UPA was snooping on phones and emails of individuals, en masse.
Read Exclusive COVID-19 Coronavirus News updates, at MyNation.
Last Updated Dec 23, 2018, 12:30 PM IST