After years of being a star (politically as well as in films), having fair shares of power, failures and controversies, surely Karunanidhi's life has been a roller-coaster ride. Here is a glimpse into the much celebrated life of DMK chief Karunanidhi.
If you are wondering why thousands of people are pouring in at the Kauvery Hospital to check on their dear leader M Karunanidhi's health, his life is an answer.
Though he stepped into politics at the tender age of 14, Karunanidhi was a shining star in the Tamil film industry much before he became the State's third chief minister after it transformed from the Madras Presidency to the Madras State and finally Tamil Nadu.
Karunanidhi'spersonal life is nothing short of a romantic and thrilling movie plot either. Hispersonal life is marred by numerous controversies including those surrounding his multiple marriages.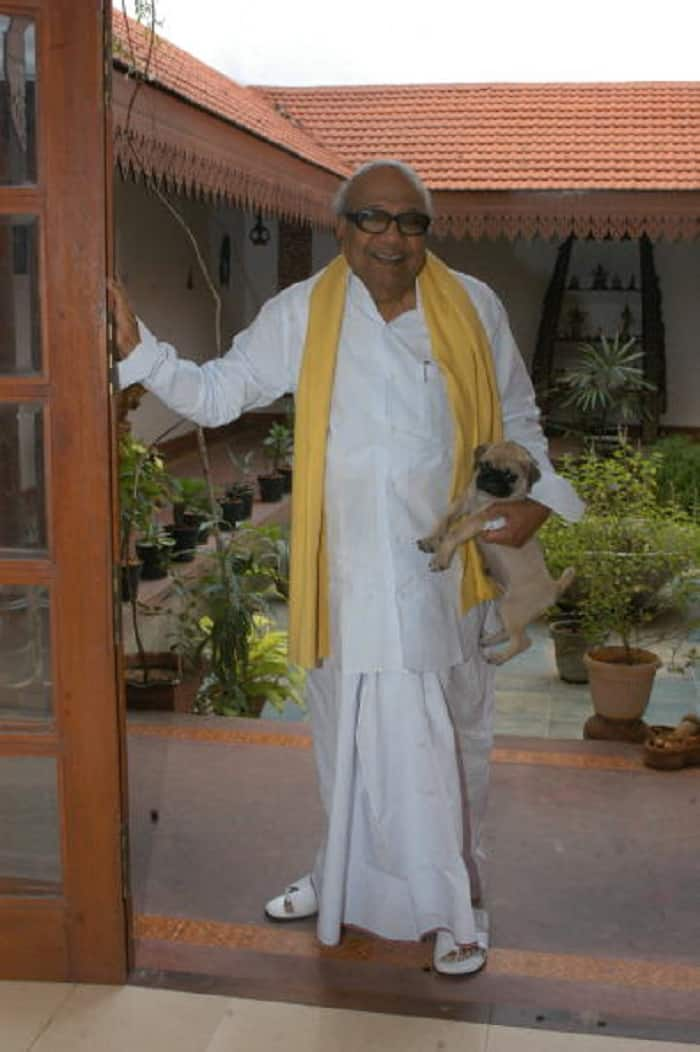 On record, Karunanidhi has three wives. Karunanidhi's first wife died in 1944. The couple had a son, MK Muthu, who was a singer and a dancer. But going against the father's wishes, he joined Karunanidhi's rival party AIADMK.

Four years after the death of Padmavathi, Karunanidhi found a new love love in Dayaluammal and married her. The couple have four children:Azhagiri, Stalin, Selvi (daughter) and Tamilarasu. After 10 years of married life with Dayaluammal, Karunanidhi, a popular figure in the Tamil film industry then,fell head over heels for Rajathiammal. They first met during an election campaign in 1960s. Their relationship became a topic for gossipmongers.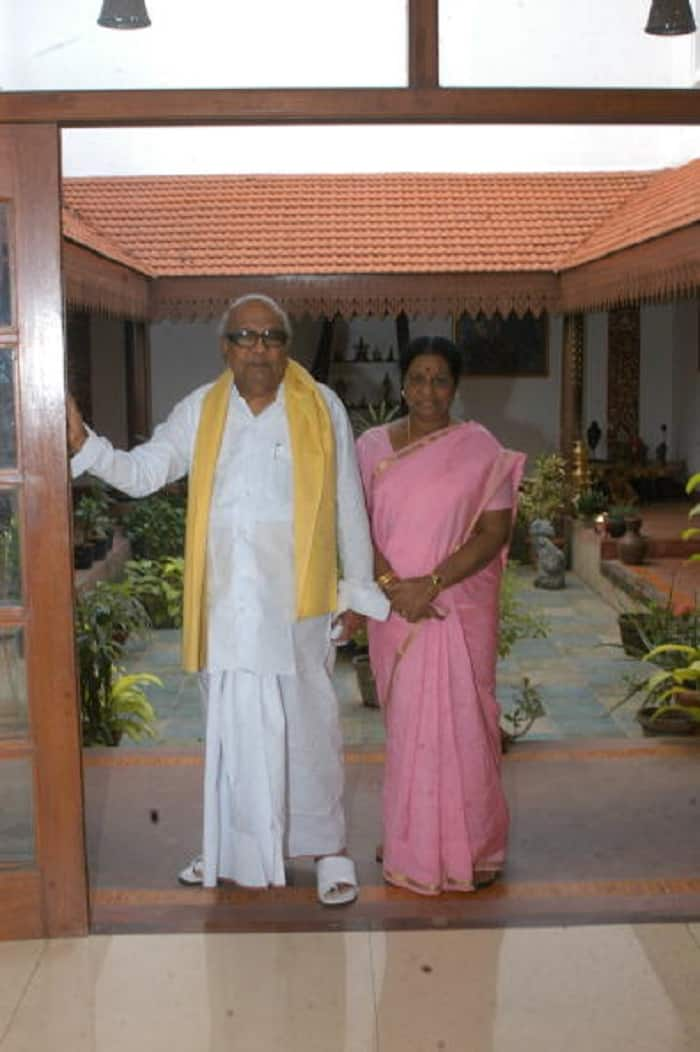 Karunanidhi married her with the blessings of party leaders and not at a religious place or court.

Karunanidhihadn't divorced Dayaluammal before getting married to Rajathiammal. In fact, he did not talk much about this relationship in public until Kanimozhi was born. After the birth of the girl child, he started calling Rajathiammal the mother of his child in public.

Though this relationship was much against the Hindu Marriage Act of 1955, it would have been considered illegal if his second wife Dayaluammalhad lodged a complaint against him. But this never happened and it is said that Karunanidhi managed to divide his time at home equally between his two wives.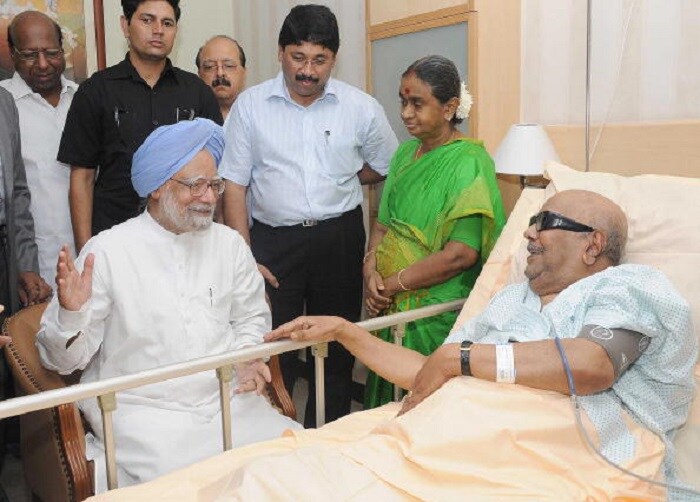 A player?
Karunanidhi was involved in various capacities in the Tamil film industry, especially as a screenwriter. His dialogues made him so popular that women would just swoon over him. Though his image is not quite clean in terms of his relationships with people in the film industry, none of it made the headlines or affected his personal life. He was a part of nearly 40 films as screenwriter.
In fact, Karunanidhi'sfirst film as scriptwriter was Rajakumari.He was all of 20 at the time. This film was a hit,which gave him his much-deserved popularity. He was very clear in the path he was treading. His strong words and quotes of rebellion made him a darling of women who were die-hard fans of Karunanidhi.
Here, it may be informative for the followers of Hindi cinema that the film industries of the south celebrate the technicians behind the camera no less than they celebrate the actors they can see on the screen. Karunanidhi was thus known for the powerful lines he wrote for the celluloid 'heroes'.
Soon, he started promoting his political ideas through his characters in the movies. Especially in the movie Parasakthi, which was even banned for a while for its strong comments against Brahminism and speaking about the rights of the downtrodden literally made him the hero behind the screen.
The credit for introducing two popular actors Sivaji Ganesan and SS Rajendran also go to Karunanidhi.

From calling LTTE chief Prabhakaran his good friend to even questioning the existence of Lord Rama, Karunanidhi courted controversies galore. He had described Rama as an imaginary character while, ironically, hailing Ravana from the same epic Ramayana.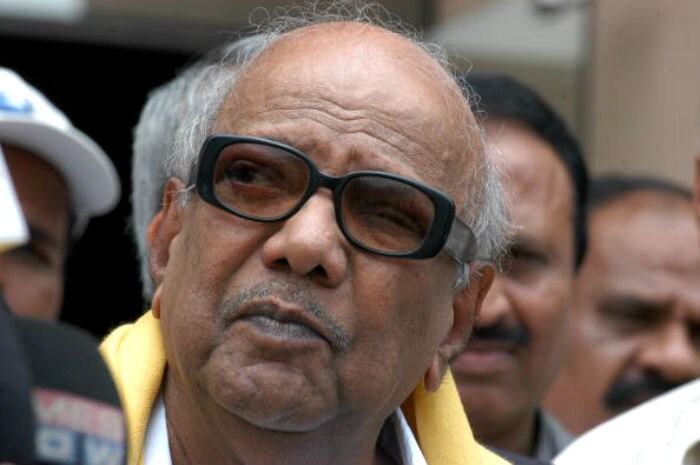 But did Karunanidhi start believing in the Ramayana when he lost power? In one of his statements later in 2011, Karunanidhi was heard saying that Rama had taught a lesson to the monster Thadaka,implying that he would also teach a lesson to AIADMK leaders.
After years of being a star (politically as well as in films), having fair shares of power, failures and controversies, surely Karunanidhi's life has been a roller-coaster ride.
Thousands of people outside the hospital waiting for Kalaignar to come out safely is proof that age has not got the better of the DMK's proud 'Sun'.
Read Exclusive COVID-19 Coronavirus News updates, at MyNation.
Last Updated Jul 30, 2018, 12:16 PM IST