It a serious charge against the president of Madhya Pradesh Congress Committee Kamal Nath. It's also an attack on Jyotiraditya Scindia who is the brain behind Rahul Gandhi's temple-hopping campaign in the state
New Delhi: It is perhaps the biggest attack so far on the Congress ahead of the crucial Assembly elections starting next month. What's worse, the attack has emanated from within.
The Congress's carefully-crafted election campaign in the crucial state of Madhya Pradesh took a jolt when party general secretary and former chief minister Digvijaya Singh wrote an explosive letter to former Congress president Sonia Gandhi alleging tickets were being sold in exchange of a price in the state. 
Though Digvijaya denied writing the letter, many within the MP unit of the Congress believe that this video was deliberately made and circulated by Digvijaya himself.
What a fraud! I have never written this letter. pic.twitter.com/TToyqcaVmN

— digvijaya singh (@digvijaya_28) October 31, 2018
According to Congress insiders, Digvijaya wanted to be the centre of the campaigning in Madhya Pradesh by virtue of being an old guard from the party, a former chief minister and part of the royalty in the state. But with him being sidelined, he was frustrated for a long time. In fact, many belive that he had used this trick in the past as well. Very recently he has been seen in a video where he is saying, "Whenever I say anything, the party loses. Hence, I won't speak."
'Candidate-selection a business'
The letter that is in exclusive possession of MyNation, says, "You must be aware, I have kept myself away from the election in interest of the party after my six month-long Narmada Yatra. In spite of state leaders royally ignoring me and our cadres and media raising the question, I have kept true to my decision all this while. But when I came to know that the ticket distribution process is being run as a "dhanda" (business), I was hurt and decided to write this letter to you."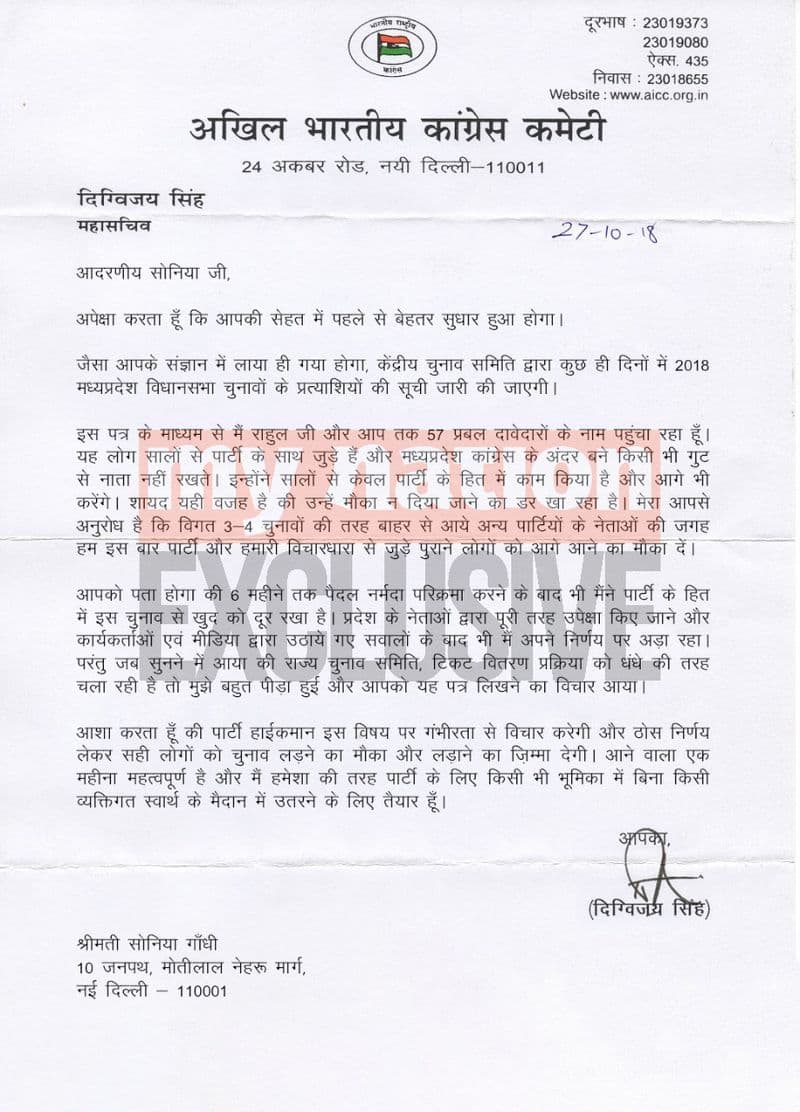 Who is he targeting?
Interestingly, the letter to Sonia was written in Digvijaya's official capacity as general secretary of the All India Congress Committee (AICC) and on the party's letter head. 
Therefore, it's a serious charge against the president of Madhya Pradesh Congress Committee Kamal Nath. It's also an attack on Jyotiradiya Scindia who is the brain behind Rahul Gandhi's temple-hopping campaign in the state. In fact, the idea to project Rahul as a 'shiv bhakt' and have him visit the Mahakal temple was also Scindia's idea. No wonder then that this explosive allegation is aimed at these two with whom Digvijaya has an acrimonious equation.
Faction-ridden MP Congress
Congress's Madhya Pradesh unit has always been divided into coteries supporting one leader against the other. Rahul, after taking over the president's post, had great trouble bringing Nath and Scindia on the same page. They both believe themselves to be chief ministerial candidates. 
Nath is known to be the undisputed leader in Chhindwara and a prominent leader of the backward castes. Even when the Modi tsunami swept the entire country in the 2014 general election, Nath not only won from Chhindwara, he increased his tally as well. Scindia, on the other hand, has a royal lineage with his father Madhavrao Scindia still being talked about in many parts of Madhya Pradesh.
In spite Rahul managing to get both of them on board to work together, Madhya Pradesh Congress is divided in 'camps'. 
In his letter, Digvijaya stated that there are 57 candidates who don't belong to any camp and hence stand a high chance of not being given a ticket. Digvijaya wrote, "I want to bring to your and Rahulji's notice names of 57 ticket aspirants. They have been associated with the party for a long time and don't belong to any camp in Madhya Pradesh Congress. For years, they have worked for the betterment of the party and will continue to do so. Probably this is the reason they feared that they would be ignored. I would urge that unlike three-to-four elections in which outsiders were given tickets, cadres associated with the party for a long time be given tickets instead."
The fact that the Madhya Pradesh unit is divided in camps is also evident with four working presidents apart from Nath as president. Bala Bachan, Ramnivas Rawat, Surender Chudhury and Jitu Patwari have all been made working presidents to massage their egos. In fact, Patwari courted controversy by saying, "Party gayi tel lene, ap mera laj rakh lena (Just vote for me, let the party go to hell)".
When MyNation contacted the Congress, the party said the letter has no locus standi as Digvijaya himself has disowned it.  
Read Exclusive COVID-19 Coronavirus News updates, at MyNation.
Last Updated Nov 1, 2018, 11:49 AM IST